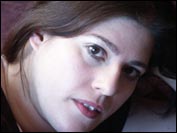 Anne Mini grew up in the middle of a Zinfandel vineyard in the Napa Valley, the daughter of California's best-known 1930's radical (subject of John Steinbeck's In Dubious Battle) and the beatnik ex-wife of renowned science fiction author Philip K. Dick. She spent her childhood continuing the Minis' four hundred-year-old fine winemaking tradition; her great-grandfather and great-uncle were purportedly the first Americans to win a major enological prize in a European competition. By the second grade, she already knew how to run a still.
Fleeing that sleepy pastoral paradise with all possible speed at the age of seventeen, Mini went on to earn an undergraduate degree (magna cum laude) from Harvard University, a master's degree from the University of Chicago, and a doctorate from the University of Washington. She is one of the world's leading authorities on the political writings of Mme. de Staël. In between gobbling up degrees, she wrote for the Let's Go series of travel guides, as well as penning wine descriptions and state-level political platforms. After four years teaching Plato and Confucius to frat boys, she left academia in order to pursue writing and editing full-time.
As a delegate to the 2000 Democratic National Convention, Mini was knocked over on the convention floor by an over-eager cameraman, resulting in a broken ankle; her mother learned of her injuries when she saw her limping on C-SPAN. The next day, Mini covered her bandages with political stickers and propped her foot up on a guardrail: the AP spread photographs of this, billed as evidence of the dangers of political activism, all over the globe. Because her ankle was garnering so much press attention, she was thrown out of her delegation, and spent the last day of the convention trapped with her foot elevated amid the foreign press, explaining Al Gore's famous kiss with his wife to puzzled Russian journalists.
Her memoir, A Family Darkly: Love, Loss, and the Final Passions of Philip K. Dick, won the 2004 Zola Award, the Pacific Northwest Writers' Association's highest honor for a nonfiction book. She has also won writing fellowships from the Vermont Studio Center and Norcroft, as well as being named a finalist for an NEH Fellowship. She was the Resident Writer for the PNWA's website, writing comic blogs on the writing life for North America's largest writers' association, for 2005-2006.
Mini lives in Seattle, working on a trilogy about how Harvard undergraduate life changed radically with the advent of AIDS.