If you'll forgive my getting personal for a moment, have you ever been in a relationship — romantic, friendly, coworkerish — with someone who was just positive s/he knew precisely what you wanted without ever having asked you what your actual preferences were? You'd never gone downhill skiing, perhaps, because you're secretly afraid of heights — and suddenly, that surprise weekend getaway finds you clinging for dear life to a ski lift, while your beaming significant other repeatedly congratulates himself upon broadening your horizons. Or you'd successfully avoided your sociopathic cousin Bertrand for the last decade, and your matron of honor abruptly announces at the rehearsal dinner that her wedding present to you involves flying Bertrand from New Zealand for your special day, along with his paranoid wife, a teenage son far too fond of matches, and a border collie whose psychological problems defy categorization by even the best scientific minds. Or a member of your book club turns to you at the end of a cookie-fueled discussion of LITTLE DORRIT to ask smugly, "You know how you always claim walnuts don't agree with you? Well, they do: those brownies you wolfed down were stuffed to the gills with 'em. I knew you'd just never had them handled right."
She'll continue in this vein as you gasp for air, frantically signaling that your tongue is swelling to Godzilla-like proportions. If you are fortunate enough to share a book club with someone who recognizes anaphylactic shock when she sees it, your friendly baker will keep chattering all the way to the emergency room. She honestly means well.
Oh, their intentions are so good, these desire-anticipators, and their methodology so bad. The coworker given to bringing you back a latte every time she runs out to pick one up for herself does it to make you happy, after all; the fact that she just can't seem to remember that you're lactose-intolerant doesn't detract from the purity of her intention, does it? What a nit-picker you are; she said she was sorry. Oh, and once you get over that gastric upset, don't forget to reimburse her for the drink.
Of course, not all desire-anticipation attempts result in disaster, or even lifelong resentment. Tammy's tendency to push hot milk on you did get you to try that lactase supplement, after all, and now you can eat ice cream. Aren't you pleased about that? Perhaps you actually had never enjoyed a properly-presented walnut, and the allergen that sent you to the hospital when you were ten had been a misdiagnosed cashew. What a relief to know what to avoid. It's possible that Bertrand's wife has finally found a medication that works for her, and your second cousin's arson conviction was entirely baseless. Aren't you ashamed for having prejudged them? And maybe, just maybe, once you're on top of that mountain, you'll realize that a baseless fear had prevented you from discovering the one sport for which you have genuine Olympic potential.
Or maybe not. Either way, your learning curve probably would have been quite a bit more pleasant had your well-wisher simply asked you what you wanted before imposing it upon you.
"Ah," desire-anticipators across the globe cry in unison, "but we don't have to ask: some of us just pay attention. And don't underestimate our memories. If you liked sauerkraut on your hot dog when I took you to a ball game back in 1982, you must still like it, right? It wouldn't be baseball if you didn't get your smothered wiener. Wait here; I'll grab you one."
Uncle Henry, is that you? And is this a good time to mention that for the subsequent ten years, I gobbled up those hot dogs only because it seemed to be so important to you? I loathe sauerkraut. While we're at it, can we have a serious talk about those sherry-marinated beets you love to make for Thanksgiving?
It's hard to fault the motivations of the Uncle Henrys of this world, but from the receiving end, it's easy to spot the flaw in their logic. I ate a hot dog with sauerkraut once in my extreme youth, and against my own better judgment; therefore, I must always want to eat them should similar circumstances recur. By the same token, if I succumbed to a craving for a hot-fudge sundae yesterday — which I didn't, because I'm lactose-intolerant, Tammy — I must perforce want one in every dessert course from now until the end of time. No more zabaglione for me. And if I was charmed by the giant pretzel my SO brought home on a whim one rainy afternoon last year, I will be equally charmed if he wakes me up by bouncing into the house with one after his 6 a.m. run tomorrow.
What do you mean, I'm unreasonable if I don't want a pretzel smothered in mustard for breakfast? Or as a midnight snack? Or as a chaser to that enormous beet salad I had for lunch, because Uncle Henry was over?
If I am ever unreasonable on such occasions, it's when desire-anticipators insist that I must want something, because everybody wants it. All the world loves chocolate, right? I must be kidding about only liking it for the first couple of bites. Every woman loves both shopping and shoes — so why didn't I want to devote a couple of hours to trying on stiletto heels while I was on crutches? And since every possessor of a pair of X chromosomes must desperately want to get married (to someone, anyone; have you met my recently-divorced Cousin Bertrand?), why do fully half of us back away precipitously when the bride is about to fling her bouquet? Why, in fact, did all of the bridesmaids at my college friend Janet's wedding retreat beneath a nearby awning, to remove any possibility of catching hers? I've seen more popular influenza.
Janet's still pretty mad about that, speaking of lifetime resentments. As the person she had chosen to read the Shakespearean sonnet during the ceremony — Let me not to the marriage of true minds admit impediments — obviously, it was my duty to risk life and limb to snag those flowers. And want to, darn it. In the 22 years since, I've simply commissioned the nearest little girl to catch the bouquet for me. No one is fleeter of foot than a 9-year-old in pursuit of a pretty bouquet.
Except the ones who don't like flowers. They exist, you know.
Of course, there are plenty of tastes that are pretty close to universal. It's hard to find someone who hates every conceivable variety of pie, for instance, and virtually everyone dislikes being told what to do if the order seems unreasonable. (Yet for some reason that beggars understanding, no fewer than sixteen brides of my acquaintance have asked me to read the same Shakespearean sonnet at their respective weddings. Presumably, some standard wedding-planning guide listed it as one of the more acceptable secular readings amongst a startlingly small array. Either that, or there's something about me that makes people take one glance in my direction and murmur automatically, "Let me not to the marriage of true minds admit impediments." Perhaps I should stop writing it in permanent marker on my forehead.)
"Okay, Anne," lovers of universally-applicable rules concede reluctantly, "I shan't ask you to read it at my wedding to your cousin Bertrand. (Why hadn't you ever mentioned what a charming man he is, by the way?) But if I may be prosaic for a moment, is there a particular reason that you're going on about this type of assumption in the midst of a series on querying?"
Why, yes, there is, rule-huggers — and, as it happens, a darn good one. All too often, queriers new to the game (and a surprisingly hefty percentage of those who have been at it a while) will glance at submission guidelines and murmur, "Oh, they couldn't possibly be serious about saying they want to see only a query. I'll just tuck my synopsis into the envelope."
Or, since the rise of e-mailed queries, "Oh, this agency says it won't open attachments, but they also say they want the first ten pages. They couldn't possibly want to see improperly-formatted text; I'll just attach a Word document, anyway."
Or, in the rare case where an agency does want pages sent as attachments with a query, "Oh, the guidelines say they want just the first ten pages, but the whole 30-page chapter is one file. They couldn't possibly expect me to reformat my manuscript. I'll just go ahead and attach that."
Or, in response to any specified maximum length for a query or submission packet, "Oh, they say they want five pages, but the first scene ends on page 6. They couldn't possibly want to stop reading in mid-scene. I'll just go ahead and send all six pages."
Or, after perusing an agency website or agent's conference bio, "Oh, this agent doesn't list any clients in my book category, and her blurb doesn't mention that she's looking for my kind of writing, but her name turned up in a database/in the index of one of the standard guides to literary agents as representing books like mine. She can't possibly have stopped representing that type of book. I'll just go ahead and query her anyway."
Or, the most common query faux pas of all, "Oh, I don't need to check whether this agency has posted specific guidelines for what it wants to see in a query packet; everyone wants the same thing. Although the agent of my dreams blogs regularly/gives classes on querying at conferences/is extremely vocal in interviews easily found on the web, I don't need to do any research; he couldn't possibly harbor individual preferences. I'll just send him precisely what I'm sending everyone else."
They are, in short, indulging in desire-anticipation, rather than treating each individual agent as, well, an individual. And we all know how folks on the receiving end of that kind of assumption tend to like it, don't we?
I said, don't we? I don't care that Cousin Bertrand told you otherwise. Like most of the query advice-givers out there, he's just telling you, probably quite authoritatively, precisely what you want to hear: that what would be the least amount of trouble for you is the path you should pursue.
And let's face it, all of the tacks above involve far, far less work for the querier, submitter, or contest entrant than investing the time in finding out what each agency or contest rules ask to see. That doesn't mean, however, that an agency that goes to the trouble of posting guidelines, an agent who announces what she does not want to see this year, or a contest that posts rules all entrants must follow couldn't possibly mean it. While admittedly, sometimes neither provides especially clear guidelines — we've all seen the ever-popular and extremely terse agents' guide listing query with SASE — in publishing circles, people are presumed to be able to express themselves lucidly in writing.
If they say they want it, believe them. And if they say they don't want it, believe that, too. These are individuals, entitled to individual tastes, after all; if someone doesn't eat walnuts, why would you waste your valuable baking time offering him brownies stuffed to the gills with them? Wouldn't it in the long run be a more efficient use of your time and energies to figure out who the brownie lovers are and share the fruits of your labors with them?
Contrary to astoundingly pervasive popular belief amongst aspiring writers, it's not the norm for agents to pick up a query for a book in a category they don't habitually represent, scan it, and cry to the skies, "I don't have the connections to sell this book, but I like the writing and the premise so much that I'm going to sign this writer anyway!" Nor are they much given to exclaiming, "Oh, this query packet contains many more pages/elements/a batch of chocolate chip cookies that our guidelines did not request, presumably to give the writer an unfair advantage over everyone who did follow our clearly-stated rules, but that doesn't matter. We have all the time in the world to lavish on writers who can't or won't follow directions."
That last bit caused many of you to do a double-take, didn't it? "But Anne," desire-anticipators ask in quavering tones, "I'll admit that I've murmured one or more of the sentiments above whilst pulling together query packets, particularly when I'm trying to send a whole bunch out at once — as I often do, say, immediately after New Year's Day — but it never occurred to me that anyone would think I was trying to take unfair advantage by ignoring the rules. I meant well. In fact, I thought I was following directions; I just didn't know that there were different sets of them."
I know you meant well, step-skippers, but frankly, Millicent the agency screener doesn't know you as well as I do. Neither does her aunt, Mehitabel the veteran contest judge, when faced with a contest entry a page and a half longer than the rules allow. While it would be nice if they could give you and aspiring writers like you the benefit of the doubt, there are simply too many aspiring writers like you competing for too few slots for them not to regard inability to follow stated directives as an instant-rejection offense.
Yes, no matter why the querier, submitter, or contest entrant did not adhere to those rules. To see why, let's take another look at those six types of trouble-saving, desire-anticipating practices, comparing the writer's logic to Millicent's.
The extra element adder says, "Oh, they couldn't possibly be serious about saying they want to see only a query. I'll just go ahead and send along anything else I think might aid Millicent in her decision."
The writer thinks: I've seen other agencies' submission guidelines that have asked for synopses at the querying stage. I've already gone to the trouble of writing one, so I might as well use it. As long as Millicent is perusing my query, she might as well consider it.
When Millicent receives the over-stuffed packet, she responds, "Wow, this querier did not read the submission guidelines — or did not understand them. Whether he didn't do his homework on my agency or didn't read carefully enough to get what we were asking, this client would be more work to represent than someone who does read instructions thoughtfully and implements them. Like, say, the next query in my reading queue. Next!"
That's if she's in a good mood. If she's just burned her lip on a too-hot latte — or, even more likely, has just finished reading 14 queries from desire-anticipators, her response might well run more like this: "Hey, who does this writer think he is, to assumes that I will be willing to spend three times the time on his query than on everybody else's?"
Yes, really. Couldn't be much farther than your intentions, could it, element-adder? But now that you stop and think about it, wouldn't reading your query require precisely the extra time and effort Millicent just mentioned? And is that fair?
Painful, I know, but worth contemplating, I think. It's far, far better that we discuss the possible outcomes here than for any of you to risk automatic rejection on this kind of avoidable basis. Let's move on.
The dogged attacher says, "Oh, this agency says it won't open attachments. I'll just attach a Word document, anyway."
The writer thinks: I've done my homework about agents, and I've learned that improper formatting can be fatal to a manuscript submission. So because my e-mail program doesn't preserve all of the bells and whistles of Word, I'm more likely to impress Millicent if I submit in a format I know is right: as it would appear on the manuscript page.
Upon receiving the query with the attachment, Millicent responds, "Oh, great — another one who didn't bother to read our guidelines, which clearly state that we don't read unsolicited attachments. I'm just going to reject this query unread."
I'm afraid that you are going to hurt your neck, doing all of those double-takes. "You've got to be kidding me, Anne," dogged attachers everywhere protest. "This is an instant-rejection offense? In heaven's name, why? The agency's guidelines asked for this material, and it would only take Millicent a couple of seconds to open it."
Ah, but if she did, she would risk exposing her agency's computer system to viruses — the primary reason that most agencies did not accept e-mailed queries at all until after the anthrax scare rendered opening thousands of pieces of mail considerably less desirable. In essence, by sending an unrequested attachment, a querier is expecting Millicent not only to devote those extra few seconds to opening it, but to violate her agency's standing computer use policies.
That "Next!" sounds quite a bit more reasonable now, does it not?
The kitchen sink sender says, "Oh, the guidelines say they want just the first X pages, but my document is Y long. I'll just send the whole thing."
The writer thinks: it would be a whole lot of work to copy the requested pages, create a new Word document, copy the text into it, and make sure that the formatting is right. Millicent can just stop reading whenever she wants — and if she likes my writing, she may well want to read more. This is a win/win.
But Millicent, blinking in disbelief at the size of the file, snaps: "Either this querier can't read directions — problematic, as I murmured above — or she's expecting me to make an exception for her. For her and her alone, I will read not X pages, but however many she chooses to send me. That's completely unfair to everyone else who queries, as well as an unwarranted imposition upon my time. Next!"
Does the gnashing of teeth and rending of garments I hear out there mean that this is the first time some of you have tried to see this exchange from Millie's perspective? Does that mean you will never over-send again?
No? Okay, let's move on to the next set of excuses.
The sneaky upgrader says, "Oh, they say they want X pages, but the first scene/chapter/a really good bit ends slightly farther into the manuscript. I'll just go ahead and send enough pages to complete that section."
The writer thinks: as my manuscript currently stands, stopping at page X does not provide a complete scene and/or cuts off before a bit I particularly like. In fact, the bottom of page X ends in mid-sentence. Since no sane person could possibly want to cease reading in mid-thought, obviously, what the agent really wants is for me to send the entire section/chapter.
And Millicent, cranky at spotting the 20th such over-long writing sample of the day, just shrugs and rejects it unread. "This querier must think we are awfully stupid, to assume that we would believe that any good book would automatically come to a natural stopping-point on the bottom of page X. Way to substitute your opinion for how to assess writing for ours, non-professional. Next!"
Harsh? You bet, considering that all the writer was trying to do here was provide a complete reading experience. But in Millie's defense — and Aunt Mehitabel's; contest entrants indulge in sneaky upgrading tactics all the time — this strategy betrays a complete misunderstanding of why some agencies ask for writing samples to be included in query packets. It's not so they can get into your story; it's so they can see if you can write.
Not only write well, but write well for readers in your chosen book category. (You'd be astonished at how many opening pages don't sound remotely like works in their intended categories.) If Millicent decides that you do, then she can turn to the synopsis or request the manuscript/proposal in order to consider your book as a whole.
That was a big aha! moment for some of you, I'm sensing. But the rules lawyers amongst you still have questions: "Okay, Anne, I accept that requesting a writing sample at the querying stage is a pretty good way to spot the strong stylists right off the bat. I can even see that by accepting those pages up front, Millicent can save herself a great deal of time: instead of basing her assessment of whether to request the manuscript or book proposal upon the query alone, then having to wait until those requested materials arrive in order to reject them on page 1, she can skip a step.
"Given that practice, though, shouldn't I be sending my best writing as a sample, rather than just the first few pages? My favorite part of the book is a 150 pages in. That scene also, conveniently enough, happens to be the precise number of pages the agency's guidelines suggest. So I'd be smart to send them instead, right?"
It's a clever notion, rules lawyers, but absolutely not: while you could get away with a mid-book writing sample in a pitching situation, if the agent in front of you asked to see a few pages, the assumption with any requested pages or writing sample in a query packet is that they will begin on page 1 of the book. Why? Well, it's the way a reader in a bookstore would first encounter the text, for one thing; it's the part of the story that requires the least set-up, by definition. And since neither agents nor editors simply open manuscripts in the middle and read random passages in order to assess their quality, the opening pages provide a better indication of how they would respond to the manuscript or proposal as a whole.
I know, I know: that places writers who take a while to warm up at a significant disadvantage. You wouldn't believe how many manuscripts have fabulous openings buried somewhere on page 15. Since the overwhelming majority of manuscripts are rejected on page 1 — I am doling out the hard truths today with a lavish hand, amn't I? — Millicent just doesn't see that great prose.
The track record-ignorer says, "Oh, this agent doesn't list any clients in my book category, and her blurb doesn't mention that she's looking for my kind of writing, but her name turned up in a database/in the index of one of the standard guides to literary agents as representing books like mine. I'll just go ahead and query her anyway."
The writer thinks: because the Literature Fairy constantly combs the Internet to assure that every single piece of information floating around out there about agents and agencies is not only true, but absolutely up to date, if I can find even one source that claims a given agent represents my kind of book, she must abide by that. So there's really no reason for me to do any research beyond running by chosen book category through that database or looking in the index of an agents' guide."
This one makes Millicent positively choke on her latte, even after it has cooled down. "Why on earth," she exclaims, "wouldn't my boss be allowed to change her mind about what she represents? This is a market-driven business, after all: she can only afford to pick up clients whose work she believes she can sell in the current market. So while I might have given this well-written query serious consideration five years ago, back when she handled this category, now, I can simply reject it as soon as I ascertain that it's pitching a book she doesn't represent."
I've said it before, and I'll doubtless say it again: since there is no easier query to reject than one apparently addressed to the wrong agent — Millie seldom needs to read beyond the first paragraph in order to glean that much — it is a complete waste of an aspiring writer's time to query an agent who does not currently represent books in his chosen book category. Save yourself some chagrin; take the time to check.
Starting to sense a pattern here? Like, say, that trying to save time by skipping the research step is often a false economy, resulting not only in more rejection, but often a longer querying process as well?
I shall leave you to ponder that one for the nonce. Let's move on to the 600-pound gorilla of querying faux pas.
The one-size-fits-all querier says, "Oh, I don't need to check whether this agency has posted specific guidelines for what it wants to see in a query packet; everyone wants the same thing."
At this point in Queryfest, do I even need to reproduce this writer's logic? Well, okay, for the sake of future would-be queriers who might stumble upon this post in isolation in the archives: anything called a query must by definition mean the same thing, right? So anything I have ever heard about querying, as well as any advice on the subject I might find on the Internet, must be referring to the same thing. That must be true, since the publishing industry — and, by extension, agencies — are set up first and foremost to identify new talent in raw form; for a good writer with a good book, this process should be easy. That being the case, all I need to do is find a template that someone says will work and follow it. Easy-peasy."
Breathe into this bag, Millicent, until you stop hyperventilating. Then share your thoughts: "Criminy, another aspiring writer who can't read. Or hasn't bothered. My agency takes the time to publish guidelines for a reason: we know what we want to see. While this querier may well have a great manuscript on his hands, the letter does not give me the information and/or materials I need in order to say yes to it. So I am saying no.
"Wait — I'm not done yet. Since this querier is treating my agency as identical to every agency, and my boss as identical to every other agent currently milling around Manhattan, I shall return the favor: this query is identical to a good half of the others I see in any given month. Not in subject matter, but in attitude. Believe it or not, following the rules we set out is rare enough that following them makes a query stand out from the crowd. So fly back home to the person who wrote you, little query, and I hope that if he does genuinely have talent, this rejection will teach him to treat his future agent — and her staff — with more respect."
Of course, it would be far, far easier for the writer in question to learn that particular lesson if the rejection letter actually said any of this — or if he received a formal rejection at all. Even twenty years ago, though, this type of generic, wallpaper-New-York-with-letters query almost always received not a personalized reply, but a form-letter rejection. Queriers who presented themselves better, but had missed the mark in small ways, were often given specific reasons the agency wasn't asking to see pages. Now, not only would virtually every rejected query generate the same form letter at most agencies — many agencies simply don't reply at all if the answer is no.
So how is that misguided querier to learn better? Good question. The basic theory underlying the querying and submission process — that since a manuscript or proposal not only needs to be well-written, book category-appropriate, and market-ready in order to catch a good agent's eye, but also presented professionally at the query and submission stages, a gifted writer might have to take the same manuscript through many revisions and multiple query and submission rounds before finding the best home for it — is predicated upon the assumption that any serious writer will figure out both that it's essential to her book's success that she invest the time in learning the ropes, but that she is aware that there are ropes to learn. And that she will have the time, patience, and faith in her talent to keep pressing forward in spite of rejection until she has acquired the necessary skills and expertise to wow an agent.
That's a whale of a presumption, one that could be quite easily undermined by, well, talking to even a small handful of the thousands upon thousands of exceptionally talented writers who spend years trying to crack the code. But I've already said enough today about the dangers of assuming that one knows what is in other people's minds — or other people's interests.
There's another, more query-specific cost to this series of presumptions — but rather than tell you what it is, I have the great good fortune of being able to show you. At the beginning of Queryfest, I appealed to the Author! Author! community, calling upon queriers brave and true to volunteer their real queries for discussion here. These are actual queries from your actual fellow writers, campers: I'm sure I don't need to remind you that while we welcome constructive criticism here at Author! Author!, we should all be grateful that these hardy souls have been generous enough to help further our discussion.
So on this day of examining common presumptions from both sides of the querying fence, I am delighted to bring you what from a writerly perspective might be considered an excellent query letter for a genuinely interesting-sounding book, courtesy of Author! Author! reader Kitty Hawk. As with all of our never-to-be-sufficiently-thanked Queryfest exemplars, Kitty's name and contact information have been altered to protect her privacy. And as always, if you are having trouble seeing the particulars, try holding down the COMMAND key and pressing + repeatedly to enlarge the image.
Sounds like a heck of a good read, doesn't it? It also, thank goodness and Kitty's great good sense, steers clear of all of the problems we discussed above. She's also, very much to her credit, caught the YA tone exceptionally well here: while the level of word repetition and relatively simple sentence structure would not be pluses for most adult fiction queries, a Millicent working for a YA-representing agent would certainly have no trouble appreciating Kitty's familiarity with the conventions, vocabulary, and tone of her chosen book category. So far, very well done, Kitty!
Yet although virtually the entire letter is devoted to a description of the book, Millicent might well stop reading before she learns much about it — and for a reason that, like so many of our double-sided tactics above, was probably far from Kitty's intent. Any guesses what it is?
Hint: the devil is in the details here. You're going to need to take a very, very close look at the page.
That means, naturally, if your hand immediately shot skyward as you cried two paragraphs back, "This letter is in business format, not correspondence format," you hit upon a reason Millicent might have taken this letter less seriously if it arrived via regular mail — even at this late date, business format is not considered particularly literate by people who deal with books for a living — but not typically an instant-rejection offense. Besides, since most e-mail programs more or less force unindented paragraphs, this oversight wouldn't particularly matter in an e-mailed query. Since Kitty submitted this to Agent McAgentson via e-mail (via me), I vote for cutting her some slack on this one.
Ditto if you pointed out, and rightly, that Kitty has included only one means of contacting her — a no-no, even in an e-mailed query. She should have included the whole shebang: mailing address, phone number, e-mail address. Yes, Millicent could simply have hit REPLY to ask for pages, but as we discussed earlier in this series (but not as early, I believe, as the date Kitty sent today's example to me), queries get forwarded around agencies all the time. So if an administrator or Millicent's boss, the agent, had forwarded it to the screeners, or one screener had forwarded it to another (not at all implausible, considering how many Millicents are students working part-time as interns), that request for materials would head back to the sender, not Kitty.
Of course, that could still happen if Kitty includes her full contact info, but still, it's always a good idea to make it as easy as possible for the agent of your dreams to contact you. Hawkeye might have a question best discussed by phone (unlikely at this stage, but not unheard-of), or the agency might print out successful queries. Or — sacre bleu! — Kitty's eventual submission might get misplaced, and Millicent might have to go tearing through the files, frantically trying to track down a means of contacting her.
Anyway, Kitty does not have the usual justification for not wanting to devote several lines of the page to the way contact information is usually presented in correspondence format: this query is quite comfortably under a page. Especially as — and again, while Millicent might see this as a gaffe, most aspiring writers would not — the right and left margins are not the usual 1 inch, but 1.25. That allows plenty of room for adding necessary information.
What might this query look like with these small, purely technical errors corrected? Glad you asked. In order to help us spot the red flag that might prevent this (again, quite well-written) query from getting read at virtually any U.S. agency, as well as the pale pinkish flag that might cause some Millicents to delete it after paragraph 1 if it were sent via e-mail, let's make the cosmetic corrections and see just how big a difference it might make on the page.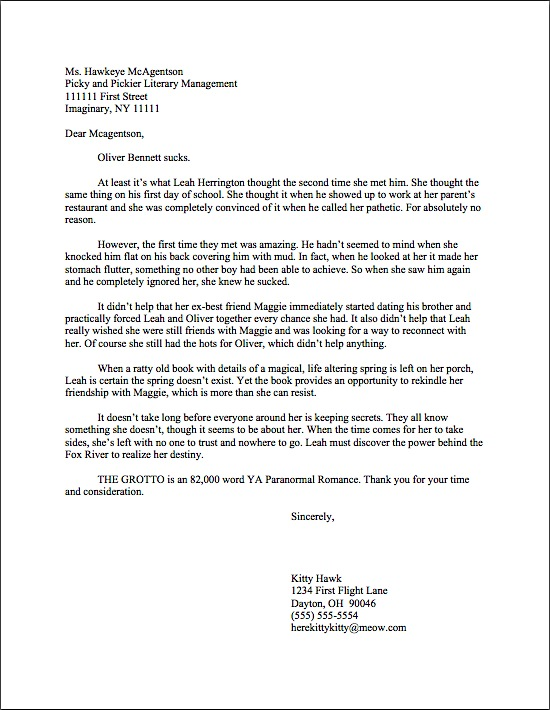 Quite a difference for less than a minute's worth of revision, isn't it? And now that you see the two letters side by side (or, more accurately, stacked), can you see why Millicent might well have had a visceral negative reaction to the first? The first version scans like a printed-out e-mail; the second looks like a letter.
Okay, now do you see the instant-rejection trigger? What about the reason she might have stopped reading a few paragraphs in, or the reason she might not have made it all the way through that quite nice description? No? Then how about the structural choice that might cause a time-strapped Millicent — aren't they all? — to assume that this letter contains less professional information than it actually does?
Now that I've dropped that tonnage of hint for the last one, let's concentrate on it first. To figure out what Millie might have expected to see earlier in the letter (oops, there I go again, bouncing those hints), why don't we refresh our memories about the requisite vs. the merely helpful elements to include in a query letter, checking to see which, if any, Kitty has omitted?
What a fine idea, if I do say so myself. A query letter must contain:
1. The book's title

2. The book's category, expressed in existing category terms

3. A brief statement about why you are approaching this particular agent

4. A descriptive paragraph or two, giving a compelling foretaste of the premise, plot, and/or argument of the book, ideally in a voice similar to the narrative.

5. An EXTREMELY brief closing paragraph thanking the agent for considering the project.

6. The writer's contact information and a SASE, if querying by mail
And it may be helpful to include:
7. A brief marketing paragraph explaining for whom you have written this book and why this book might appeal to that demographic in a way that no other book currently on the market does.

8. A platform paragraph giving your writing credentials and/or expertise that renders you the ideal person to have written this book.
Okay, how did this query do? It does contain the title and the category, as well as a nicely-written description of the book and a polite, if rather terse, sign-off. But that's it. Millie would be left to guess why Kitty was approaching her boss, whether she had any previous publications, and to whom, out of the wide and varied array of YA readers, this book is likely to appeal and why.
I can't even begin to estimate how often screeners receive queries like this, book descriptions shoehorned into letter format. Yes, it makes the story sound appealing, but if it weren't addressed to an agency, a reader might even have a hard time figuring out that it is a query intended to solicit an invitation to submit a manuscript, rather than a sales pitch for an already-published book..
"That last paragraph, while I do indeed that information, doesn't make much sense if it isn't a query," Millicent muses, "so I suppose it must be. But honestly, does Kitty assume that an agency receives no correspondence other than queries?"
Yet, again, from a writer's perspective, there's absolutely nothing wrong with this query as it now stands, other than a few typos. (We'll be getting to those later.) It's polite; it contains what many first-time queriers would assume was the totality of the information necessary in a query letter; it's genre-appropriate and presumably addressed to an agent who represents books like this.
All of this is good — but by not including all of the elements Millicent would expect a writer familiar with the querying process (and thus a homework-doer) to display, it inevitably comes across as slightly less professional than it could. The big tip-off that Kitty is new (or newish) to querying: placing the book's title and category at the bottom of the missive.
Why is that a sign of relative inexperience? Because screeners scan queries really, really fast — on average, a mailed query will receive less than 30 seconds of her attention, and that's counting stuffing the form-letter rejection into the SASE. For e-queries, it's often even less.
So I ask you: is it really a good idea to make Millie scroll down to learn what kind of book this is? Or to presume that she will read a paper query all the way to the closing thank-yous before deciding whether this manuscript belongs in a book category her boss currently represents?
Don't believe it would make much of a difference? Okay, here's that query again, with nothing changed except the title and category's being moved to the top. Oh, and I'm going to add a date, to decrease the (possibly accurate) impression that Kitty might be mailing precisely the same query to every agent in the country that represents YA paranormal romance.
I see your brows knitting: you're thinking it looks a trifle funny now, don't you? Millicent can tell right away whether it's a book in a category her boss represents, but the presentation is awkward. Also, why include the word count, unless Picky and Pickier's guidelines specifically ask for it? THE GROTTO is not long enough that mentioning this detail is going to be a deal-breaker — as it often is, if the count is over 100,000 words — but wouldn't it be more to Kitty's advantage to use that space for something else? Like, say, some mention of why, out of all the agents currently working in the U.S, she is approaching Hawkeye, or who might want to read this book?
And I'm sure it didn't escape your sharp eye that in order to fit in the date, I had to skimp on the number of lines between the Sincerely and the contact info. Millicent would have noticed that, too.
So how are we going to free up the requisite space to personalize this query for Agent McAgentson? Well, for starters we can tighten that description: since Millicent is expecting a description only 1-2 paragraphs long, that's to Kitty's advantage, anyway. That will enable us to lessen the word repetition and move a nicely unusual detail closer to the top.
Absolutely no doubt that it's a query now, is there? It's also clear from the get-go that it's a book that Hawkeye represents — it must be, since Kitty's mentioned a similar book. Heck, she even has room now to add a paragraph about her writing credentials, educational background, and/or relevant life experience.
I'm sensing some disgruntlement out there, though. "But Anne," lovers of completeness point out, "we get less of the story this way. True, it is less word-repetitious, and that nice YA tone still comes across loud and clear, but shouldn't Kitty want to cram as much of the plot into her query as humanly possible?"
Not necessarily, completeness advocates: all she needs to do is establish her protagonist as an interesting person in an interesting situation, setting up the central conflict — or, in this case, three — and giving Millicent some sense of what's at stake. Check, check, and check. This version also enjoys the advantage of getting to the paranormal elements faster.
Oh, hadn't you noticed that a screener would have to make it halfway down the page in the original version before encountering any paranormal element at all? If Hawkeye represents only paranormals, rather than straight-up YA romances, Kitty's legitimately paranormal story might easily have gotten dismissed as not right for the agent's list.
The two reasons that many Millicents would have stopped reading before the end of the original version are quite a bit more apparent now, though. Did you catch either?
If you murmured, "Well, I did notice that the tense kept changing," give yourself a nice, warm pat on the head. For fiction, a book description should be entirely in the present tense. And remember, tense consistency is considered a sign of professionalism.
If you also called out, "Hey, there are quite a few typos here," feel free to rub your tummy as well. Like college application screeners, most Millicents are specifically trained to stop reading after just a few typos.
Both are easily fixed, however, at least by hands not feverishly occupied in patting a head and rubbing a tummy at the same time. Personally, I would add the characters' ages — a standard professional touch — but again, that's the work of a moment. So is punching up the language a little to make Leah seem a bit more active, always a plus in a protagonist, and excising that minor cliché about having nowhere to turn. And If I knew more about the story, I would like to add a clearer sense of what her destiny entails, but for now, I'm going to have to leave that to the person best equipped to fill in the details, the writer.
Which leaves us with only the seemingly unimportant oversight that might well have prevented Millicent from reading the body of this letter at all. Ready, set — discern!
Please tell me you spotted it this time. Hint: to Millicent's eye, it's a pretty clear indicator that Kitty has been reusing the same query over and over again, merely changing the agent's address and salutation this time.
That's right, campers: Kitty addressed the query to Dear Mcagentson, rather than Dear Ms. McAgentson. While the missing honorific might have been the result of a simple slip of the mousing hand while cutting and pacing, mispunctuating the agent's name — and thus effectively misspelling it — implies hasty retyping. Believe it or not, both are common enough agents' pet peeves that much of the time, either will get a query rejected unread.
Isn't it amazing how changing just a few elements, matters that might well strike a writer as trivial, can make such a monumental difference in how Millicent would receive a query? And isn't it nice to see Kitty's good story presented professionally, to maximize its chances of getting picked up?
The answer on both counts, should you be wondering, is yes. Let's take one last look at her query, all polished up.
Ah, that's nice. Please join me in thanking Kitty profusely for allowing us to deconstruct her query — and in wishing her the very best of luck in finding the right agent for what sounds like a wonderful book.
More real-life query examples follow in the days to come. Watch those assumptions, everybody, and keep up the good work!