It's going to be a long one today, campers, but I can't resist opening with a bit of good news: I sold a book yesterday!
To be precise, my agent, the fabulous Jim McCarthy of DGLM (who will be attending a certain upcoming Conference That Shall Remain Nameless), successfully marketed my next nonfiction book, a political memoir I am writing with the godmother of the first civil rights act of the 21rst century, Marsha Coleman-Adebayo. It's being acquired by a wonderful editor — and believe me, as an editor myself, my standard for wonderful is very high indeed — at a terrific independent press.
So I am THRILLED. Now I just have to write it.
Because, you see, like most NF and even most memoirs, it was sold on the basis of a proposal and the first chapter. And if that's news to all of you memoir-writers out there, please see the WRITING MEMOIR category at right.
(Because I have a lot of material to cover today, I am going to refer to past posts, rather than explaining each point in full, as is my usual wont. If you don't have time to check, don't worry: I shall doubtless be revisiting many of these issues in the months to come.)
In case you're curious about what happens after an offer is made and excepted, the agent then issues what's called a deal memo, a 1- or 2-page document stating just the facts, ma'am: who is buying it, who the acquiring editor is, how much the advance is and how it will be paid (usually in either two or three installments; for further explanation, please see the ADVANCES category at right), the royalty rates, who owns what subsidiary rights (film, audio, book club, etc.), the area to be covered by the sale (first North American rights, first English-language rights, world rights), the length (always an issue in a book-to-be-written), the delivery date (that's when I have to get them the finished manuscript), and the tentative publication date (when it will hit the shelves).
And all of that's before the contract's even written. Agents honestly do work very hard on their clients' behalves, you know.
All very exciting, of course, and a trifle disorienting. I shall keep you posted, naturally, as the deal becomes codified.
A second bit of good news: FAAB (Friend of Author! Author! Blog) Jonathan Selwood's first novel, The Pinball Theory of Apocalypse, comes out today, and with what fanfare! I was in Portland a couple of weeks ago, and just look at what greeted me when I arrived at my favorite bookstore: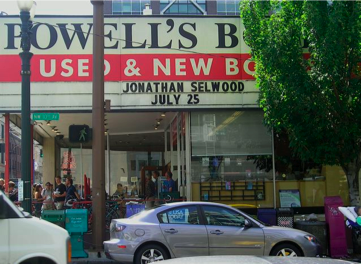 If having one's name emblazoned on a terrific bookstore's marquee isn't a goal worth having for any writer, I should like to know what is. Congratulations, Jonathan!
For those of you who live in the Portland area, Jonathan will be reading tomorrow night (thus the marquee) at Powell's City of Books on Burnside. He will be reading in the Seattle area in a couple of weeks, and I, for one, am looking forward to hearing him.
So there you have it: concrete visions of goals-along-the-way for YOUR writing career. Go ahead, spend a few minutes envisioning your name on that marquee and your agent calling you about an offer on your book. That's where you're headed, and that's why you're investing all this hard work in making your work professional.
It may seem a trifle silly to say that outright, but it's tempting to focus upon only the end products of writing: the book in the reader's hand, the royalty check in the bank account, you reading your work to a hushed crowd of avid devotees. But days like this are well worth acknowledging. If you're in it for the long haul, believe me, celebrating the victories along the way — your own AND others' — helps sustain you through the long, dark days of seemingly endless work.
I mention this because it fits so beautifully into today's topic: working up nerve to approach agents to pitch. Because, you see, in the flurry of pitching and querying, signing with an agent can start to feel like the end goal, the point at which all of the hard work is going to end, rather than a victory to be celebrated along the way. Yes, you do want an agent to fall in love with your writing — but never forget that the point of having an agent is to market your book.
Which means — and this is going to seem rather funny, in a pitching situation, when you are concerned with catching an agent's wandering eye — you should be considering if the person in front of you is a good bet for helping you meet your ultimate goal of publication.
Because believe me, the author's work does not end when the ink dries on the agency contract: its nature merely changes.
So you're going to want to ask some questions about who these people are, what they typically represent, and how they like to work with writers. Agenting styles are very different: some are very hands-on, line-editing the work they represent, and some prefer to, as the saying goes, "leave the writing to the writers." Some enjoy explaining the publishing process to their clients, and some are infuriated by it.
It really is in everyone's best interests, therefore, that such preferences be aired up front.
I know: it's intimidating, and you don't want to offend anybody. But remember, these people come to a conference to discover people like YOU. Don't talk yourself out of approaching them. Yes, the deck is stacked, but that does not mean that it's impossible to make it: writers find agents at conferences all the time.
Including, incidentally, yours truly. After asking simply mountains of very pointed questions.
Fortunately, you need not wait until your pitching appointment or you have buttonholed an agent in the hallway to ask such questions: most conferences, including this coming weekend's Conference That Shall Not Be Named, feature panels where agents and editors talk about their work. Almost universally, the moderator will ask for questions from the audience.
Here's your chance to ask many agents at once about what they like in a book — and in a client.
It's a golden opportunity — yet much of the time, it's is squandered with the too-specific question of the conference newbie who thinks this is an invitation to pitch: "Would you be interested," such a fellow will stand up and ask, "in a book about a starship captain who finds himself marooned on a deserted planet where only mistletoe grows, and his only chance of escape is to court the ancient Druidic gods?"
Now, personally, I would probably want to take a gander at that particular book, if only for giggles, but question time at an agents' forum is NOT an appropriate venue for pitching. You should feel free to walk up to the panelists afterward to try out your hallway pitch, but you will make a much, much better impression if you use the question time for, um, questions.
What is likely to happen when our misguided friend ignores this dictum? One of two things, depending upon the mood and generosity level of the agents so approached. If they're feeling kind, one of them will try to turn this too-specific question into an issue of more general concern, as in, "It's interesting that you ask that, because the SF market right now is very much geared toward…"
The other, less charitable and more common response is for the agents all to say no and the moderator to ask for the next question from the audience.
Just don't do it.
A popular variation on this faux pas is a questioner's standing up, describing his book, and asking how much he could expect to receive as an advance. From the writer's point of view, this certainly seems like a reasonable question, doesn't it? Yet to industry-trained ears, it says very clearly that the asker has not gone to the trouble of learning much about how publishing actually works.
Why is that so evident? Well, in the first place, advances vary wildly. Think about the deal memo: pretty much everything that has to do with the author's cut is a matter of negotiation. Which leads to the second point: a book that attracts competitive bidding today may not interest any editor at all six months from now.
So really, when an aspiring writer asks such a question, what an agent tends to hear is, "I want you to predict the market value of a book you know absolutely nothing about."
Again: not the best idea. You're going to want to keep your question general and, if at all possible, have everyone on the panel answer it, so you don't appear to be targeting one of them for something he said. (It happens.)
Another common faux pas is to challenge what an agent on the panel has already said. Often, the writers who go this route will cite another source, for added credibility, "You said X ten minutes ago, but Miss Snark says…"
This question format will not help you win friends and influence people.
Why? Well, no one particularly likes to be contradicted in front of a roomful of people, right? Being told that someone out there is laying down rules of her conduct is far more likely to raise hackles than provide clarification.
And it's not as though the average agent reads the many writing blogs out there, even if she happens to write one herself. (As does, I believe, Rachel Vater, also scheduled to attend the CTSRN) So any name you cite — up to and including Miss S's, who enjoys a mixed reputation amongst agents — is unlikely to seem like an unimpeachable source.
Although you may certainly feel free to preface your remarks to my agent with, "I really like Anne Mini's blog," should you be so moved.
As long, that is, as you did not add immediately thereafter, "and she says that what you told us before is wrong." Trust me: as an opening gambit, it just doesn't work.
So what should you ask that intimidating row of agents? A few suggestions that designed to elicit information you would probably have a hard time gleaning anywhere else — and will generally provoke interesting comments, rather than the usual bleak diagnoses of how tough the market is right now:
"What was the last book each of you picked up at a conference? What made that book stand out from the others you heard pitched?" (I love this question, as it gives pitchers hints about how the agents like to hear a book described.)
"Who is your favorite client, and why?" (This is a question they tend to love, as it enables them to promote a client's work. Make a great show of writing down names.)
"How long do you stick with a book you really love that's not selling before you give up on it?" (In many ways, this is the single most important thing to know about an agent with whom you're considering signing — and it's an agent-friendly question, because they almost invariably answer it by talking about a pet project.)
"How is selling a first-time author's book different from selling the work of someone more established?" (They'l like this question less, but it will give you a pretty good idea of who has sold a debut novel lately and who hasn't.)
"Are you looking for a career-long relationship with a writer when you consider a submission, or are you only thinking about the book in front of you? If you thinking in the long term, how often do you expect your clients to produce new books?" (This last varies a LOT.)
"How much feedback to you give your clients before you submit their books? Do you usually ask for a revision before you send a book out? How much do you like to get involved in the revision process?" (Yes, this is an enormous question, but the agents who never edit at all will usually say so immediately.)
"Is there any kind of book you specifically do NOT want to hear pitched this weekend?" (Hey, someone's got to pull the pin on that grenade. Sometimes they will answer this question unsolicited, however, so do keep an ear out during the forum.)
What's the worst query letter you ever got, and why?" (This is a great question to ask if you're not planning to do any hallway pitching. The responses are usually pretty colorful. It's also worth asking if they have any automatic red flags for submissions.)
These are pretty fundamental questions, but you are well within your rights to ask them. Every agent has a different representation style, and you will want to know about any pet peeves or preferences before you stick your pages under their respective noses, right?
You'll be pleased to hear, after all that, that there is really only one question that someone absolutely needs to ask at the editors' forum — although most of the questions above will work in this context, too. Since most publishing houses now have policies forbidding their editors from picking up unagented work, everyone in the room will be happier in the long run if you just pull the pin on the grenade:
"If you found a fabulous book here at the conference, which of you could sign the author directly, and which of you would have to refer her to an agent?"
Yes, it's a bit in-your-face, but the fact is, the editors from houses that have this policy tend to assume that pitchers are already aware of it. Asking to know whether you'll be pitching to someone who could act directly or not can help you streamline your pitching attempts.
Don't be afraid: you're there to learn how to market your work better, and they are there to pick up new writers. You are not a second-class citizen begging the nobility for a favor, as so many first-time pitchers seem to think: you are trying to find the best collaborators for your writing career.
As Francis I of France put it: "The sun shines for me as for others. I should very much like to see the clause in Adam's will that excludes me from a share of the world."
You deserve to be heard, in short. Don't let 'em intimidate you.
Tomorrow, a few hints on maintaining your energy throughout what can be a pretty exhausting event. Keep up the good work!