Yesterday, I began a discussion about self-publishing with two authors who have taken the plunge this year, fellow blogger and memoirist Beren deMotier and novelist Mary Hutchings Reed. Both are prolific, award-winning writers who have been fighting the good fight along with the rest of us for many years, so who better to ask the question that has been on so many writers' minds over the last couple of years: what precisely is it like to self-publish?
Today, we're going to discuss the practicalities of self-publishing, particularly how one goes about finding a reputable press. But before we get started, please help me welcome back our panelists. And because they are, after all, doing us a great big favor here, let's recap what they have published and where one might conceivably go to buy it.
Beren deMotier is the author of THE BRIDES OF MARCH. It's available on Amazon, of course, but because I always like to plug a good independent bookstore, here's a link to the book's page at Powell's, too.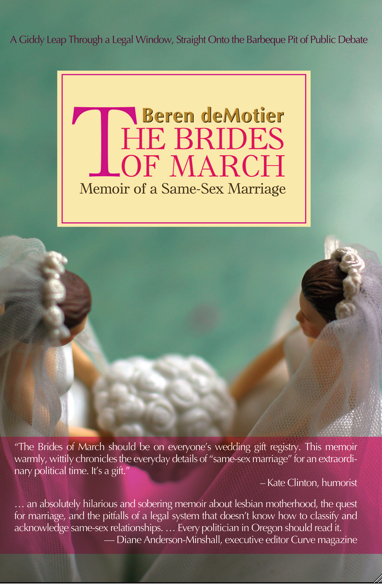 The Brides of March: Memoir of a Same-Sex Marriage is a lesbian bride's eye view of marriage at a moment's notice, with a bevy of brides, their coterie of children, donuts, newspaper reporters, screaming protesters, mothers of the brides who never thought they'd see the day, white wedding cake, and a houseful of happy heterosexuals toasting the marriage. But that was only the beginning as these private declarations of love became public fodder, fueling social commentary, letters to the editor, and the fires of political debate, when all the brides wanted was the opportunity to say "I do" in this candid, poignant, and frequently funny tale of lesbian moms getting to the church on time in Multnomah County.
In addition to her fine memoir, Beren also has written humor/social commentary for Curve, And Baby, Pride Parenting, Greenlight.com, www.ehow.com, as well as for GLBT newspapers across the nation. She's written about same-sex marriage for over a decade, and couldn't resist writing the bride's eye view after marrying in Multnomah County. She lives in Portland, Oregon, with her spouse of twenty-one years, their three children, and a Labrador the size of a small horse.
Mary Hutchings Reed, if you'll recall, is the author of COURTING KATHLEEN HANNIGAN, which is being described as ONE L for women lawyers:
Courting Kathleen Hannigan tells the story of an ambitious woman lawyer, one of the first to join a male-dominated national law firm in the late seventies, whose rise to the top is threatened by a sex discrimination suit brought against the firm by a junior woman lawyer who is passed over for partnership because she doesn't wear make-up or jewelry. When Kathleen Hannigan is called to testify, she is faced with a choice between her feminist principles and her own career success. Courting Kathleen Hannigan is a story for women and minorities everywhere who are curious about the social history of women in law, business and the professions, institutional firm cultures, and the sexual politics of businesses and law firms.
In addition to a writing schedule that would make most of our heads spin, Mary has spent the last thirty-one years of practicing law, first with Sidley & Austin and then with Winston & Strawn, two of the largest firms in Chicago. She was a partner at both in the advertising, trademark, copyright, entertainment and sports law areas, and now is Of counsel to Winston, which gives her time to write, do community service (BUCKETS of it) and pursue hobbies such as golf, sailing, tennis, and bridge.
In short, in addition to being good writers brave enough to publish their own work, these are two incredibly busy people, so many thanks to both for taking the time to let me pepper them with questions. Let's leap right into the nitty-gritty:
Anne: Last time, we talked a little bit about why each of you chose to pursue the self-publishing route, and what kinds of specialized obstacles your unusual subject matter placed in your books' paths. Since so many of our community here at Author! Author! can identify with the experience of sending out query after query, let's take a moment to talk about how you went about marketing the book to agents before you made the choice to self-publish.
You're both very experienced, professional-minded writers — is it fair to assume that you went about it in the traditional way? I always like to ask this, just in case some brilliant soul has found a clever way to bypass this often drawn-out process. You're shaking your heads and laughing — no such luck?
Beren: I used the Guide or Writers Market…
Anne: Ah, the sacred texts.
Beren: …after checking online to see if the information was still accurate. If they wanted a one-page query letter, I sent that; if they wanted a book proposal, I sent that. Often, a query would lead to chapters and chapters to the whole manuscript, but not to a book contract.
Mary: I went to workshops and learned how to meet agents; I sent a lot of queries.
Anne: So you both went about it the right way. Given the original nature of your story and how evident it was that your book was going to stir up some pretty strong emotions in readers, were you were you surprised at the responses you received from agents and editors?
Mary: I was surprised more agents didn't see right away that career women in book clubs would love Courting Kathleen Hannigan. But I didn't get much advice from them, and not useful. The comment "in the end I failed to connect to the material" isn't very helpful.
And don't forget I did have an agent for Courting Kathleen Hannigan (here in Chicago), who worked with me all of 2002 to get it where she wanted it for publication, and then she died in early 2003.
Anne: I remember when it happened: one day, you had a great agent, and the next day, you didn't have one at all, and had to start the whole process over again. You bounced back really well, though, as I recall.
Mary: It was a shock, and I put the whole selling thing on hold for a while. I got involved with other projects and only gradually got back into trying to interest an agent in this work, and then moved on to trying to sell my next works.
Anne: That's one reason I really wanted to interview you here; we writers are so conditioned to believe that once we land an agent, we don't need a Plan B. But that's not necessarily the case, no matter how talented a writer you are — so much of this process is out of our control.
Before we talk about Plan B, though, I want to ask a follow-up about submitting to agents. How much feedback did you actually get, and was any of it helpful?
Beren: There was a wonderful agent who gave my book three chances—she looked at and read three incarnations, which is a lot of time to give a project, but ultimately her comment was, "You'd have a better time selling this project if you were an alcoholic single mother."
Anne: Oh, that's very helpful. I know perfectly well that agents usually say things like this not intending them to be taken seriously as revision suggestions, but to excuse their passing on a well-written book, but don't statements like this just set your mind whirring with the possibilities? Surely, she wasn't actually suggesting that you add false memories to your memoir to make it easier to sell, any more than she was suggesting that you should look into alcoholism as a career-enhancing move, but I have to say, those comebacks certainly would have occurred to me.
Beren: She felt that there wasn't a big enough "problem" in the story—no one died, no one went to jail—and so she couldn't sell it. I had some similar reactions from others, and it was shocking to me that being denied one's civil rights and getting constitutionally designated as unworthy of marriage (and all the bitter pain that involved) wasn't a big enough "problem." I wonder if they had read the whole book, because the ups and downs aren't apparent in the beginning—perhaps that was a mistake—but I wanted to tell it as it was experienced.
Anne: In other words, as a memoir; as a memoirist myself, I completely get wanting to tell the story from the inside-out, to place the reader inside a world s/he has never experienced before.
What about you, Mary? Any useful feedback?
Mary: The most helpful advice from any agent, of course, was from Jane Jordan Brown before she died. That was to get it down to 300 pages.
I got a ton of feedback from Enid Powell, from my workshop fellows, from a couple different paid services (as I recall) and then from my non-writing, women-lawyer friends. All feedback is helpful, either to confirm your confidence in your own work or to give you insight into what can be done better or more clearly.
Anne: I'm about to ask a totally insensitive question, but one that I'm sure many of my readers are going to be too polite to write in and ask. Did you ever consider just giving up on this project, when it did not receive the response from agents and editors that it deserved?
Beren: Oh yes, I did consider just giving up. Especially since writing about same-sex marriage for a couple of years kept the pain of having the marriage annulled alive, and kept me conscious of every mean letter to the editor or hopeful legislation. Partially what kept me going was a stubborn streak and pride, to give up would have been to admit that I thought the project was unworthy of publication or readership.
There were times I closed up my files and left my desk to collect dust between query waves, but even one positive thing kept me going—a compliment from a friend on the book, a nice note at the end of a rejection letter, the publication of one of my editorials on the subject. Keeping a lot of balls in the air about the book kept it a live project, even when I thought I was done with the actual writing.
Anne: It's SO important to keep moving forward. If I hadn't had a novel to revise and a blog to write after my memoir was hit with the lawsuit threats, I can't imagine how I would have coped. Work can be a positive blessing in the midst of book turmoil. That, and reminding oneself that a setback on the road to publication doesn't necessarily mean that the book doesn't have an audience waiting out there to be moved or helped by it.
Mary: What keeps me going is the pure enjoyment and satisfaction I get from writing. It is, for me, soul-making.
Anne: What a nice way to put it. That scratching sound you hear is me writing that down, very possibly to steal it for my next class.
Mary:In a sense, I did give up on finding a commercial publisher. I published it privately because I finally got my own ego out of the way and the time felt right. Some part of me also wanted to be able to give it to my librarian-mother, who was losing her memory. Even though we published it in about a 75-day turnaround, she unfortunately didn't quite get it, even with my picture on the back. But the nurses in her Alzheimer's unit loved it!!
Which was a gift—convincing me that there was an audience way beyond just "lady lawyers."
Anne: Which to my eye, it very clearly does. I don't understand why it wasn't obvious to agents in both your cases that people like me — who read a great deal by living writers, but who are neither likely to be practicing law in a high-powered firm or marrying people of the same sex — would be the audience for these books. I already know about people whose experiences are just like mine — I want books that will introduce me to points of view other than my own.
Somehow, I doubt I'm the only habitual book-buyer in North America who fosters that preference.
Let's talk about your segue into Plan B. What were your feelings about self-publication prior to this project? Had you ever considered it before, and do you think your advance impression of it was accurate?
Beren: I did think of self-publishing as vanity publishing until recently. And to vanity publish would have been a shameful thing to me, an admission that I couldn't cut it. So yeah, I had baggage.
Mary: My impression was that–as they say in the books—it's all about the writing, and if the writing is good, you'll get published—so I thought of self-publishing as a failure. That good writing will always get published commercially just isn't true. I got lots of compliments on my writing, from lots of highly-regarded agents and publishers—but they didn't know how they would "sell" my work. They apparently don't find it all that easy to sell plain old "good writing."
Anne: There have been plenty of periods in publishing history when it has been pretty darned hard to sell plain old good writing. Just ask anyone who tried to sell a memoir just after the A MILLION LITTLE PIECES scandal. It's just one of the facts of the business.
Beren: I've wanted to be published since I was ten; my grandfather was a successful novelist and screenwriter, so I've been aware of the business side of writing from an early age. This wasn't the first book I queried, and with those others I considered self-publication, but wisely knew it wasn't the right time or the right project. They weren't good enough.
Mary: Several friends of mine self-published and had fun with it. One sold 4000 copies by hand in less than two years.
Anne: Wow — that's practically unheard-of. I've always heard that most self-published books sell under 500 copies ever. You're talking about Erin Goseer Mitchell, right?
Mary: Yes. Her book, Born Colored. is about growing up in Selma before Bloody Sunday—she knew her audience, and wanted to tell the story of the strength and dignity of the black community which made the civil rights movement possible.
In the same way, I thought I knew my audience, and that I should be able to sell a couple thousand copies. If I don't believe I can, why would a publisher believe they could?
Anne: That's an interesting way to think of self-publishing.
Mary: I don't exactly use the words "self-publishing." While I financed the publication and am primarily responsible for marketing, my publisher, Ampersand, Inc., doesn't publish everything they are asked to publish. She picks and chooses the products to which she will lend the Ampersand name. We've coined the term "privately published."
Anne: I like that; it sounds very Edwardian.
Let's talk about how one goes about getting a book privately published, then. How did you go about finding a press to use, and why did you pick your press? What did it offer you that others didn't?
Beren: I did quite a lot of research on self-publishing before committing. Looking at writing books and online reviews of publishing companies, it was clear there were some that rose to the top of the list, including iUniverse and Infinity Publishing. Amazon.com had just started publishing books, too, through Booksurge, and it had a lot to offer—it was a hard decision between iUniverse and them.
Ultimately, iUniverse offered the chance to have a book distributed on standard wholesale terms basis if you sold 500 copies, and I was pretty sure I could do that, plus the initial cost was much lower. Booksurge is astoundingly expensive compared to some POD publishers, but they have a lot to offer.
Mary: My friend founded Ampersand. She'd been in publishing all her life (as president of an educational publishing company), and had turned out highly professional projects for a couple other people I know. It's more expensive than publishing on demand, but the product itself and the marketing materials have very high production values. I may have been able to figure out how to put together a book, and go to a printer and get my own ISBN and all that, but the physical product would not have been nearly as professional and classy as the one Ampersand produced. Plus, it's a better use of my time to do what I do—practice law—and pay her to do what she does.
Anne: It's great that you had someone you already knew you could trust.
Mary: I'm suggesting it's not a matter of printing or finding a good press or the right print-on-demand. I think it's finding a publishing professional, like Susie Isaacs at Ampersand here in Chicago to make the product indistinguishable from a commercially-published book.
Anne: Not having that advantage going in, Beren, what criteria did you use to decide which press to select?
Beren: I looked at how the books were distributed (wholesalers and online stores), author discounts (very important if you plan on selling books at conferences, library events and directly to local bookstores), the "look" of the books that press had produced—did they look professional, could you pick them out as a self-published book?—and the timeline from submission to publication. I needed the book out sooner, and not at an outrageous price.
Anne: It's SO interesting that you both mention the importance of the end product being indistinguishable from a traditionally published book — it hadn't occurred to me to think about in those terms, but now that you mention it and I look at the volumes in front of me, I wouldn't have been able to tell the difference without looking at the press' name.
Which makes me doubly eager to ask my next question, because you're both so well-versed in this: What questions should someone thinking about going this route ask a potential press up front?
Beren: I think it is worth finding out how many of their books actually sell more than five hundred copies. I use that number because that is the number by which iUniverse decides it is worth investing its own money in a book, by redesigning the cover, any additional editing services free and by selling it at standard wholesale terms.
Anne: I wasn't aware that they did that. I'm so glad that I asked.
Beren: Of the thousands of books iUniverse publishes every year, only about twenty sell over five hundred copies. I think that Infinity has returnability, and for a fee, the Amazon company, Booksurge, has returnability, but it doesn't advertise that fee. Booksurge has the highest royalties for online sales, which might work brilliantly for some kinds of books. Their turnaround is quick, too.
Anne: Are there pitfalls writers looking into it should avoid?
Beren: Beware of editing costs—iUniverse has a reputation for suggesting huge edits before awarding a book Editor's Choice designation, which it must have to eventually become available at standard wholesale terms.
The recommended services for my book would have cost about $1400, far more than the $695 original price for a publishing package. The edits weren't that extensive, either (and the recommendations were done very well by a professional who really liked the book) so I did them in a twelve-hour editing spree and was able to get the Editor's Choice designation after receiving two positive reviews post-publication.
Mary: I know some of the self-publishing or print-on-demand companies have packages that offer listings in ads they place in media like the New York Times. I can't imagine that most fiction benefits from that. So, I'd say, don't pay for mass marketing. Do invest in good cover design and bookmarks, but don't pay for advertising that's not highly, highly targeted. (I bought ads in my Brown alumni magazine and in the Chicago Bar Record.)
Don't think that the publisher will do your marketing for you, though. They won't.
Beren: One thing you must do as a self-published author (if you don't want to pay big bucks to someone else) is to write your own promotional materials. It is hard enough for most of us to write a query letter or a proposal, writing book jacket copy, getting blurbs, and providing advertising copy is a different type of writing for most of us. I worked really hard on mine, and it was a good education.
Anne: I'm glad you both brought that up. What do you think are the biggest differences in authorial responsibility between a self-published book and one handled by a traditional publisher?
Mary: My responsibility is to turn out the best book I can.
Anne: But isn't that always the case, no matter who publishes our work?
Mary: I fantasize that I would have more confidence that I'd done that if a traditional publisher gave the book its imprimatur.
Anne: I suppose I have an unusual view on that, having sold a book to a traditional publisher that didn't come out. I can't say that experience exactly bathed me in self-confidence.
Let me turn the question around for you, Beren. What did you have responsibility for that you wouldn't have if you'd gone with a traditional publisher?
Beren: I did a lot in creating the look of the book. My spouse took the photo on the cover, and I was able to influence the design, font, and colors used in the final product. It became a group project when we shared the photo and necessary copy with friends who all had an opinion on how it should look.
Anne: That was a great day, opening my e-mail and finding the photo of the cover there.
Beren: I'm happy with the outcome. The questions iUniverse asked me about the book provided their designers with enough to make it look right. I did pay extra for this option; self-publishing with all your own design work is much less money if you have the expertise, which I do not.
Anne: One hears that a significant advantage of self-publishing lies in not having to revise a book to match — how shall I put this? — the sometimes arbitrary or misguided editorial standards authors sometimes encounter at traditional publishing houses, where the writer doesn't have much say, if any, over title and book cover design, not to mention issues of content and style. Did you enjoy that freedom? How much control did you have over the final product?
Beren: I had a lot of control over the final product. If it had gone to a traditional house, I would have had to write it as fiction and have an alcoholic single mother as the main character! Or gotten divorced and developed a drinking problem!
I did have a lot of control, and iUniverse provided a lot of information on the book publication process. They send all prospective authors their book, Getting Published, which is a comprehensive guide to traditional publication and getting published through them. I used it a lot.
Mary: I'd be happy to revise if Simon & Schuster or Random House wanted me to. With an advance in hand, I could probably see my way clear to making changes…
Anne: Okay, okay, you have a point — and I don't think I could hope for a better exit line than that, so let's stop for today. Thank you both again for being generous enough to share your experiences with us.
Happy holidays, everyone, and keep up the good work!