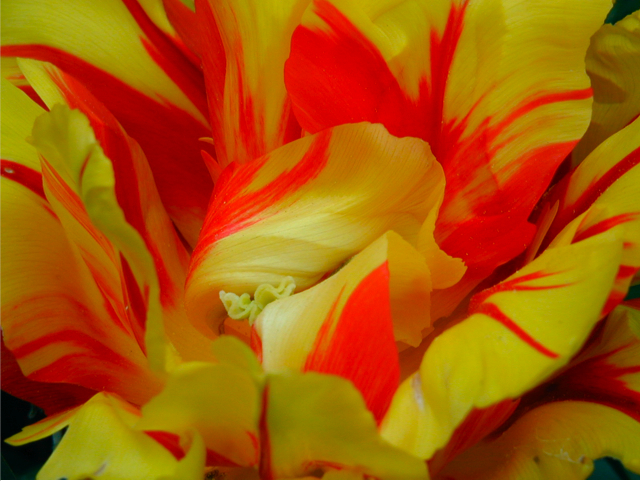 Yes, yes, I know: the tulip encroaches upon the useful information running down the right-hand side of the page. For one day, I think we can all live with that, can't we? Besides, its enormity is very much in line with my feeling at the moment — isn't it about time that spring came? (The photograph, incidentally, was taken by the ever-fabulous Marjon Floris.)
Why the longing for sun, light, warmth, color, and other things we tend to take for granted for half the year? Well, as some of you may have suspected when I didn't post for a couple of days (and weekdays, too), I've been a bit under the weather again — or, to be specific, I have been inside, looking out at the weather, feeling like a school kid whose bright plastic rain boots have sprung a leak.
If I'm stuck inside, it seems to me that the least my yard could do is fast-forward a month or two to provide me with colorful scenery. Is that so unreasonable?
As I mentioned earlier in the week, I'm going through my list of often-asked questions, those excellent poke-in-the-ribs reminders that I should really write a blog post or two on certain murky issues. Today's murk comes courtesy not of a question posted as a comment here, but rather as a culmination of something writer friends ask me privately a dozen or so times per year: what should a writer who already has submissions out to agents do if a newly-responding agent asks for an exclusive?
You didn't think I had been procrastinating about the topics on the murk list because they were conducive to EASY answers, did you?
An exclusive, for those of you new to the term, is when a writer agrees to allow an agent a specific amount of time during which no other agent will be reviewing a manuscript. Generally speaking, agents will request exclusives for two reasons: either they fear that there will be significant competition over who will represent the project, or it is simply the agency's policy not to compete with outside agencies.
Do I feel some of you out there getting tense, doing the math on just how many years (if not decades) it could take to make it through your list of dream agents if you had to submit to them one at a time? Relax, campers: requests for exclusives are actually fairly rare.
Why rare? Well, the first kind of exclusive request, the one Agent A might use to prevent Agents B-R from poaching your talents before A has had a chance to read your manuscript (hey, A's desk is already chin-deep in paper), tends to be reserved for writers with more than just a good book to offer. Celebrity, for instance, or a major contest win.
Basically, the agent is hoping to snap up the hot new writer before anybody else does. Or before the HNW realizes that s/he might prefer to be able to choose amongst several offers of representation.
If you suddenly find yourself the winner of a well-respected literary contest or on the cover of People, remember this: just because an agent asks for an exclusive does not mean you are under any obligation to grant it. If your work is in demand, it's not necessarily in your best interest to sign with the first agent who makes an offer — you will want the one with the best track record of selling books like yours, right?
Chant it with me now, long-time readers: you do not want to land just any agent; you want the best agent for YOUR work.
I mention this now, in advance of when at least some of you attain either celebrity or your first big literary prize, because when either of these things happen to a writer, it can be pretty disorienting.
Contest winners, after all, are often good writers who have spent years querying agents. (Partially because it's considered a trifle gauche for the already-agented to enter contests for unpublished work.) The switch from frantically trying to catch an agent's eye to multiple agents asking to see one's winning entry, pronto, can often throw even the most level-headed writer for a loop.
Trust me, this is a problem you want to have: it's a compliment to your work.
You will, however, want to think in advance about how you're going to respond. Yes, I am speaking from experience here — and a big, well-deserved thank-you to all of my former contest-winner friends who had drilled me to say, no matter how shell-shocked I was after receiving the prize, "I'm sorry, but I've sworn that I won't grant any exclusives. Would you like me to submit to you at the same time as I send out to the others?"
Granted, this glassy-eyed response did make a few agents grumble, but believe me, it was far, far better than my having to decide on the spot whether the first agent who asked to see my pages was so much more suited to my book than the other agents at the conference that I should not even let the rest take a peek at it.
Which is, incidentally, precisely what you are being asked to do with an exclusive. Think of it like applying for early admission to an Ivy League school: if the school of your dreams lets you in, you're not going to want to apply to other universities, right? By applying early, you are saying that you will accept their offer of admission, and the school can add you to its roster of new students without having to worry that you're going to go to another school instead.
It's a win/win, in other words.
So if the best agent in the known universe for your type of writing asks for an exclusive, you might want to say yes. But if you have any doubt in your mind about whether Harvard really is a better school for your intended studies than Yale, Columbia, or Berkeley — to mix my metaphors again — you might want to apply to all of them at the same time, so you may decide between those that admit you.
My point is, if you are asked for an exclusive because your work is sought-after, it is up to you whether you would prefer to go steady right off the bat or date around a little. Got it? (If not, I can keep coming up with parallel cases all day, I assure you.)
With the other type of exclusive request, the one that emerges from an agency that only reviews manuscripts that no one else is, the writer is not offered that choice. Consequently, a request for an exclusive from these folks is not so much a compliment to one's work (over and above the sheer desire to read some of it, that is) as a way of doing business.
In essence, these agencies are saying to writers, "Look, since you chose to query us, you must have already done your homework about what we represent — and believe us, we would not ask to see your manuscript if we didn't represent that kind of writing. So we expect you to say yes right away if we make you an offer."
Why might such a stance be advantageous for an agency to embrace? Well, it prevents them from ever having to experience the fear associated with the first type of exclusive request: if you send them pages, they may safely assume that you won't be calling them in a week to say, "Um, Agent Q has just made me an offer, slowpoke. I still would like to consider your agency, so could you hurry up and finish reading my manuscript so you can give me an answer? As in by the end of the week?"
Okay, so you wouldn't really be that rude. (PLEASE tell me you wouldn't be that rude.) But let's face it, agents who don't require exclusive submissions do receive these types of calls a fair amount. And nobody, but nobody, reads faster than an agent who has just heard that the author of the manuscript that's been propping up his wobbly coffee table is fielding multiple offers.
Agencies who demand exclusivity are, by definition, unlikely to find themselves in a similar Oh, my God, I have to read this 400-page novel by tomorrow! situation.
What does the writer get in return for agreeing not to submit to others for the time being? Not a heck of a lot, unless the agency in question is in fact the best place for his work.
But if one wants to submit to such an agency, one needs to follow its rules. Fortunately, agencies that maintain this requirement tend to be far from quiet about it. Their agents will trumpet the fact from the conference dais. Requires exclusive submissions or even will accept only exclusive queries will appear upon their websites, in their listings in standard agency guides, and on their form replies requesting your first 50 pages.
(Yes, Virginia, positive responses are often form-letters, too, even when they arrive in e-mail form. I sympathize with your shock.)
If they had company T-shirts, in short, there would probably be an asterisk after the agency's name and a footnote on the back about not accepting simultaneous submissions. If they're serious about the policy, they're serious about it, and trying to shimmy around such a policy will only get a writer into trouble.
Do I feel some of you tensing up again? Relax — agencies with this requirement are not very common.
Why? Well, because they require their potential clients to bring their often protracted agent search to a screeching halt while the submission is under consideration, such agencies are, in the long run, more time-consuming for a writer to deal with than others. As a result, many ambitious aspiring writers, cautious about committing their time, will avoid querying agencies with this policy.
Which, again, is a matter of personal choice. Or it is if you happened to notice before you queried that the agency in question had this policy.
In my next post, I shall talk about what a writer who finds himself dealing with simultaneous requests from both exclusive-requesting and ordinary agents, but for today, let me leave you with something to ponder.
Requests for exclusives are, as I mentioned, rather rare. Writers who believe that ANY request for a submission is AUTOMATICALLY a request for an exclusive are not. As a result, would-be submitters sometimes delay sending out requested materials until they hear back from earlier requesters.
This is a serious strategic mistake. Unless an agent ASKS for an exclusive — and believe me, if an agency requires exclusivity, the member agent interested in your work will tell you so directly — it is NOT expected. In fact, now that the agent-finding market is so fierce, the vast majority of agents simply assume that good writers are querying and submitting widely.
Long-time readers, take out your hymnals: that apparently immortal conference-circuit rumor is simply not true — expectations of exclusivity are NOT the norm amongst agents. Nor is reticence about submission requirements.
A writer is under no obligation whatsoever to stop submitting or querying other agents while one is reading requested materials. So there.
Granting an unrequested exclusive is like applying to only one college per year: you might get in eventually, but it's a far more efficient use of your time to apply to many simultaneously. Unless, of course, the school you're absolutely sure that you want to attend offers you early admission.
Keep up the good work!