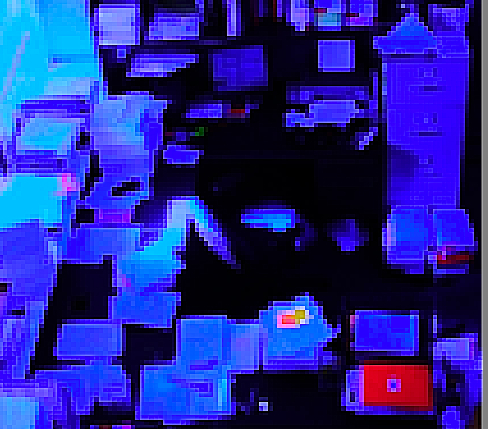 An impressionistic view of an agent's office, where blue equals yet to be read.
Today is, thank goodness, my final post in this micro-series on how to juggle multiple submissions when one of the requesting agents has requested an exclusive. I know, I know: for most aspiring writers, this particular dilemma seems downright desirable — and perhaps not immediately applicable to one's day-to-day querying life.
My timing on this series has not been entirely accidental, however: today marks the celebration (in the U.S., anyway) of the Rev. Dr. Martin Luther King, Jr.'s birthday. While most of the population is hearing some rendition of the "I have a dream" speech (why does one so rarely hear the later, "poverty is economic violence" rhetoric, I wonder?), aspiring writers everywhere are rubbing their hard-worked hands together in anticipation.
Why? Because today marks the unofficial end of the annual avalanche of queries and submissions from New Year's resolution-keeping writers. As my long-term readers know quite well, I always advise against querying or submitting during the high-stress first few weeks of the year.
Starting about now, though, incoming mail volumes at agencies return to normal, and our old pal Millicent the screener's mood rises exponentially. Why not celebrate by sending her a query?
Because I truly hope that you will, now that the moratorium is over, I wanted you to be prepared just in case you do find yourself in Mehitabel's dilemma. Hey, is it so far beyond belief that some of you might be intending to query exclusive-only agencies — or find yourself on the receiving end of a request to send materials from an agency that you did not realize had this policy?
Of course not. Let's get back to work.
Mehitabel, for those of you who did not make her acquaintance yesterday, is a well-meaning aspiring writer who, wisely, kept right on querying even after a couple of agents (Jessica and Ryan, if you're keeping score) asked to see partials. Imagine her surprise when one of these subsequent queries yielded a request for an exclusive from Quentin.
Obviously, it is empirically impossible to grant an exclusive peek at a manuscript already under consideration at other agencies. So what's a girl to do?
Last time, I suggested that Mehitabel resolve her logical dilemma by contacting not Quentin to ask for his agency's solo-look policy to be bent in her favor, but Jessica and Ryan, to inform them that another agent had asked to see the work exclusively. In nice, polite e-mails, she offered them three weeks in which to make up their minds before she submitted to Quentin, plenty of time for even extremely busy agents to read even a complete manuscript, much less 50 pages.
That way, she would either have an offer from Jessica, Ryan, or both — or she would be free to submit to Quentin on his terms.
Even before I finished typing this suggestion last time, I felt the ether bristle with a million doubts. For instance: hands up, everyone who felt distinctly uncomfortable allowing at least three weeks to pass before responding to a request for materials.
It is very common for those new to submission, particularly first-time pitchers at conferences to assume that requested materials MUST go out in the next mail, if not actually be overnighted or e-mailed, in order to reach the requesting agent before he forgets that he asked for them. But this isn't necessary: even at a very busy conference, most agents will take notes on what they are requesting from whom.
Usually, the authorial assumption that speed is of the essence is not so much a direct response to anything the agent in question has actually said about the desirability of instantaneous submission, but rather a reflection of an underlying fear that the agent will change her mind, or at any rate forget all about the request for materials by the time it actually arrives.
But the fact is, unless an agent has actually asked a writer to rush a submission, she's NOT expecting it to show up the next day, or even necessarily within the next week. It's not as though she has nothing to do — or nothing to read — in the meantime, after all. Agencies are swamped, even when it's not New Year's resolution time.
So for those of you intrepid queriers who will be receiving submission requests in the weeks to come: there's no need to panic. You've got time to do a little last-minute polishing.
When the good news arrives, remember to relax, take a few deep breaths — and read through your submission IN HARD COPY and OUT LOUD before you pop it into the mail. (For a fuller explanation of why you should do this, and other tips on pulling together a submission packet when you are positively vibrating with excitement, please see the SUBMISSION PACKETS category at right.)
Remember, too, that you definitely don't need to overnight your submission; it's just not worth expending your hard-earned cash. The days are long past when a FedEx envelope would automatically be opened before one that came in the regular mail. Agency screeners figured that trick out long ago.
Pretty much all boxes marked REQUESTED MATERIALS tend to be opened at roughly the same rate. So mark it, send it regular mail, and call it good. Or, if you must rush, try Priority Mail, which takes 2-3 days within the continental U.S., but is scads cheaper than overnight mail.
You might want to spring for the package-tracking feature, so you have proof that your package did indeed arrive in one piece. Or add a stamped, self-addressed postcard for the agency screener to pop in the mail when the parcel arrives. Either will work beautifully.
As much as I am enjoying picturing your post-MLK day queries eliciting this response, I am digressing, I notice. Back to our previously-scheduled programming.
The other likely reason a writer might get tense at yesterday's suggestion is that the notion of giving an agent a reading deadline, even a perfectly reasonable one, seems like a good way to alienate people. As in the kind of people who have the power to change your life by helping to get your book published.
As I mentioned yesterday, though, the vast majority of agents DO want to be told IMMEDIATELY if another agent is also reviewing a particular manuscript; hell hath no fury like an agent who learns after the fact that the writer whose manuscript she has not yet finished reading has already signed with someone else.
Why all the anger? Well, if she had known, the logic goes, she would have moved the submission up in her reading pile.
So mark this down as a rule of thumb: if any agent, exclusive-seeking or not, asks to see all or part of your manuscript while other agents are already looking at it, it would behoove you to contact each of them to pass along the information that there's some competitive reading going on. That's just basic courtesy.
If you are sending out several requested material packets simultaneously — say, after a barrage of pitching at a conference — go ahead and mention in your cover letter (you DO always include a cover letter with your submissions, right?) that other agents will be reviewing it, too.
No need to name names; the mere fact that others are looking at it will do. That in itself implies a deadline, so specifying the date upon which you will feel free to submit an exclusive is merely an extension of this little piece of politeness.
Fringe benefit to operating at this level of courtesy: reading rates tend to speed up remarkably once an agent knows that other eyes are perusing the same pages. (Yet another reason that Quentin might have asked Mehitabel for an exclusive; he may wish to take his own sweet time reading.)
"But Anne," I hear some of you murmuring, "what if Jessica and Ryan don't respond, and Quentin ends up saying no? Hasn't Mehitabel burnt her bridges to the first two?"
Actually, no — at least, not if she had been polite in her letters to them AND not gone so far as to state outright that if they didn't get back to her within the specified period, they shouldn't bother to answer at all. (Yes, I HAVE seen writers do that, as a matter of fact. Generally ends in tears.) After Quentin has had a chance to consider the submission, or even after the agreed-upon period of exclusivity has ended (you weren't planning on letting Quentin put Methitabel's querying on hold indefinitely, were you?), she would be perfectly free to approach both Jessica and Ryan again, if they have not rejected her work. All she has done is responded with integrity to Quentin's request for a time when she agrees not to sign with anyone else.
Which is precisely why, in case you were wondering, Mehitabel needs to set a time limit for Quentin's exclusive, as I mentioned yesterday. Often, reputable agents will specify a length themselves, but if not, the writer should do it.
What she CANNOT do, however, is come back to Quentin two weeks into his exclusive and tell him that Jessica has offered to represent her. Well, I suppose she COULD do it, if she didn't care about gaining a reputation for unreliability, but she could not reasonably expect him to continue considering her as a potential client.
Some of you are still not satisfied; I can feel it. "But Anne," I hear you say, "this is all fine and dandy if Mehitabel receives the request for an exclusive after she's submitted to others. But if she's sending a big raft of queries out at the same time, she may well receive Quentin, Jessica, and Ryan's requests for materials more or less simultaneously. What should she do then, huh? Put the other two on hold in order to humor Quentin's request, or vice-versa?"
Ah, you must have heard of Mehitabel's brother, Murgatroyd, who received three requests for submissions from precisely these agents within a single week. Since Quentin was the only one to place conditions on the submission, Murgatroyd was, like most new submitters, tempted to delay the other submissions in order to submit to him. But if Quentin takes a long time to get back to him, Murgatroyd risks the other requesters' cooling off.
Unlike Mehitabel, Murgatroyd could ease his dilemma by taking one simple step — have you already guessed it?
In fact, let's make an axiom out of it: never, under any circumstances, grant an open-ended exclusive. ALWAYS set a time limit on it — three weeks is perfectly reasonable — and let the requesting agent know that you intend to submit elsewhere after that.
Sound frighteningly daring? Actually, this kind of deadline-setting is rather common in the industry; people are busy. There's no need to be confrontational about it, or even to double-check with the Quentins of this world that the deadline is okay: you merely need to state it in your cover letter. As in:
Thank you for your interest in my novel, HELL'S BELLES. I am pleased to give you an exclusive on it, as you requested. However, as other agents have asked to read it as well, I will have to limit the exclusive to three weeks.
See? Simple, direct, businesslike. Trust me, if Quentin wants longer, he will tell Murgatroyd so, but at least the latter will have been honest.
And after three weeks, whether he hears back from Quentin or not, Murgatroyd will be perfectly at liberty to submit to Jessica and Ryan. At which time, if Quentin is still vacillating (agents who ask for exclusives often take every bit as long to respond as those that do not), Murgatroyd should tell the other agents that another agent is looking at it, but he is no longer bound to exclusivity.
If he had not been clear at the outset and Quentin took a month or two to respond — far from uncommon — Murgatroyd would have gnawed his fingernails down to the elbow with worry, and still been no closer to landing an agent. By being clear about his own needs, rather than simply allowing three agents who do not know of one another's existence to proceed as if each were the only one considering his work, Murgatroyd has both helped himself and avoided annoying any of them.
Enjoy your post-MLK querying binge, should you be indulging, and keep up the good work!