I was prowling my bookshelves last night, seeking out the source of a dimly-remembered quote, when I came across a marvelous writer-taking feedback scene in Truman Capote's BREAKFAST AT TIFFANY'S, of all places. I had to laugh, because the narrator goes through so many of the reactions to in-person feedback we've been discussing for the last week.
Take a gander:
Very few authors, especially the unpublished, can resist an invitation to read aloud. I made us both a drink and, settling in a chair opposite, began to read to her, my voice a little shaky with a combination of stage fright and enthusiasm: it was a new story, I'd finished it the day before, and that inevitable sense of shortcoming had not had time to develop. It was about two women who share a house, schoolteachers, one of whom, when the other becomes engaged, spreads with anonymous notes a scandal that prevents the marriage. As I read, I each glimpse I stole of Holly made my heart contract. She fidgeted. She picked apart the butts in an ashtray, she mooned over her fingernails, as though longing for a file; worse, when I did seem to have her interest, there was actually a telltale frost over her eyes, as if she were wondering whether to buy a pair of shoes she'd seen in some window.
"Is that the end?" she asked, waking up. She floundered for something more to say. "Of course I like the dykes themselves. They don't scare me a bit. But stories about dykes bore the bejesus out of me. I just can't put myself in their shoes. Well, really, darling," she said, because I was clearly puzzled, "if it's not about a couple of old bull-dykes, what the hell is it about?"
But I was in no mood to compound the mistake of having read the story with the further embarrassment of explaining it. The same vanity that had lead to such exposure, now forced me to mark her down as an insensitive, mindless show-off.
Holly Golightly wasn't the only one fidgeting during this recital, was she? Did I feel some of you out there who were only familiar with the story via the Audrey Hepburn movie (or by reputation) exclaim a little over the use of such language in a bestseller from 1958? Holly's salty talk is not the only thing the screenwriters buffed away, incidentally: the story's about the relationship between a gay man and a straight woman who makes her living by being a professional tease, essentially.
It's a beautiful story. Someday, someone really ought to make a movie out of it.
In addition to engendering this "Oh, my God — tone it DOWN!" reaction from moviemakers, BREAKFAST AT TIFFANY'S is an interesting work from an editorial point of view. Revision requests dogged it practically from its inception.
Which is fascinating, since Capote's devotion to sentence-level perfection was already legendary. This was most emphatically not a novella that sprang from its creator's head fully formed and armored, like Athene. Purportedly, the first draft of the first page — which, in its final form, is for my money one of the best openings in English prose — looked a little something like this: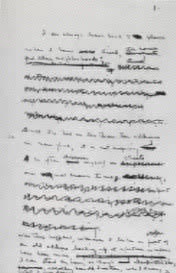 By all accounts, it was far from a smooth writing process: he had trouble coming up with an ending for the story (which remains the novella's primary weakness, I think), which lead to some deadline-meeting difficulties. To complicate matters, although he already had a book deal with Random House for a collection of stories, he had also contracted with Harper's Bazaar (a magazine for whom two of the novella's characters work, amusingly enough) to print THIS story as a teaser for the book.
The year was 1958, if you will recall. Can anyone out there familiar with the text — or, for that matter, anyone who read the excerpt above — anticipate what happened when the manuscript fell on the magazine's editorial desks?
Hint: it has a great deal to do with our current series.
You guessed it: a positive avalanche of revision requests, ones that cut to the very heart of the piece. They asked Capote, for instance, to remove all of what were then primly called four-letter words from the novella AND, um, change how Holly paid the rent, if you catch my drift.
Naturally, Capote was furious — surely, all of us can identify with that, no? After all, Holly was, as he said in later interviews, his all-time favorite creation.
So what did he do? He refused point-blank to make the requested changes — and Harper's Bazaar cancelled the publication contract.
Oh, were you hoping for a happy ending for that anecdote? Actually, there was one, but it took a while to happen: the book came out to huge acclaim; naturally, the well-publicized battle attracted readers in droves. Capote's literary star rose even higher, and he reportedly made scads of money from the movie rights.
And the movie studio promptly disemboweled his story to turn it into a romantic comedy. A pretty good one, as it happens.
Since our pal Tru did ultimately get the last laugh: in having stuck to his guns to an extent that a less well-established author (or a less well-heeled one) would not have been able to have afforded to do, he did ultimately bring out what is arguably one of the best novellas of the twentieth century, a work that remains surprisingly fresh today.
But there's no denying that the short-term cost of this literary bravery was very, very high.
I'm telling you this story not merely because, after a week of learning tongue-biting strategies, an author who fought back might seem rather refreshing, but also as fodder for discussion. So let me ask you, readers:
How do you think the narrator of the story could have handled his first reading better, to minimize the pain to himself and improve potential feedback?
If you were in Capote's situation today, selling your work in the current hyper-competitive market, would you have made the choice that he did? If not, how might you have gone about it differently?
I know, I know — these are the kinds of questions that you might expect to see on your American Literature 203 midterm, but for a career writer, these are practical issues of earth-shattering importance.
So while there are no right or wrong answers here, I would encourage you to think of this not as a literary exercise, but as an opportunity to test-drive your feedback-accepting reactions in a supportive environment. Before, you know, the stakes are as high as they were for Truman.
The usual Let's Talk About This caveats apply, of course. Let's try to keep this constructive, and do bear in mind that a comment posted on a website tends to stay there for an awfully long time. Please feel free to post your responses anonymously, if it makes you more comfortable being honest — but try to keep the language acceptable for Harper's Bazaar, okay?
I'm looking forward to what you have to say. Keep up the good work!