We begin today on a note of triumph: long-time reader and fab lady Auburn McCanta has had a political essay selected (amid some SERIOUS competition, I'm guessing, at this point in the election cycle) for publication on the Huffington Post. Congratulations, Auburn!
Please, everyone, keep sending in word of your writerly triumphs, large and small. One of the great benefits of community is being able to share good news!
Good news comes in many forms for writers — as does, lest we forget ECQLC (Eye-Catching Query Letter Candy). Many aspiring writers become so focused on imagining a single track to literary success — which typically runs thus: write book, land agent, sell book to Random House, book signings, Oprah, wash, rinse, and repeat — that they forget that other writerly achievements can look awfully good in a query letter and in an author bio. Publications — paid or not, in print or on the Internet — definitely count, as do degree programs, certificate programs, contest placing, and so forth.
So please join me, everyone, in applauding Auburn for doing some smart long-term career promotion — and set aside some time in your no doubt busy schedule to brainstorm what ECQLC you might add to your query letter candy bowl to render it more attractive to Millicent.
Who, for those of you joining us late, is Author! Author!'s pet agency screener, the one who is so very efficient at zipping through stacks and stacks of query letters with a latte in one hand and a pile of form-letter rejections in the other. She's also often the gal who weeds out submissions before they reach the desk of the agent of one's dreams — who, if s/he happens to work at one of the larger agencies, might even have two or three Millicents pre-reading submissions.
We here at A! A! try not to annoy Millicent. It's not good marketing strategy.
In further pursuit of that laudable goal, I launched yesterday into a discussion one of the more frustration-generating tasks a writer faces on a routine basis: compressing a deliciously complex, breathtakingly nuanced 400-page book into a 5- (or 1)-page summary in standard format.
Or whatever length the agent of your dreams or contest of your desires has seen fit to request.
It's well worth double-checking who is requesting what these days, especially if you're planning on including a synopsis with your query letters. This information that's usually easily available in the agency's listing in one of the standard agency guides, on its website (if it has one; a surprisingly hefty percentage still don't), or even, in the case of a REQUESTED synopsis to be included with a submission, in the communication containing the request for materials.
Yes, I AM saying what you think I'm saying: you wouldn't believe how often queriers seem to forget to consult either of the former (or both, since sometimes they contain different information) or, in the heat of post-request excitement, simply disregard the instructions about what they're supposed to send.
A good trick to help avoid the first mistake: do your homework; if the agency has made the information publicly available, Millicent will expect any querier or submitter to be familiar with it.
A couple of good tricks to avoid the second: when you receive a request for materials, immediately sit down and make a checklist of what should be in the submission packet. Then have a non-writer go over the request for materials, the agency in question's guidelines, AND its website, making a separate list of all the agency's requirements and requests. (Why a non-writer, you ask? S/he's less likely to get swept up in the excitement of the moment.) Afterward, compare and consolidate the two lists.
Before you seal the submission packet, dig out the final version of that to-do list and triple-check that you did everything on it.
Pay extra-close attention to length restrictions for synopses — Millicents are known for rejecting a too-long or too-short synopsis on sight. Why? Well, one that is much shorter will make you look as if your story is unable to sustain a longer exposition; if it is much longer, you will look as though you aren't aware of the standard.
Either way, the results can be fatal to your submission.
So what DOES work in a synopsis? It's not going to sound sexy, I'm afraid, but here is the secret:
For fiction, stick to the plot of the novel, including enough vivid detail to make the synopsis interesting to read. Oh, and make sure the writing is impeccable.

For nonfiction, begin with a single paragraph about (a) why there is a solid market already available for this book and (b) why your background/research/approach renders you the perfect person to fill that market niche. Then present the book's argument in a straightforward manner, showing how each chapter will build upon the one before to prove your case as a whole. Give some indication of what evidence you will use to back up your points.
For either, make sure to allot sufficient time to craft a competent, professional synopsis — as well as sufficient buffing time to render it gorgeous. Let's face it, unlike some of the more — let's see, how shall I describe them? — fulfilling parts of writing and promoting a book (see above; wash, rinse, repeat), a synopsis is unlikely to spring into your head fully-formed, like Athene; most writers have to flog the muses quite a bit to produce a synopsis they like.
To quote the late, great Billie Holiday: the difficult/I'll do right now./ The impossible/will take a little while.
Too few aspiring writers do, apparently preferring instead to toss together something at the last minute before sending out a submission or contest entry. (Especially a contest entry. I've been a judge; I know.)
I have my own theories about why otherwise sane and reasonable people might tumble into this particular strategic error. Not being aware that a synopsis would be required seems to be a common reason, as does resentment at having to produce it at all. Or just not being familiar with the rigors of writing oe.
Regardless, it's just basic common sense to recognize that synopses are marketing materials, and should be taken as seriously as anything else you write.
Yes, no matter how good your book may happen to be. Miss America may be beautiful au naturale, for all any of us know, but you can bet your last pair of socks that at even the earliest stage of going for the title, she takes the time to put on her makeup with care.
On the bright side, since almost everyone just throws a synopsis together, impressing an agent with one actually isn't as hard as it seems at first blush. Being able to include a couple of stunning visceral details, for instance, is going to make you look like a better writer — almost everyone just summarizes vaguely.
My readers, of course, are far, far too savvy to make that mistake, right?
Even if you are not planning to send out queries or submissions anytime soon (much to those sore-backed muses' relief), I STRONGLY recommend investing the time in generating and polishing a synopsis BEFORE you are at all likely to need to use it. That way, you will never you find yourself in a position of saying in a pitch meeting, "A 5-page synopsis? Tomorrow? Um, absolutely."
Hey, there was a reason that I introduced you to that Billie Holiday song; it's the mantra of the working writer. Or so my agent tells me.
Actually, if you can bear it — you might want to make sure your heart medication is handy before you finish this sentence –it's a great idea to pull together a couple of different lengths of synopsis to have on hand, so you are prepared when you reach the querying and submission stages to provide whatever the agent in question likes to see.
What lengths might you want to have in stock? Well, a 5-page, certainly, as that is the most common request, and perhaps a 3 as well, if you are planning on entering any literary contests anytime soon. As I mentioned yesterday, it's getting more common for agents to request a 1-page synopsis, so you might want to hammer out one of those as well.
I can tell from here that you've just tensed up. Take a deep breath. No, I mean a really deep one. This is not as overwhelming a set of tasks as it sounds.
In fact, if you have been reading this blog all summer or have worked through some of the exercised in the archives, you probably already have a 1-page synopsis floating around in your mind.
You may know it by its other name: the 2-minute pitch. (For tips on how to construct one of these babies, please see the aptly-named 2-MINUTE PITCH category at right.)
Don't believe me, oh ye of little faith? Okay, here's a pitch I used as an example just a couple of months back:
Nineteenth-century 19-year-old Elizabeth Bennet has a whole host of problems: a socially inattentive father, an endlessly chattering mother, a sister who spouts aphorisms as she pounds deafeningly on the piano, two other sisters who swoon whenever an Army officer walks into the room, and her own quick tongue, any one of which might deprive Elizabeth or her lovely older sister Jane of the rich husband necessary to save them from being thrown out of their house when their father dies. When wealthy humanity-lover Mr. Bingley and disdainful Mr. Darcy rent a nearby manor house, Elizabeth's mother goes crazy with matchmaking fever, jeopardizing Jane's romance with Bingley and insisting that Elizabeth marry the first man who proposes to her, her unctuous cousin Mr. Collins, a clergyman who has known her for less than a week. After the family's reputation is ruined by her youngest sister's seduction by a dashing army officer, can Elizabeth make her way in the adult world, holding true to her principles and marrying the man she passionately loves, or will her family's prejudices doom her and Jane to an impecunious and regretful spinsterhood?
PRIDE AND PREJUDICE, right? As I vaguely recall having mentioned at the time, this would be a trifle long as an elevator speech — which, by definition, needs to be coughed out in a hurry — but it would work fine in, say, a ten-minute meeting with an agent or editor.
It also, when formatted correctly, works beautifully as a one-page synopsis with only a few minor additions. Lookee: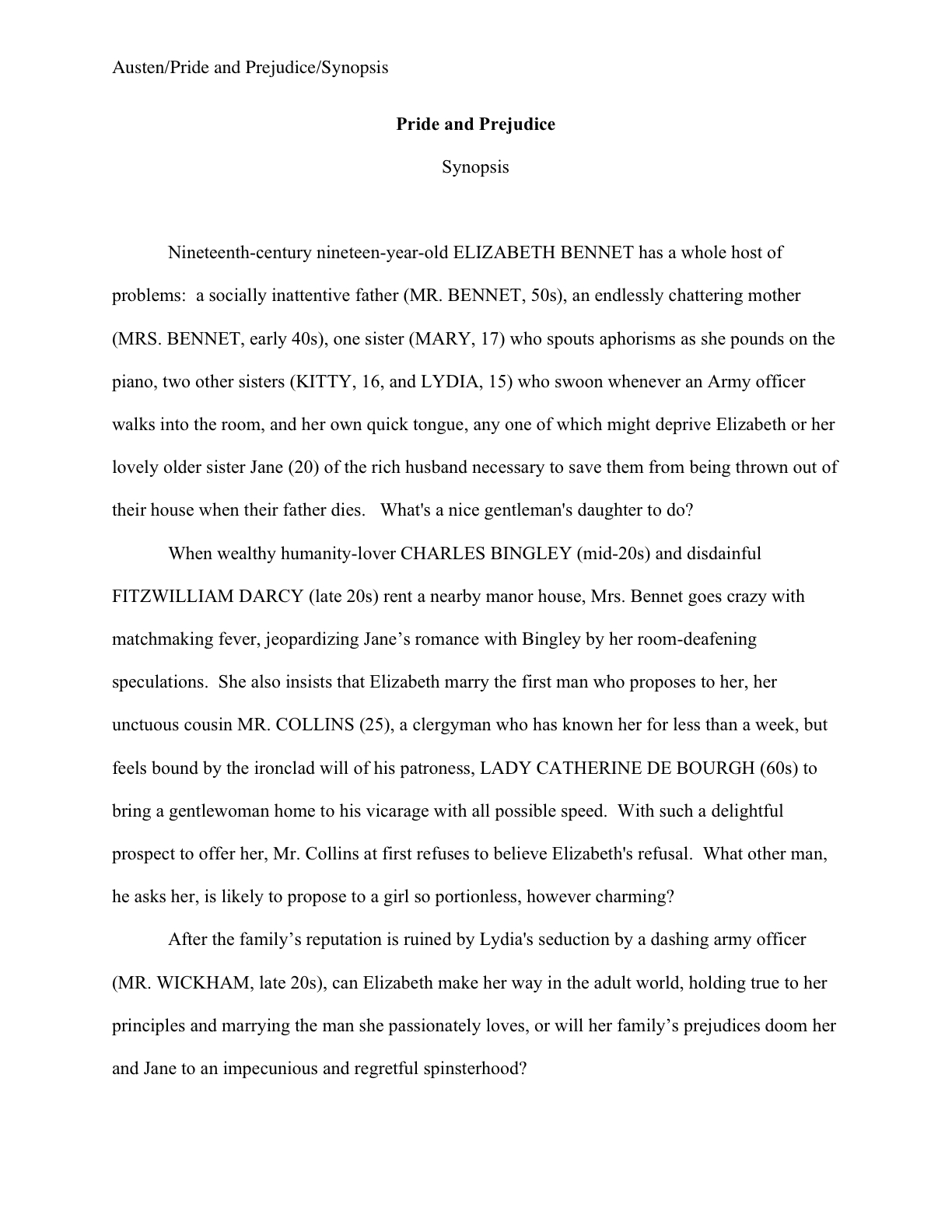 Okay, so if I were Jane (Austen, that is, not Bennet), I MIGHT want to break up some of the sentences a little, particularly that last one that's a paragraph long, but see how simple that was? The trick to the 1-page synopsis lies in realizing that it's not intended to summarize the entire plot, merely to introduce the characters and the premise.
Yes, seriously. Like the descriptive paragraph in a query letter or the summary in a verbal pitch, no sane person seriously expects to see the entire plot of a book summarized in a single page. It's a teaser, and should be treated as such.
Doesn't that make more sense than driving yourself insane, trying to cram your entire storyline or argument into 22 lines? Or trying to shrink that 5-page synopsis you have already written down to 1?
Bears pondering, doesn't it?
Yes, yes, I know: even with reduced expectations, it's still a tall order. That's why you're going to want to set aside some serious time to write it — and don't forget that the synopsis is every bit as much an indication of your writing skill as the actual chapters that you are submitting. (Where have I heard that before?) Because, really, don't you want YOURS to be the one that justified Millicent's heavily-tried faith that SOMEBODY out there can tell a good story in 3 – 5 pages?
Or — gulp! — 1?
Don't worry; you can do this. There are more rabbits in that hat, and the muses are used to working overtime on good writers' behalves. Keep up the good work!