I've been worrying about something: has my advice that virtually any aspiring writer will be better off sitting down to construct a winning synopsis substantially before s/he is likely to need to produce one coming across as a trifle callous, as if I were laboring under the impression that the average aspiring writer doesn't already have difficulty carving out time in a busy day to write at all? Why, some of you may well be wondering, would I suggest that you should take on more work — and such distasteful work at that?
I assure you, I have been suggesting this precisely because I am sympathetic to your plight. I completely understand why aspiring writers so often push producing one to the last possible nanosecond before it is needed: it genuinely is a pain to summarize the high points of a plot or argument in a concise-yet-detail-rich form.
Honestly, I get it.
As it is such a different task than writing a book, involving skills widely removed from observing a telling moment in exquisite specificity or depicting a real-life situation with verve and insight, the expectation that any good book writer should be able to produce a great synopsis off the cuff actually isn't entirely reasonable. In fact, the very prospect of pulling one together can leave a talented writer feeling like this: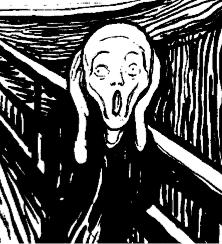 Yet since we cannot change the industry's demand for them, all we writers can do is work on the supply end: by taking control of WHEN we produce our synopses, we can make the generation process less painful and generally improve the results.
Okay, so these may not sound like like the best motivations for taking a few days out of your hard-won writing time to pull together a document that's never going to be published before you absolutely have to do it. Unless you happen to be a masochist who just adores wailing under time pressure, though, procrastinating about producing one is an exceedingly bad idea.
But as of today, I'm no longer going to ask you to take my word for that. For those of you who are still resistant to the idea of writing one before you are specifically asked for it I have two more inducements to offer you today.
First — and this is a big one — taking the time to work on a synopsis BEFORE you have an actual conversation with an agent (either post-submission or at a conference) is going to make it easier for you to talk about your book. And that's extremely important for conference-goers, e-mail queriers, and pretty much everyone who is ever going to be trying to convince someone in the publishing industry to take an interest in a manuscript, because (brace yourselves) the prevailing assumption is that a writer who cannot talk about her work professionally probably is not going to produce a professional-quality manuscript.
I know, I know — from a writer's point of view, this doesn't make a whole lot of sense; we all know (or are) shy-but-brilliant writers who would rather scarf down cups of broken glass than give a verbal pitch, yet can produce absolute magic on the page. Unfortunately, in contexts where such discussion is warranted, these gifted recluses are out of luck.
I know it's hard, but try to think of this phenomenon in a positive light: an aspiring writer who has learned to discuss his work professionally is usually better able to get folks in the industry to sit down and read it.
Investing some serious time in developing a solid, professional-quality synopsis can be very, very helpful in this respect. The discipline required to produce it forces you to think of your baby as a marketable product, as well as a piece of complex art and physical proof that you have locked yourself away from your kith and kin for endless hours, creating.
Even writers who are absolutely desperate to sell their first books tend to forget that it is a product intended for a specific market. As I have mentioned earlier in this series, in the throes of resenting the necessity of producing a query letter and synopsis, it is genuinely difficult NOT to grumble about having to simplify a beautifully complicated plot, set of characters, and/or argument.
But think about it for a second: any agent who signs you is going to HAVE to summarize the book in order to market it to editors. So is any editor who falls in love with it, in order to pitch it to an editorial committee.
There is just no way around summarization, in other words. Just get on with it.
Here's another good reason to invest the time: by having labored to reduce your marvelously complex story or argument to its basic elements, you will be far less likely to succumb to that bugbear of pitchers, the Pitch that Would Not Die.
Those of you who have pitched at conferences know what I'm talking about, right? As anyone who has ever sat down for coffee or a drink with a regularly conference-attending agents can tell you, pretty much all of them have at least one horror story about a pitch that went on for an hour, because the author did not have the vaguest conception what was and was not important to emphasize in his plot summary.
Trust me, you do not want to be remembered for that.
For those of you who haven't yet found yourself floundering for words in front of an agent or editor, allow me to warn you: the unprepared pitcher almost always runs long. When you are signed up for a 10-minute pitch meeting, you really do need to be able to summarize your book within just a few minutes — harder than it sounds! — so you have time to talk about other matters.
You know, mundane little details, such as whether the agent wants to read the book in question.
Contrary to the prevailing writerly wisdom that dictates that verbal pitching and writing are animals of very different stripes, spending some serious time polishing your synopsis is great preparation for pitching. Even the most devoted enemy of brevity will find it easier to chat about the main thrust of a book if he's already figured out what it is.
Stop laughing — I have been to a seemingly endless array of writers' conferences over the years, and let me tell you, I've never attended one that didn't attract at least a handful of aspiring writers who seemed not to be able to tell anyone else what their books were about.
Which is, in case you were wondering, the origin of that old industry chestnut:
Agent: So, what's your book about?
Writer: About 900 pages.
The third inducement: a well-crafted synopsis is something of a rarity, so if you can produce one as a follow-up to a good meeting at a conference, or to tuck in with your first 50 pages, you will look like a star.
You would be astonished (at least I hope you would) at how often an otherwise well-written submission is accompanied by a synopsis obviously dashed off in the ten minutes prior to the post office's closing, as though the writing quality, clarity, and organization of it weren't to be evaluated at all. I don't think that sheer deadline panic accounts for the pervasiveness of the disorganized synopsis; I suspect resentment.
As I mentioned at the beginning of this series, I've met countless writers who don't really understand why the synopsis is necessary at all, and thus hate it. All too often, the result is a synopsis that gives the impression not that the writer is genuinely excited about this book and eager to market it, but rather that he is deeply and justifiably angry that it needed to be written at all.
Believe me, to an experienced eye, writerly resentment shows up BEAUTIFULLY against the backdrop of a synopsis.
No, really, the peevish, just-the-facts-ma'am synopsis is the norm, not the exception; as any Millicent would be happy to tell you, it's as though half the synopsis-writers out there believe they're entering their work in an anti-charm contest. The VAST majority of novel synopses simply scream that their authors regarded the writing of them as tiresome busywork instituted by the industry to satisfy some sick, sadistic whim prevalent amongst agents, a hoop through which they enjoy seeing all of the doggies jump.
Frustrated by what appears to be an arbitrary requirement, many writers just throw together a synopsis in a fatal rush and shove it into an envelope, hoping that no one will pay much attention to it. It's the first 50 pages that count, right?
Wrong. In case you thought I was joking the other 47 times I have mentioned it over the last couple of weeks, EVERYTHING you submit to an agent or editor is a writing sample. If you can't remember that full-time, have it tattooed on the back of your hand.
While frustration is certainly understandable, it's self-defeating to treat the synopsis as unimportant or (even more common) to toss it out in a last-minute frenzy. Find a more constructive outlet for your annoyance — and make sure that every page you submit is your best writing.
Caught your attention with that constructive outlet quip, didn't I? Realistically, it's not going to help your book's progress one iota to engage in passive-aggressive blaming of any particular agent or editor (or, even less sensible, their screeners and assistants). They did not make the rules, by and large.
And even if they did, let's face it — in real life, almost nobody is actually brave enough to say to an agent or editor, "No, you can't have a synopsis, you lazy so-and-so. Read the whole damned book, if you liked my pitch or query, because, as any fool can tell you, that's the only way you're going to find out if I can write is to READ MY WRITING!"
Okay, so it's mighty satisfying to contemplate saying it. Picture it as vividly as you can, then move on.
I'm quite serious about this. My mental health assignment for you while working on the synopsis: once an hour, picture the nastiest, most aloof agent in the world, and mentally bellow your frustrations at him at length. Be as specific as possible, but try not to repeat yourself; the goal here is to touch upon every scintilla of resentment lodged in the writing part of your brain.
Then find the nearest mirror, gaze into it, and tell yourself to get back to work. Your professional reputation — yes, and your ability to market your writing successfully — is at stake.
I know, the exercise sounds silly, but it will make you feel better to do it, I promise. In fact, I think it would be STERLING preparation for either the querying process or a conference to name your least-favorite sofa cushion the Industry and pound it silly twice a day. I'm all in favor of venting hostility on inanimate objects, rather than on human ones.
Far better that your neighbors hear you screaming about how hard it all is than that your resentment find its way into your synopsis. Or your query letter. Or even into your verbal pitch.
Yes, I've seen all three happen — but I've never seen it work to the venting writer's advantage. I'll spare you the details, because, trust me, these were not pretty incidents.
Next time, I shall delve into the knotty issue of how a synopsis folded up behind a cold query letter might differ from one that is destined to sit underneath a partial. In the meantime, keep up the good work!