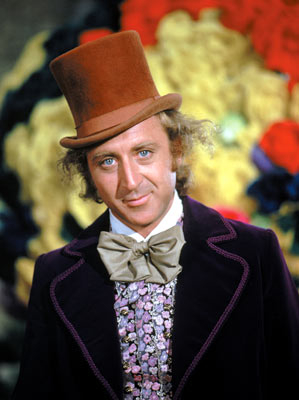 We begin today with great news about a member of our little Author! Author! community, campers: reader Jake La Jeunesse's OLD FRIENDS has taken an Honorable Mention in the Stage Play category of the 2008 Writer's Digest Annual Writing Competition. Congratulations, Jake! Way to build up your ECQLC!
That's short for Eye-Catching Query Letter Candy, for those of you joining us late.
Ah, ECQLC, those lovely little tidbits that make Millicent the agency screener's weary eyes light up in the biographical paragraph of a query letter. Placing in contests (particularly ones known to attract many entries and stiff competition, like Writers' Digest's), acceptances to writers' residences (such as the ones I discussed yesterday, which also usually involve one's writing fighting its way through heavy competition), writing programs (either degree-granting or of the intensive workshop variety), public speaking experience, even consistent participation in a well-established critique group — all of these are legitimate professional credentials for a writer, every bit as much as previous publications.
Make sure to mention 'em in your query letters.
If you are in the querying stage of your writing career, or plan to be there within the next year or two, it's definitely worth giving some thought — and entering the occasional contest — to building up your ECQLC quotient. Credentials generally take time to accumulate, after all; heck, a three- or four-month turn-around time for a contest entry is positively abnormally quick. And it can take time to convince the editor-in-chief of your community paper to let you write a couple of book reviews, even if you do it for free, in order to be able to list it as a publication credential.
Do I sense some squirming discomfort out there from those of you who have read my last couple of posts? "But Anne," I hear a harassed few exclaim, "you've just been telling us that we need to make time for our writing, so I thought you understood. I have a full-time job, family, friends, obligations — as it is, I feel as though I have to fight tooth and nail to carve out any time to write at all! Come to think of it, one of the things I resent most about the querying process is how much time it sucks away from creating new work.
"Given the choice," these intrepid souls continue, "why would I — or any sane aspiring writer — place our books on a back burner in order to devote still more of that scant time to entering contests or writing free pieces for local papers, just so I'll have clippings?"
Interesting point, time-pressed many. For the most part, I'm with you on this one: marketing (which querying certainly is), learning about craft, attending conferences, making connections with other writers who may help you improve your writing now and/or help you down the line — these are all time-consuming and often expensive. As you say, you could be using those resources to complete your book-in-progress.
See? I do get it.
For that reason, I wouldn't advise letting the pursuit of ECQLC make serious inroads into your writing time. You don't, after all, have unlimited amounts of it, and all of the marketing classes and networking in the world won't make a particle of difference if your book is not well-crafted.
Okay, so that's a bit of an exaggeration: we've all stumbled across volumes in the bookstore that made us gasp, "Okay, who does THIS author know" (to put it politely) "to have been able to land an agent for THIS?" But presumably, if you were already a celebrity or had connections that would permit you to bypass — again, putting it politely — the craft-related steps of the production of the book, you wouldn't be reading this, would you?
Oh, don't deny it. You'd be off hobnobbing with your fancy friends, with no thought for those of us who nursed you as a pup.
For those of us operating under the normal restrictions of landing an agent and getting published, I would consider it reasonable — better than that: cleverly career-minded! — of you to set aside deliberately, say, 5% of your writing time for professional development activities like contest entry, taking classes, going to book readings to meet local authors, etc.
Why 5%, you ask? Because if you write on a regular basis, it's enough time actually to accomplish something, yet it's not a high enough chunk of your writing time to prove a major obstacle to the progress of your book. Think of it as a smart investment in your future.
Before any purists out there start screaming that I'm mercenary-minded, allow me to add quickly: for the sake of our art, I wish I could tell you that the publishing world routinely rewards single-minded writers who rigorously refuse to be distracted by the less creative aspects of the business. But I'm not going to lie to you — over the years I've seen many, many, many truly talented writers passed over by agents and their Millicents.
Why, you cry to the heavens? Because it's far, far easier to dismiss an uncredentialed writer than one with some ECQLC.
Yes, regardless of the quality of their respective writing. Long-time readers, take out your hymnals and sing along with me: if you can't get an agent or editor to READ your manuscript, the quality of the writing isn't going to help get it published.
Sorry about that. If I ran the universe…well, you know the rest. In the universe I don't run, here is what I hope is a pleasant flashback to your childhood, to help cheer you up:
All nice and calm again? Excellent. Let's get back to the topic at hand.
Toward the end of my last post, I suggested that it might behoove you to make a list of the conditions you believe you would need in order to have a productive writing retreat. All right, everybody, hand in your homework, so I can grade it.
Just kidding; no need to post your lists as comments. But your breath caught for just a moment out of long-ago school habit, didn't it?
I do hope that you've been giving some serious thought to what should be on your list, however. If you haven't started, or if you're having trouble even beginning, let me rephrase the question: what is the absolute minimum you would need to have with you/over your head in order to dig in for anywhere from a long weekend to a couple of months and to literally nothing but WRITE.
Did you catch the logical problem with what I just said? Obviously, no human being can write 24/7, with no breaks at all. Eating, for example, is more or less indispensable to the maintenance of human life, contrary to what some of us thought in the mid-80s. So, I'm told, is sleep.
You'd be amazed by how frequently writers forget to budget time or money for either when they're planning to retreat.
Completely understandable, of course: it's not all that hard to picture a gleeful writer, pleased almost to the point of disbelief at the prospect of being able to devote unbroken time to a writing project, packing in unseemly haste, muttering, "6 days — that's 144 hours of work. I can finish my revision in 144 hours, if I don't take breaks and live on protein bars stuffed in my cardigan pockets, so I don't have to move even a few feet in order to feed myself…"
Stop right there: trust me, you can't. And you will be (a) completely miserable, (b) quickly become unproductive, and eventually (c) make yourself sick if you even try.
So promise me you won't, so I don't have to stay up at night worrying about you. Thank you.
The impulse to overtax oneself on retreat is, I suspect, part and parcel of a mindset that often afflicts time-strapped writers, whether they are lucky enough to be able to go on retreat or not. See if this scenario sounds at all familiar:
Stephanie so yearns for sustained writing time that when she is finally assured she's going to have an entire day (or two, or twelve…work with me here, people) to herself, she's beside herself with joy. In a frenzy of excitement, she spends the week prior to her writing day(s) feverishly making lists of everything she plans to do: finish Chapter 12, write Chs. 13-15, compose a new and improved query letter from scratch, compose synopsis…the list goes on and on. As the day itself approaches, Stephanie finds herself doing housework and running errands during her regularly-scheduled normal writing time: ah, well, no matter; she can make it up later.

Once her planned writing intensive begins, though, Stephanie sits down, makes sure everything around her is perfect — and two hours later, is in tears because she can't seem to write. What happened? she wonders angrily.
What did happen to Stephanie? Any guesses?
If you suggested that perhaps she had raised her expectations of what she could achieve in her allotted time, give yourself a gold star for the day. Aspiring writers do this all the time — they build up the pressure on themselves to perform that they set themselves up for…well, not necessarily failure, but at least for disappointment in themselves.
The common name for this is writer's block.
Allow me to share a professional writer's secret: in the long run, it's far more sensible to set small, reasonable tasks, eating away at a big project like completing a novel in ladylike little bites, rather than trying to write an entire book in a sitting.
Oh, you may laugh, but at every formal writing retreat I've ever visited, I've met at least one writer who was attempting to polish off her long-neglected novel during a week- or month-long residency, because she just didn't know when she'd have time to get back to it again, driving herself crazy in the process. Or who was trying to start one and get halfway through it before he left.
Keep your expectations about what you can achieve during your writing time reasonable. Really, you'll accomplish more in the long run, I promise.
For those of you who would like some extra credit, here's a follow-up question: Stephanie did something else that made her intensive retreat time less likely to be successful. What was it?
35 points (on a scale of what? Who can say?) if you immediately piped up to point out that she stopped honoring her usual daily writing time. Why was this a poor idea, since she knew she had some spare time coming up? Because that raised the expectations for her own productivity during her intensive writing time even higher, rendering falling short of them even…class?
That's right, even greater. Help yourself to a lollypop on your way out the door after the bell rings.
On that candy-related note (I knew I'd get back to it somehow), I'm going to wind down for the day, but before I do, allow me to place the proverbial bug in your ear while that lollypop is in your mouth: when planning intensive writing time, it's a really, really good idea to budget in — over-budget, even — thinking time into it.
Or, as your horrified mind probably just referred to it, time when you're neither writing, eating, or sleeping.
No, I haven't gone mad, nor am I nudging you surreptitiously toward lowering your performance expectations even more. (Although, hey, I wouldn't stop you from doing the latter, by any means.) I'm talking, my friends, about what the pros call processing time.
That being said, I'm going to wind up today by repeating my question from yesterday: what factors would you actually need to have in place in order to work productively on a writing retreat? May I suggest adding to your list time to eat, sleep, and just plain think about things?
Hey, let's run with that and add a secondary set of goals to our list: tweak it to include conditions you would need in order to do these not-writing-yet-necessary-activities happily and well. Because, believe me, planning for those will assist you in the pursuit of your primary goal, scoring yourself some prime-quality intensive writing time.
So, at the risk of sounding redundant across blog posts, give some thought to what you would need. I promise you, we will put your homework to good use.
Keep up the good work!