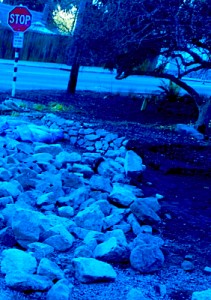 Is it me, or are people who take even the slightest, most veiled criticism of their work as either deep personal insults or as proof positive that they should scrap the entire thing and start again rather, well, annoying?
Perhaps they are not to the general populace, but I'm sufficiently annoyed today to let you in on a little trade secret that we professional feedback-givers seldom admit in mixed company: for subtle critiquers, both forms of over-reaction are kind of insulting. Why bother to formulate a nuanced analysis of a work if its creator is simply going to blow up or be plunged into the depths of despair? With someone unskilled in the fine art of accepting feedback, the critiquer is in a no-win situation.
While I'm telling tales out of school, let me add that professional feedback-givers aren't all that crazy about another species of feedback-taker: the one who doesn't kick up a fuss upon getting critique, because he has no earthly intention of incorporating it. He either cherry-picks what he wants to hear from the feedback, blithely ignoring what doesn't fit in with what he had already decided to do (or, even more often, not do), or simply doesn't listen. In this case, too, the feedback-giver is left feeling that she might as well have saved her breath.
Especially when she's staring at the next version and notices that none of the problems she pointed out last time have been fixed.
What feedback-giving crisis prompted this extended lament, you ask? Let's just say that the World's Worst Landscaper™ has really been getting on my nerves for the past few days. The photo above shows the current state of a wall and steps that are now in the process of being torn down and reconstructed for what I believe is the seventh time since last April. That pile of rocks you see is atop what was through Valentine's Day a bed filled with burgeoning bulbs and other mildly decorative plant life, now demised. And when I happened to glance up from an editing project yesterday, I noticed someone tearing down yet another wall that no one had ever mentioned touching again. I had to dash outside to keep my favorite rosebush and the cat buried under it from being dug up and summarily discarded.
Talk about deconstruction.
But that's not what you thought I was talking about at the opening of this post, was it? I would bet a wheelbarrow full of the abundant rock lying all over my yard that some of you, at least, just assumed that I was complaining about writers defensive about their work.
Well, I must say, I can't blame you for leaping to that conclusion: writers in general (and aspiring writers in particular) are legendarily touchy — at least according to agents, editors, and any first reader who has tried to pass along a couple of suggestions to an ostensible feedback-seeker who secretly only wanted to be told that his work was the best collection of sentences ever produced in the English language; the rest of the scribblers worldwide might as well turn in their printer ribbons now.
I've got bad news for writers harboring this yen: from a professional point of view, there is no such thing as a manuscript that's beyond critique.
Actually, this mythical beast doesn't really exist for most good readers, either — have YOU ever met a published book that you didn't think could use an alteration or two? — but professional readers are far more likely than other people to see the same manuscript twice. Given that reality, those of us who are devoted to trying to give useful feedback to writers are often left wondering: where does that astonishingly common aspiring writer's daydream where the first reader hands back the manuscript the day after receiving it, exclaiming something along the lines of, "I stayed up all night reading this; I just couldn't put it down. Don't change a word!" come from?
You're familiar with that daydream, right? It's the first cousin of the one about the brilliant book written in secret, without the author's revealing so much as a syllable of it to any eyes other than the faithful raven perched on the bust of Pallas above the chamber door (and if that last line didn't make you either smile or groan, I've got a bone to pick with your high school English teacher), wowing the first human being to clap eyes on it — usually an agent or editor, in this fantasy — so much that it is snapped up and published without so much as the odd gerund altered. Not only does no one ever dare ask the author for revisions, even minor ones, but all of the normal rules of publishing dissolve into a mist before this august volume. Everything else in the publisher's print run is shunted aside so that the book can come out within the month. Listing on the New York Times' bestseller list and genteel protests that the writer never dreamed that her book would ever be so popular ("I wrote it because this was a story I just had to tell, Oprah!") follow a week after that, and the writer is a household name by Christmas. When platoons of literary-minded interviewers trample down the overnight sensation's shrubbery to ask neighbors how it feels to live next door to a national treasure, the local gossip is so flabbergasted that he sounds like the person whose block watch captain was just arrested as a serial killer: "Well, I just had no idea. She seemed so normal."
You do realize that it doesn't work that way, right?
Don't be embarrassed if you didn't — or if you thought, as so many aspiring writers do, that if a book is any good, it will inevitably get snatched up right away; therefore, if yours didn't, it must not be very good. These are extremely pervasive misperceptions, harmful not only because they encourage writers to harbor unreasonable hopes that will be dashed even if they end up landing an excellent agent and selling their books to the best conceivable publisher, but because they place an amazingly heavy burden on the writer to produce perfect prose on the first draft.
Just doesn't happen.
If you ever happen to meet an author who actually does produce perfect first drafts, will you be kind enough to introduce me? Because, frankly, I've never met one. And even if I did stumble on this to-be-envied freak of nature, I would still expect to hear her grumble about her agent and/or editor's revision requests — because, I assure you, even Ms. Perfect Composer is going to receive them.
Okay, the volume of disbelieving guffaws has grown so tumultuous over the last couple of paragraphs that I can no longer ignore it. "But Anne," some of you huffers cry, "that's ridiculous. If an agent or editor didn't already like a manuscript, why would she sign its writer? And if she does like it, why would she want it changed?"
Those are clear, direct questions, oh guffawers, and they certainly deserve a clear, direct answer. How I wish that I had one to give you, but at the risk of repeating myself, it just doesn't work that way.
The fact is, a well-written book is not necessarily a book that an agent can sell to her already-existing contacts in the current market, nor a book that an editor can successfully push through an editorial committee and acquire. It's not necessarily a tome that booksellers will instantly recognize as appealing to their customers, or one that browsers in bookstores will knock one another over to stand in line to buy. And even if the book in question is simultaneously all of those things — which it has to be, for the publishing world to consider it a success — every single individual who helps the writer bring it to publication will have — and express — his personal reading preferences about it. Unless that writer self-publishes, she's going to need to take all of that feedback into account.
Since I may already have depressed some of you into a stupor, I shan't even bring up what the marketing department might want a writer to do to the manuscript prior to publication. Suffice it to say that the book is almost certainly going to read differently in its published form than it did when the writer first approached her agent.
I can feel some of you clinging to that almost in the last sentence, can't I? "But Anne," a hopeful few point out, "it's possible that my book will be the exception, isn't it?"
Well, yes, it is possible, in theory. It's also theoretically possible that you will win the lottery, give birth to sextuplets, and get struck by lightning, all on the same day. It is, however, extremely unlikely.
How unlikely, you ask? Well, let me put it this way: if I had a quarter for every writer who believed himself to be the exception to this particular rule, I wouldn't have to win the lottery; I would be the richest nit-picker on the planet. Queen Elizabeth II would be hitting me up for loans. If I had a dollar for every superb writer whose agent or editor told her, "I love this book — now change it radically," I would buy a small island in the South Pacific and establish the world's first combination writers' retreat/tap-dancing school for dolphins. And if I had five dollars for every writer who has ever heard, "I love your writing — could you give me less of it? How about cutting about a hundred pages from your perfectly delightful book?" I would…well, I don't know what I would do after I commissioned fine Persian rugs for every drafty kitchen in Canada, but I'm sure that I'd think of something.
Yet hope is a stranger to the strictures of probability, isn't it? One or two of you are still thinking that your manuscript is that 1 in 100,000,000 that will astonish us all. "Okay, so maybe the odds are a trifle long," those dreamers concede. "But if clinging to that rather remote hope helps me keep moving forward with writing and submission, what's the harm in my stubbornly refusing to apply my math skills to this particular situation?"
Apart from causing your future agent to go bald from pulling her hair out in frustration, you mean? Well, let's me see…one common type of harm involves getting one's hopes dashed, taking the small handful of rejections (or even just the first) that prove one's manuscript isn't the exception one thought it was as proof positive that one should just abandon any further attempts at submission. Another type leaves the writer so unprepared for critique of any kind that the slightest hint for improvement causes him to deconstruct his manuscript down to its very foundations and begin again. A third prompts the feedback-receiver to stomp away from the feedback-giver in a huff, or causes him to stuff his fingers into his ears, merrily whistling until the critiquer gets tired of fighting to be heard and just goes away.
Any of these behaviors sound familiar? They should: they're precisely the behaviors I pointed out above, the ones that drive good feedback-givers nuts, because they imply that it never occurred to the writer that in producing a book, he would need to please anybody but himself.
Hadn't thought of it that way before, had you, oh guffawers?
But once you accept the proposition — as every writer who intends to make a living at it must — that it's part of a writer's job to accept and incorporate feedback, then you can start to regard good critique as what it actually is in the professional reader's world: a compliment to a writer's talent. Because, really, would it be worth a feedback-giver's time and energy to convey suggestions to a writer who wasn't gifted and professional enough to use them to improve the book?
In order to work well with first readers — be they agents, editors, contest judges, or that constantly-reading coworker who has expressed interest in seeing your manuscript — that you are indeed worth the effort who ever walked the planet, though, you're going to need to do more than write a good book. Even if you happen to be both beloved of the Muses and the best natural handler of constructive criticism ever born, you're going to need to learn how to ask for useful feedback — and mean it.
Up until now in this series, we've been concentrating on the problems poorly-selected non-professional first readers — i.e., critiquers of your work who are neither freelance editors, agents, editors at publishing houses, or paid writing teachers — might have in giving feedback. Now, let's take a gander at some of the more common frustrations feedback-seeking writers encounter, with an eye to figuring out how the writer's way of making the request for critique might have influenced the outcome.
Of course it doesn't sound like fun. Eliciting good feedback is hard work.
If you've already tried to drum up some useful critique, you've probably already encountered the enthusiastic friend who begs to read your manuscript…and then never mentions it again. Practically every serious writer has run into this one at some point. Or the second most common, the person who takes 6 months to read it, then hands it back with no more complex commentary than, "Oh, I liked it." Or the reader who concentrates so hard on the minutiae (rending his garments and exclaiming, "The way you use commas is INFURIATING!" for instance) that he has nothing to report on the big picture.
"Forest?" he says, gaping at you as though you were insane. "All I saw was a single tree."
You don't need the chagrin of any of these outcomes, frankly, but the frustration is not the only reason such interactions hold little value for the writer. Even when such first readers do produce useable feedback, the manner of delivery often renders it either too soft-pedaled, too vague, or too harsh, or simply too late to be of any practical value.
Yet to be fair, most of the time, it isn't precisely the first-time critiquer's fault: these outcomes are usually the result of the writer's not having selected readers carefully and/or not having set firm desiderata for feedback. You owe it to yourself — and the good first readers you will be asking to have faith in you — to invest the time in doing both.
Time is the operative word here, isn't it? Even gearing up to submit your work to another human being is stressful for most writers, much less waiting to hear back. It's nigh-impossible to explain to non-writers, but the period preparing to send work out to agents and editors can leave a writer as raw and sensitive as the time while she is waiting for a reply on a submission.
Which is another good reason to select your first readers with care, rather than just handing your baby to the first person that asks. Even when a spate of rejections may well have left you simply dying for someone — anyone, please! — to show an interest in reading your writing, it's not a good idea to give in to that impulse without first giving the matter some extended thought.
What I am about to suggest may come across as downright prosaic, but I assure you, adding this one step to the feedback-solicitation profess can save a writer weeks or even months of teeth-gnashing and garment-rending whilst awaiting feedback:
Make sure your potential reader has time already available in his schedule to read your manuscript BEFORE you hand it off.

This is not a rude question; actually, it's rather considerate to ask before you start handing over pages. If the reader cannot estimate a reasonable return date, thank him and move on to another choice.
I know, I know, we all wants to believe that every human being is going to be overjoyed to read our work. But the fact is, a critique-providing first read is not the same experience as reading a book for pleasure — yet far, far too many of us pretend that it is when handing our books to someone who has never given a writer feedback before.
Come on, admit it: even writers read differently for pleasure and for analysis; it's the nature of the beast.
Reading to spot problems is considerably more time-consuming than other kinds of perusal, not to mention more stressful for the reader — and that will be the case even if the reader does not also have to worry about couching his feedback in ways that will preserve the intimate relationship between you. (For lively reader debate on this last point, I would highly recommend reading the comments on an earlier post on this topic.)
Remember, your first readers are doing you a favor, donating their time to the good cause of furthering your writing career. Even if you are giving them an advance peek at the next DA VINCI CODE so they can say they knew you back when, agreeing to give you feedback is a significant responsibility. Treat their time with respect.
It may seem counterintuitive, but setting some boundaries in advance is one of the better ways to pull that off. As in:
Ask your feedback-giver BEFORE you hand over the manuscript if you can schedule a date for her to return it to you, one that will work within her already-existing rubric of commitments.
Yes, I know: setting even a loose deadline makes it seem like an assignment, rather than a favor, but let's not kid ourselves here: from the writer's perspective, it is an assignment, as well as a favor. You honestly do want to hear back within a reasonable period of time, don't you?
Being wishy-washy about the fact that you honestly do want feedback enough to stay up at night, nibbling your fingernails down to the quick because you're terrified what your first reader might say, is not the kind of information you're going to want to spring upon your kind friend as a surprise after the fact.
If you're unsure why, please go back and re-read the litany of resentments at the top of this post.
Pick an actual date, rather than just saying, "Okay, I'll expect that back in three weeks." It's far more difficult to follow up on a vague understanding than a specific commitment. If your potential first reader hesitates at all, ask him to suggest a date that seems reasonable, then add a week to it.
Obtain timing information even if — and perhaps even especially if — someone has expressed an interest in reading your manuscript simply out of friendship, family feeling, or curiosity. In my experience, such people, while kind and encouraging, frequently do not realize just how much time it takes to read a manuscript carefully – or even that the task is going to be any different from reading any book at the library. Often, these folks end up not finishing it at all or giving inadequate feedback, just because they did not budget sufficient time to read well.
Also, if you ask for this information courteously up front, you will have given yourself permission to take advantage of my next tip:
A week or so before the agreed-upon return date, send a polite reminder e-mail or drop a friendly note to your first reader, asking if he will find it convenient to finish the book in time for your meeting. If he says no, chuckle understandingly and set up a new date.
No, this isn't nagging; it's demonstrating your awareness that not everyone may consider reading a book a higher priority than eating, sleeping, and making a living. Crises do come up, and it's only courteous for a feedback-seeker to give a first reader the option of extending the deadline.
But that's not the real reason you're going to want to ask. Creative civilians (or, to put it less colorfully, people who don't write) almost never understand that writers are serious about deadlines — an opinion that many agents and editors seem to share, incidentally.) How could we be, they think, when we spend years at a time working on a single book?
Forgive them, readers: they know not what they think.
Given the pervasive belief that writers don't own calendars, a pre-deadline reminder can go a long way toward making sure that the reading actually gets done. Just a quick heads-up, perhaps inviting the reader to coffee or lunch just after the deadline to discuss it, will help keep you from seething three weeks after the stated deadline passed, wondering if you should call now or wait another three days.
Since you will be asking for a time commitment before you hand over the manuscript, it's a good idea to tell your first reader WHY you want her, of all people, to give you feedback. To put it bluntly, buttering 'em up will often yield swifter results. Which leads me to my next tip:
NEVER leave a non-professional first reader guessing why you selected her to ask for feedback. If possible, couch your request for feedback in a compliment.
Ideally, you would like your potential first readers to be flattered that you asked, and thus hyper-motivated to sit down and read. There's no need to make up extravagant praise — just be very clear about why you are asking THIS particular person for feedback, as opposed to anyone else who can read and has some time on his hands. The more specific you can be, the more likely your first reader is to regard the request as an honor, an indication that you respect his opinion enough to want to know what he thinks of your book.
So before you approach a potential reader, ask yourself: why is this person THE person to read THIS book? What special insight or experience do you believe will render this person's perspective especially useful for this particular story? And, based upon these reasons, what type of feedback would you like from this person?
If you can't come up with good answers to all of these question (or if the answers run along the lines of, "Um, because she asked to read it, and she's less of an idiot than everyone else who works at my office. And I know absolutely nothing about either her reading habits or her life prior to two years ago, when she set up shop in the next cubicle."), are you really sure that this is a good first reader for your book?
When it comes time to make the request, honesty is the best policy, just as your mother spent your youth suggesting. Try phrasing it like this:
"I trust your eye implicitly, so I am relying upon you primarily for proofreading."

"I've always admired your sense of humor — would you mind flagging the jokes that you think don't work?"

"You always know what's about to happen in a slasher flick – may I ask you to take a quick run through my manuscript, flagging anytime you feel the suspense starts to droop a little?"
The complimentary approach kills the proverbial two birds with one stone: you will be preemptively thanking your first reader for the effort (good manners), and you will be setting some limits on the kind of feedback you would like (good strategy). Also, by setting these goals in advance, you will be better able to avoid the super-common pitfalls of either your first reader or you mistakenly believing that the manuscript-sharing process is about stoking your ego.
Or bringing you and the reader closer together as friends or lovers. Or even to reveal yourself more fully to another human being you happen to love. No, that's what your kith and kin's buying your published books are for: that's support.
At the risk of sounding like a broken…broken…broken… (Allow me to pause a moment for readjustment.)
At the risk of sounding like a broken record, if you're going to be professional about your writing, the sole purpose of ANY pre-publication manuscript-sharing should be to help prepare the book for submission and eventual publication. As the author, you are the book's best friend, and thus have an obligation to do what is best for it.
Writers new to the game often forget that. Heck, even writers who have been published for years forget that.
Keep that foremost in your mind, and I promise you, you are far less likely to hand your beloved baby over to the first careless coworker who says, "Gee, I'd love to read some of your work sometime." The writer may be flattered by such attention, but the manuscript deserves not to be sent on blind dates.
Nor do your first readers; it's not fair to expect them to read your mind in order to figure out how soon you expect them to read your book, or why on earth you picked them for that honor in the first place. Believe me, even if your carefully-picked critiquer turns out not to have much to say about your book (hey, it happens), you'll both be far happier with the experience if you made the effort to set out your expectations clearly.
More on these crucial issues follows next time, of course, most likely accompanied by — heaven help me! — more updates from the WWL front. Please keep visualizing me cavorting amid walls that go up and stay up, and as always, keep up the good work!