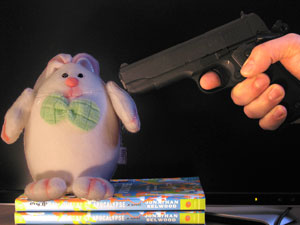 Hello again, all — Anne here. For those of you who have found the ongoing Author! Author! series on subtle censorship a trifle, well, depressing, I have a great treat in store for you today: a guest post by Jonathan Selwood, in my humble opinion one of the funniest dark comedy writers currently drawing breath within the continental United States.
Who better, then, to share his thoughts on dark comedy with all of us here at Author! Author! — or to talk about the risks a writer takes by walking the thin line between outrageously funny and just outrageous? Or, frankly, to lighten all of our moods whilst enlightening us?
How funny a writer is Jonathan, you ask? Well, while reading his first novel, THE PINBALL THEORY OF APOCALYPSE (Harper Perennial), on an airplane, one paragraph started me laughing so hard that passengers in adjacent rows came tumbling out of their seats to come to my rescue, convinced that I was having some sort of fit that required immediate medical attention, if not actually turning the plane around. When I had caught my breath enough to apologize and read the relevant paragraph to my would-be helpers, their laughter kicked up such a din that two flight attendants came running. (They thought the passage was pretty funny, too.)
That's right: parts of this novel are so subversively funny that they disrupt air travel. Take a gander at the publisher's blurb: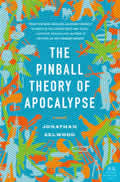 For years, painter Isabel Raven has made an almost-living forging Impressionist masterpieces to decorate the McMansions of the not-quite-Sotheby's-auction rich. But when she serendipitously hits on an idea that turns her into the It Girl of the L.A. art scene, her career takes off just as the rest of her life heads south. Her personal-chef boyfriend is having a wild sexual dalliance with the teenage self-styled Latina Britney Spears. If Isabel refuses to participate in an excruciatingly humiliating ad campaign, her sociopathic art dealer is threatening to gut her like an emu. And her reclusive physicist father has conclusively proven that the end of the world is just around the corner.

Now, with the Apocalypse looming — and with only a disaffected Dutch-Eskimo billionaire philanthropist and his dissolute thirteen-year-old adopted daughter to guide her — there's barely enough time remaining for Isabel to reexamine her fragile delusional existence…and the delusional reality of her schizophrenic native city.
Would this be the right moment to tell you that THE PINBALL THEORY OF APOCALYPSE is available for sale at Powell's, Amazon, and other purveyors of fine books? Or that if you want to read more of Jonathan's words of wisdom on the writing of startling comedy, you could also check out his earlier guest post on this very site?
Or that he's recently yielded to popular demand and started a blog, Terminal Alienation? He describes it as n exercise in Evangelical Absurdism. Its goal is not just to support the billions of terminally alienated people around the globe, but to help snuff out the last flicker of hope in those still holding a tenuous connection to the culture at large.
All of which is to say: I'm overjoyed that he has agreed to guest-post. I hope that those of you who are planning to push the proverbial envelope in your writing pay close attention and come up with good questions, because it honestly is rare to be able to glean insights from a comedy writer this talented.
So please join me in giving a big Author! Author! welcome to Jonathan Selwood. Take it away, Jonathan!






"An amateur thinks it's really funny if you dress a man up as an old lady, put him in a wheelchair, and give the wheelchair a push that sends it spinning down a slope towards a stone wall. For a pro, it's got to be a real old lady." — Groucho Marx
1992 was the year I first read the novel Lolita, first saw the movie Reservoir Dogs, and first decided to dedicate my life to writing. The connection? Dark Comedy.
As far as literary genres go, Dark Comedy is usually considered something of a bastard child. While it can certainly sell well, it rarely rakes in the staggering sums of mass market blockbusters like Da Vinci Wears Prada Traveling Pants. And yet, it's precisely its lunatic fringe position within the culture that makes it — in my unbiased opinion — the greatest genre.
Tragedy, in simplest terms, is the story of a character who falls away from society and its rules and therefore suffers — think Oedipus. Comedy is the story of a character who is initially alienated from society and its rules, but happily rejoins in the end, traditionally with a wedding — think Elizabeth Bennet. (Yes, I know these are gross oversimplifications, but bear with me.) Dark Comedy combines elements of both Tragedy and Comedy to critique society itself–think Humbert Humbert.
By its very nature, Dark Comedy has to be the bastard child. A comedic novel with a sociopathic child molester for a protagonist (i.e., Lolita) is always going to upset the mainstream, because it's supposed to upset the mainstream. It's hands-down my favorite novel of all time, and it even upsets me — particularly now that I have a child of my own. But given the truly deplorable state of the economy, the environment, and just about everything else in the world right now, WE SHOULD BE UPSET!
Lolita is not some sick attempt on Nabokov's part to make us sympathize with child molesters, it's an absolutely genius attempt to make us reexamine American society as a whole. There will always be "mainstream" people trying to ban Dark Comedy — from Catch-22 to South Park–precisely because it's a very real threat to society and the "mainstream" they hold so dear. At the end of a Dark Comedy, there's no tragic lesson warning us not to break the rules, nor is there a society-reaffirming marriage. But if the work is successful, it can expose the flaws in society itself.
As if that wasn't enough, where a regular comedy (or, to be more derisive, a "Light Comedy") will make you laugh, a Dark Comedy will make you gasp. The most obvious example is when a standup comedian tells a joke that's right on the line. If it goes over, it will likely be the funniest moment of the entire show and elicit that bizarre "Ahhhhhh…" sound that humans produce when the laughter center of their brains suffer petite mal seizures.
Of course, that's a big IF the joke goes over. Not only is Dark Comedy the funniest form of humor (again, in my unbiased opinion), but it's also the most likely to flop. And while a standup comedian can quickly move on to the next joke and at least have a chance of making the audience forget, a novelist is most likely going to get his book tossed onto the bedside table for good.
So, in addition to being the greatest and funniest literary genre, it's also the most risky. But hey, if you were a coward, you never would have thrown your hat into the literary ring in the first place, would you?
Let's face it, people don't make a "rational" decision to become writers. It's an inherently irrational pursuit, and in the years since I decided in 1992 to be a writer, it's only become more irrational. (If you're a writer and don't know what I'm talking about, than I think it's safe to assume you require immediate hospitalization.) So if the pursuit is irrational in the first place, and we've already established that you're not a coward, why not go all the way?
I invite you all to join me on the Dark Side…
Oh, and if you live in the Northwest (or anywhere else, for that matter), pre-order a copy of Portland Noir. Not only do I have an (unbiased, yada yada yada) masterpiece in there, but it's really a great collection.
Explore the dark, rainy underbelly of one of America's most beautiful but enigmatic cities through brand-new stories by Gigi Little, Justin Hocking, Chris A. Bolton, Jess Walter, Monica Drake, Jamie S. Rich (illustrated by Joelle Jones), Dan DeWeese, Zoe Trope, Luciana Lopez, Karen Karbo, Bill Cameron, Ariel Gore, Floyd Skloot, Megan Kruse, Kimberly Warner-Cohen, and Jonathan Selwood.

From the downtown streets littered with strip clubs and gutter punks to the north side where gentrification and old school hip-hop collide, Portland, Oregon, is a place that seems straight out of a David Lynch movie. It's a city full of police controversies, hippie artist houses, and overzealous liberals, where even its fiction blurs with its bizarre realities.

Portland Noir is an encompassing literary journey where your tour guides take you to the Shanghai Tunnels, dog parks, dive bars, sex shops, Powell's Books, Voodoo Doughnuts, suspiciously quiet neighborhoods, the pseudo-glitzy Pearl District, Oaks Amusement Park, and a strip club shaped like a jug. Violent crime, petty mischief, and personal tragedy run through these mysterious tales that careen through this cloudy, wet city.

Portland Noir is sure to both charm and frighten readers familiar with this northwest hub and intrigue those who have never traveled to this proudly weird city.






Jonathan Selwood is the author of The Pinball Theory of Apocalypse. He also enjoys talking very loudly when intoxicated, composting kitchen scraps, excessively rolling his Rs when ordering burrrrrritos… using ellipses…