For the last week or so, I've been talking about the pros, cons, ins, outs, and finances of grabbing one's manuscript, computer, and what Chaucer described for posterity as a bag of needments and trundling off to a formal writing retreat. You know, the impressive kind that they advertise in the back of Poets & Writers magazine: artists' colonies where you have to write (or paint, or sculpt, or photograph) your way in; for the rest of your professional life, agents, editors, and other literati take a gander at your bio or query letter and exclaim, "Oh, you were at Retreat X?"
Oh, and one generally gets time to work on one's manuscript, too.
Because both the decision to take time off work and the application process can be intimidating, confusing, or even downright scary, I have devoted the last couple of days to chatting about practicalities with Kerry Eielson and John Fanning, owners, operators, and writers-in-residence at La Muse Artists' Retreat in southwestern France. If you gaze carefully into the windows in the picture above, you'll catch a glimpse of the magnificent view I enjoyed every time I cast my laptop from me last month and stared out the window, mulling over dialogue.
What — not enough detail in that image? Well, if you're very nice, I'll treat you to some clearer landscape photos throughout today's post.
But wait, there's more: as an additional treat, I'm also going to be continuing the extremely practical bent of yesterday's post (an excellent behind-the-scenes glimpse into what a retreat application looks like from the other side of the submission desk) by sticking to the nitty-gritty. Specifically, to the financial nitty-gritty, to address the most pressing question on many would-be retreating writers' minds:
How on earth do writers afford to stay at a retreat like this?
If a writer happens to be independently wealthy, obviously, the answer is simple: there are plenty of perfectly marvelous artists' hideaways out there for thems as can pay for 'em. Those of lesser means often save up for them, get a paper route, or blandish kith and kin into donating toward them as birthday presents, in much the same way as anyone else who wants something out of his price range.
However, the answer for most of us who do it on a semi-regular basis, as I mentioned on Monday, is to apply for fellowships, grants, and barter arrangements at the retreats whose facilities we covet.
Fair warning: very, very few formal retreats can afford to offer more than a small handful of fellowships; the vast majority of residents in even the top-flight retreats are paying their own way, at least in part. Not all artists' colonies offer outright free stays — and remember when you're budgeting, even those that do seldom offer assistance with travel to reach their often far-flung doorsteps — and those that do tend to see hundreds of applications for each available spot. Barter arrangements are sometimes possible, but rare.
The fact is, though, most retreats do offer a chance to win at least a break on the cost of residency, if not a free ride, to those willing to jump through a few extra hoops. Since you're going to be submitting an application to a selective retreat, anyway, what are a few extra hoops? It never hurts to try.
Where might one start trying? Well, word of mouth is best; I've found some great grants, as well as some fabulous retreat spots, by the simple expedient of asking writers I admire where they go to get away from it all and who paid for it. You can also engage in a web search, but like anything else you shop for online, it's prudent to double-check a granting foundation's credibility before you put your John Hancock on a application fee check. Like literary contests, not all of the fellowship opportunities advertised are legit; like literary contests, sometimes the primary goal of a fellowship competition is apparently to collect all of those application fees, rather than to reward, say, compositional excellence. Many a retreat, like many a contest-running organization, depends heavily on funds raised from the fees of unsuccessful applicants.
Please tell me that none of that was news to you. Or that if it was, you haven't been wildly sending off entries and application fees to every contest, fellowship, and grant program out there. Or that if you have, you will solemnly swear to set aside time to read through the CONTESTS THAT ARE WORTH YOUR TIME TO ENTER category on the archive list on the lower right-hand side of this page.
Hey, I'm only trying to save you some money. And chagrin.
As is the case with so very many other aspects of getting started as a writer, it pays to do your homework before you actually pay for anything. A good place to start looking for fellowships that actually are what they appear to be is Poets & Writers magazine, whose staff tend to keep a sharp eye out for those out to scam writers.
Yes, yes, I heard that massive collective sigh: tracking down a fellowship and applying for it can be quite a bit of work, yet another demand upon your precious writing time, along with querying, going to conferences to pitch, going to conferences not to pitch, submitting, entering contests, attending classes, keeping up with the new releases in your chosen book category, and, oh yeah, writing your manuscript. But listen: while all of these efforts can result in some pretty happy outcomes for a writer, from landing an agent to learning how to present your work professionally to making some pretty terrific fellow writers, applying for a retreat fellowship or writing grant is one of the very few standard writerly activities that can actually give you more time to write.
All right, that's enough cautionary preamble for one day. Let's take a gander at another nice, soothing picture of a lovely landscape in France — and get back to our ongoing conversation with some folks who are, in part, in the fellowship- and barter-granting business. And had I mentioned that La Muse is one of the relatively few fellowship-offering retreats out there that doesn't charge an application fee?
Anne: I hear that you offer fellowships to stay at La Muse, which must be awfully difficult to pull off in the current global economy. Since you could fill the retreat entirely with writers and other artists paying their own way, why offer fellowships?
Kerry: We want people to be able to come for free. We want everyone to be able to come. We need people's help to make that happen though because we are only two people so far with amazing barter attendees nearly every second month but we need more.
Anne: I'll want to get back to barter residencies in a bit, since that's so unusual, but let's stick with the fellowships for the moment. How many fellowships are you offering these days?
John: We have four fellowships a year with separate application procedures, and seek partnerships to extend that to at least twelve fellowships.
Anne: Meaning that you sponsor visiting writers and artists from a number of different institutions.
John: Ideally, we would like to invite every attendee to La Muse as a fellow or on a residency attached to a university, publishing house, organization, or patron so that writers and artists don't feel burdened by the financial weight of getting time off from work without pay or worrying about the costs of flights, etc.
Anne: I would love to see more retreats run on that basis, but so few of them are. I've met literally thousands of writers just in the last five years to whom such a retreat opportunity would have made a phenomenal difference.
John: Our vision has always been to provide a space for creative people who need to get away from life back home to get a project going or finished so inevitably we would like to make that transition much easier and less costly, as even the bare minimum costs we charge to offset our operating costs, can stop people from coming.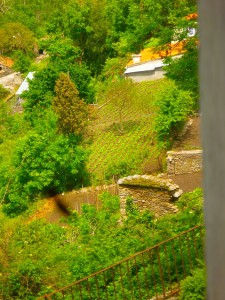 Anne: So is that how you see La Muse operating ten years from now?
John: In ten years, although we would really love to see it happening a lot sooner, we foresee everyone that comes as being a fellow. We've already started this process with Foras Feasa in Ireland and the writing programs of universities such as Iowa and University of Wisconsin-Madison in the States, over and above the Wildcard residency every year.
Anne: And everyone's eligible for the Wildcard residency. I know that you subsidize the Wildcard residency yourselves, out of the goodness of your collective heart. Do the universities pay to send their fellows?
John: The Iowa and Madison fellowships are not underwritten by the universities.
Anne: Wow. So more goodness-of-your-heart stuff.
John: We donate them to the graduates there because we believe in those courses. The University of Iowa brought a load of students here a few years ago under the guidance of Robin Hemley and David Hamilton. We were really impressed by the caliber and professionalism of Robin and David, but more importantly by the students and their potential. That's why we offer them two fellowships a year.
Anne: Iowa has a great writing program. Was the high quality of the writing programs what prompted you to offer fellowships to students from the other two as well?
John: Madison is where Kerry went to university so she had first-hand experience of how good their creative writing department was, and I went to Maynooth University. which is a member of Foras Feasa. It all felt organic. However, we would love to have fellows from every country, but this takes time and energy and help.
Kerry: And in the future we will have it. We're definitely going to need another really big house, too (there's one we love right here in Labastide). Or two. And a support staff. And a recording studio for musicians, a piano, a movie room for screenings and cinema nights, an oven for ceramicists, a big room with a wooden floor for dancers, a full-time on-site yoga instructor, a coop-type organic vegetable garden for attendees, and a sizable gift from a lover-of-the-arts that will have made it all possible without any more debt, plus enough funding for every artist to come to La Muse on a full fellowship.
Anne: From your mouth to Whomever's ear.
Kerry: I envision nirvana. And an office, so we don't have to run all of this from our kitchen anymore and John's small office upstairs.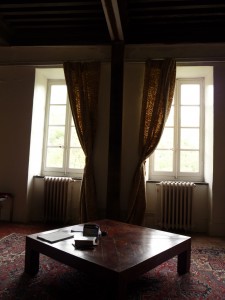 Anne: But even now, not all of your fellowships are devoted to people affiliated with specific programs, right?
John: True to our non-affiliated roots, we also offer a Wildcard Residency to a visual artist and a writer every November.
Anne: I imagine that the Wildcard is the one that will interest most of my readers. How does one apply for a fellowship to La Muse?
Kerry: Whether for the University of Wisconsin Creative Writing Fellowship, the University of Iowa Creative Non-fiction Fellowship, or our own unaffiliated Wildcard Fellowship, the process is the same as for a regular retreat stay:
a CV
2 references (one personal and one professional)
a description of the project one hopes to work on at La Muse,
and a sample of work
Anne: That's unusual, not to require extra paperwork for fellowship applicants.
Kerry: The deadlines are on our website. Foras Feasa in Ireland elects their Fellow every year, in March.
We have also barters almost every month of the year. We would love to have a barter attendee here every month of the year, but the operating costs of La Muse don't allow for it yet.
Anne: Okay, let's talk about the barters. If I may quote from your website:
We welcome writers and artists to apply to come to La Muse as barters on work exchange stays. Writers and artists receive a complimentary room in exchange for approximately 3 days of work per week, that is, two days of work and one hour a day of daily tasks.

The kind of work depends on the season and the number of other guests at the house, but would include anything from building stone walls and gardening to home improvement, grant research for the owners, or organizational/administrative assistance.

Barter rooms are not available during the summer. We review applications one to two months in advance. Application
Anne: Your barter arrangements are unusually generous, I've noticed. Usually, the work exchange results in a discount for the retreater, but this is the room for an entire three-week session.
Kerry: We try to have barters for most of the year. They apply more or less the same way as other attendees, though it's a good idea to highlight in the application any specific skills that could help us, such as grant-writing knowledge, fundraising or marketing or PR, or house-painting or construction or gardening experience. All barter projects are for La Muse improvements only, i.e., they don't do our laundry!
Anne: I get it: the barter attendees are helping you two build the La Muse of ten years hence both physically and financially. That's a great idea. If any of you readers out there are financial wizards, I hope you'll think about going on a bartered retreat to help move La Muse toward the dream of an entirely subsidized artists' community!
Before I get too carried away with the idea, I should ask: do barterers get to stay the same length of time as paying retreatants? How is their work/retreat time differentiated so both they and you can get the most out of both?
Kerry: Once barters arrive, they work for three days a week in exchange for their room. They arrive on the last day of the outgoing retreat so that they can help us get the house ready. Either they work on one intensive project for the whole stay, or they essentially help us on whatever comes up. It depends on the time of the year they come and what we happen to be working on. We work with them on most projects.
John: Barters get a lot out of their stays here, too, because they are really aware of their creative time apart from their barter time. They always get a lot of their own work done because they are really aware of how precious their time here is.
It's great, because they love to get out of the house to clear their creative desktops. That way, they start fresh after three days. We love having barters and from what they've wrote to us over the years they love the experience, too.
Anne: While we're on the subject of unusual arrangements for a formal retreat, you mentioned last time that sometimes your writer and artist residents collaborate on projects; during my stay, a fellow resident and I happened to be writing books set in the 1980s — she nonfiction, I fiction — so we had amazing brainstorming sessions. Perhaps as a result, I kept thinking while I was in residence, if I ever was working on a collaborative project with another writer, I'd definitely drag him/her/it to La Muse for some intensive co-work.
Which leads me to ask about other types of groups. Do couples ever come together to La Muse, or groups of friends? A writing group, perhaps? Could you accommodate a writer with children and/or a significant other in tow?
Kerry: Yes, all of the above. Spouses who want to come and stay in the house with an artist have to apply with a project proposal etc; if they're coming to be a tourist, we recommend renting a cottage. Families stay in cottages.
Anne: That makes sense. That way, the family can have its own space, distinct from the other residents.
Kerry: We've had creativity/yoga retreats, workshop retreats. It's all possible. We envision and would welcome proposals for cooking/writing retreats, art/well-being retreats, etc.
Anne: And academics, too, right? A couple of my fellow attendees were graduate students, which I found interesting, as academic writers tend not to go on retreat as much as I think they should. Is La Muse a good place to, say, write up a dissertation? Or, to put it another way, what might be the benefits for an academic to live and work amongst artists for a while?
Kerry: A creative approach to structure and voice would be marvelous for dissertations, and that often comes from the conversations we and other attendees have with Ph.D. attendees. They see structure and approach in a whole new light when they see it from a more commercial or creative standpoint.
Anne: That definitely seemed to happen in my retreat group. I can tell you from experience that few dissertation-writers ever get asked on a college campus, "So, what story are you telling in your book?"
John: Yes, it makes them see beyond the footnotes and cross analysis to where the story of what it is they are writing about lies. Where is the story of my subject? A lot of academics that have been here have found that really refreshing and inspiring.
Anne: John, I hear that you're planning to go on a writing retreat yourself. What are you looking for in a retreat experience?
John: I'm looking for La Muse!
Anne: On that note, I'm going to sign off for the day. Thanks, Kerry and John, for filling us in about fellowships and barters!
If some of you found today's talk of finances a bit prosaic for your daydreaming-about-retreating-in-France pleasure, never fear: more mouth-watering details follow anon. In the meantime, keep up the good work!