Today is the last installment of my multi-part interview with the proprietors of La Muse Artists' Retreat in southwestern France, John Fanning and Kerry Eielson. Kerry and John were kind enough — or foolish enough, depending upon how one chooses to regard the time commitment involved — to agree to sit down and answer all of the questions I thought my readers might have about the ins and outs of running an artists' retreat.
As will probably come as no surprise to those of you who have been hanging around Author! Author! for a while, I did not suffer from an inability to come up with trenchant questions, or a whole lot of 'em.
I did, however, forget to ask a rather important one until the interview was nearly over — an omission that I'm kind of surprised, frankly, none of you fine readers has left a comment pointing out. Let's rejoin the conversation already in progress to see just how gracefully I covered for this little oversight.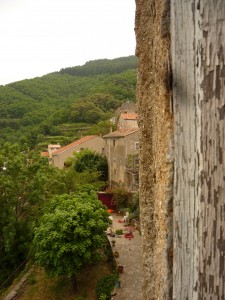 Anne: There's one question that I know will have been preying on the minds of literally every English-speaking reader of my blog since I first mentioned that I was going to travel to France for a writing retreat: How much French would someone actually have to speak to get by at La Muse?
To be blunt about it, all of the travel guides say that this is the part of France where the fewest people speak the least English. do you think that someone who didn't speak any French at all could do well here?
Kerry: No French is necessary. We are bilingual, so we can provide assistance there. And we do arrange for the French lessons for those who'd like to have the basics or improve more advanced French.
John: Hand gestures work well, too. The locals are very friendly and helpful.
Anne: That's true, but in my limited experience, very few of them have English as a second language, even in Carcassonne (the nearest city). Traveling in packs helps; since there were a couple of my fellow residents who spoke no French at all, mine certainly improved by leaps and bounds while I was in residence.
One thing that seemed to bring villagers and retreatants together was the daily walk to get water at La Source.
Kerry: It's a great daily outing, a natural ritual that makes people connected to the land and to the rhythm of this place.
Anne: For those of you who have never been to the village of Labastide Esparbaïrenque, La Source is a famous local mountain spring. (Sorry, campers; I seem to have neglected to take a photograph of it.) Many La Muse residents choose to take the not inconsiderable walk every day to obtain their drinking water from it, something that 21rst-century Westerners don't do all that often. What's the attraction, do you think?
Kerry: Charm, exercise and free spring water. It's healthier, more economical and more environmentally sound than either tap water or bottled spring water. People have been getting drinking water from that spot for centuries, and come from miles around to fill up on water for the week. They claim it's why there are so many old, old people here!
John: We encourage people to go to the source so that they can get out of the house and refresh themselves. That way. they can get more work done instead of staying in their rooms burning themselves out.

Anne: Which is a genuine danger at a good artists' retreat, I've noticed, especially for writers. A lot of us become so excited at the idea of having an entire 24 hours per day free to write that we actually try to spend every waking hour doing it. It's important to establish reasonable expectations, so you don't end up writing for three days straight, then collapsing for a week.
John: Everyone has a different process. Some writers are like Auden and get up at the crack of dawn and others are like Dostoyevsky, they write all night…
Anne: And some are like Graham Greene, and write 147 words per day until they get a book done.
John: We feel that whichever you are, you really need to get away from your laptop or canvass during the day, to have a ritual, that allows you to get out of your own head so that you can be even more lucid when you get back to your work.
Anne: Speaking of daily rituals, although e-mail and web surfing is now a constant part of most writers' lives, artists' retreats have been very slow to jump on the internet bandwagon. It's still not all that uncommon to have to travel to the nearest town to get online. I can understand wanting to render too-easy access less of a temptation, since e-mail and the web can be so distracting and time-consuming, but I frequently meet writers — and other artists, for that matter — who say that being completely cut off is a deal-breaker on a long retreat. I hate to admit it, but as both a blogger and a freelance editor with ever-clamoring (charmingly, of course) clients, I wouldn't have been able to stay as long at La Muse had the internet connection not been available.
You've recently expanded the internet connection, so it may be used all over the La Muse, rather than in a dedicated internet space. How has that been working out?
Kerry: We have WIFI. We used to not have any because we used dial-up — ADSL has only been possible in this village for two years.
John: People usually don't use the Internet much at all. They just need to know it's available to them. Bloggers use it a lot, obviously, but most of the time people use it after quiet hours because they are really into finishing or moving forward with their projects.
Anne: Since the walls are so thick (note: since it began life as a medieval structure, La Muse's external walls are a meter deep; see next set of photos), I'm not sure there's any way of knowing for sure who is doing what, or when, in the various rooms. The privacy level's awfully high.
Anne: What I was really asking was do you think that a retreat with easy internet access is different from one that doesn't have it?
Kerry: It has changed the vibe. The monastic nature of a retreat is sort of interrupted by daily emails, the odd job offer, the business of swapping favorite music and movies, Skype… pop culture and the stress of life back home has more openings through which to seep into a person's experience here and to interrupt their flow, which is too bad.
That said, many people use the Net for research, and we found it actually alleviated stress just to make it available for everyone. So, we remind people to try to stay focused on their projects, and I think they do.
Anne: Which leads me to a delicate subject, something that writers who have been on retreat talk about a lot amongst themselves, but retreat organizations tend to downplay as a possibility. Do you get writers or artists who come to La Muse and just don't work?
Kerry: People who come here are just dying for the time to focus on their work. Sometimes we have people who read and research and unwind, and that's fine. We just ask that they not interfere with other people's work. If they do interfere, we have a talk. It has very rarely happened.
Anne: That's encouraging to hear, since it's such a common retreat phenomenon; it's rare to meet a writer freshly back from any retreat, anywhere, who doesn't complain about another resident's loafing around, being a distraction. Not out of spite or anything, but just because the sole unoccupied person in the midst of a dozen with their noses to the grindstone is bound to stand out.
Maybe the fact that many of your attendees travel so far to get here minimizes the temptation to use the time for non-artistic pursuits. Or that so many of your residents are already professional artists of one sort or another, and thus already have good work habits.
John: Lots of established writers who come actually use the retreat to decompress from their writing life back home. They come here to read and eat good food. They come to be around other creative people but without the pressure of their home office. They are researching, but more importantly they are retreating from their lives back home so that they can think about their writing, so that they can be inspired about what they are working on.
As we say all the time, every one has their own process. Once that process is not getting in the way of other attendees. we are happy.
Anne: Okay, let's flip the scenario around, then: do you get attendees who just disappear into their rooms and are never heard from again?
John: Like I just said, everyone has their own process. Everyone is at different stages of their projects, careers, and lives, so that affects what their process is. If someone needs to stay in their room all day, that's their choice. We accept and respect a person's process.
Kerry: If they want seclusion, that's their call. We check on people when we haven't seen them in awhile to make sure they're okay, but that's about it.
Anne: Retreats can be rather lonely experiences for a writer, especially the first time around. No matter how long one longs to be absolutely alone with one's book, the actual fact of it can be a bit overwhelming.
John: The writing life is by its nature lonely. You sit in a room with four walls with the door closed. You do the same at La Muse, but without having to worry about the telephone ringing, changing nappies, answering the mail, going out.
Also, La Muse allows you to go through this with people on the same wavelength as you. How many times in your normal life can you be surrounded by other creative people all day for three weeks? Attendees really love this aspect of a retreat, being able to talk about what they've done at the end of a day over a glass of wine on the terrace.
Kerry: Basically, we gave the house a structure: a time to work and a time to eat. So most people eat together, which makes for structured social time.
Anne: I guess that brings us back to your earlier point: La Muse gives retreaters more options to personalize their retreat experiences than most artists' colonies do. In my first cohort, for instance, most of the retreatants left after the originally-planned three-week session, but two of us were able to remain for another couple of weeks in order to complete our projects.
Kerry: We do accept shorter stays, but when possible we ask that people arrive on the first day of each retreat so everyone can settle in at the same time. There's less upheaval in the house that way.
For 2010, we plan to have a different calendar that will offer two-week retreats, three week retreats – those who wish to stay for a month or more can come for two consecutive retreats.
Anne: That's great. Much, much more flexible than the vast majority of retreats.
Kerry: We will also have two periods of the year (probably two months in the fall and two months in early spring) when people can come and go on whichever dates they please, to stay for however long. The calendar in 2011 will reflect how well that works.
Anne: So La Muse is still evolving.
John: We have been keeping notes on the genesis of La Muse and all the crazy things that have happened to us over the years in La France Profonde. An editor friend thinks it would make a great book and has told us we need to pitch a part of it to The New Yorker or somewhere like that, but we are pretty busy right now.
Anne: No kidding!
John: We have our attendees and kids and other writing to take care of first but would love to eventually get that book out there. There'd be a huge market for it.
Anne: I suspect it's not an uncommon writerly fantasy: move someplace beautiful, peaceful, and exotic to write, with another space to be able to welcome other writers who want to do the same.
Not to mention doing it in the company of someone you love. How is collaborating on running a retreat different than working on any other kind of project together?
Kerry: It's alive and 3-D. Much more multi-tasking involved.
John: It's everything at the same time. To use the cliché, you wear many hats and a lot of them are funny ones.
Anne: But in the face of all that it takes to keep an artists' retreat running — more than a full-time job, by anyone's standards –how on earth do you have time to write yourselves?
Kerry: Late at night or in the wee hours… just like when we had full-time jobs in NYC.
John: I write a lot at the train station waiting for people to arrive or when I bring people down to Carcassonne for the weekly ride package. The collection of short stories I've been writing this year have been mostly written in cafes and in our old Chrysler Voyager. I usually type my stuff up in the dead of night.
Anne: I suppose this question should have topped the interview, but please tell us a bit about your backgrounds and what each of you writes. Kerry, why don't you go first?
Kerry: I come from a military family, and lived in Europe for part of my childhood and it was probably back then that I fell in love with tiny old villages with their little stone houses with big gardens. I always wanted to be a writer, but these days I wish I were a painter. I went to the University of Wisconsin-Madison, and received a BA in Comparative Literature, and had a concentration in creative writing. My focus then was poetry.
During and after university, I lived in Paris for three years, where I did an internship at the French ELLE magazine, and the Paris office of 60 Minutes/CBS News. After that, I landed an editorial and news assistant job at the Paris bureau of The New York Times. When my visa ran out, I moved to NYC. There, I worked as the assistant to the Editorial Director of Conde Nast Publications, then went on to write and edit for various glossies and dailies, ghostwrite alternative health books, a coffee table book, and two screenplays. I am currently turning back to pitching article ideas, and have two novels in progress.
Anne: What about you, John?
John: I'm the eldest of seven kids. I was born in rural Ireland. My Dad worked in farming as an agricultural advisor for the Irish government. My jobs have included working on the killing floor of a slaughterhouse – my first paycheck – selling windows door to door, managing a bar in Camden Town in London, working in a coffee shop in New York's East Village, writing marketing materials, travel guides and fact-checking. I most recently worked as a researcher/reporter for Vanity Fair in New York City.
I'm primarily a novelist, but I've written short stories, screenplays and plays. My master's degree was in modern European Drama. My fourth novel, A Brave Man Dead, is currently being sent out by my agent, Angharad Kowal at Writers' House in London, and my fifth, A Murder of Crows, is being read. I'm working on a collection of short stories right now based around the Stations of the Cross and I'm really enjoying the process.
Anne: Okay, one last question, then I'll let the two of you get back to running the retreat. If you could wave a magic wand and the perfect La Muse attendee would appear before you, what would that writer be like.
You'll notice that I'm assuming it would be a writer!
Kerry: Either someone who loves everything we do, or someone who can tell us what they don't love about what we do so we can do it better for that person.
Anne: I'll let my readers guess into which category I tended to fall on any given day.
Kerry: Also, someone who refers La Muse to their peers, and who returns to La Muse with their peers, someone who respects the guidelines we provide, and someone with the patience to understand that in the South of France it can take awhile to fix something that's broken.
Anne: Which can come as a surprise to a big city person born and bred.
John: Plumbers and electricians, etc., down here are as laid back as everyone else. They could give a dam about making money. They want their two-hour lunch breaks and they will not do overtime. It's a joke to them. People need to understand that. Everything down here is very relaxed and very slow.
That's why people choose to come here. To get away from the frenzy of life back home. So, attendees that can understand this way of life and that not only accept but fall in love with that relaxed ethos tend to be the ones that get the most out of a retreat at La Muse. They tend to be the attendees that get the most work done.
Anne: I would imagine that would be true with small retreats in general, wouldn't it? I mean, a retreater who wanted something closer to a big-city atmosphere could always seek out one of the massive artists' colonies like the Vermont Studio Center, where there are 50 people at every meal. When I was in residence, there were so many New Yorkers that a good third of my fellow retreaters met for brunch a month later in Brooklyn. It's not really my idea of retreating, but it's a lot of people's proverbial cup of tea.
Since places like VSC do tend to boast about what their former residents have gone on to do, let me ask: how does retreating at La Muse seem to affect attendees' careers?
John: We have many writers and artists that have acknowledged La Muse in their books and shows.
Anne: I guess that speaks for itself. I also noticed that you seem to have a much higher returning resident rate than most artists' retreats, which also says something.
Okay, I lied: I have one more question. If you could tell potential attendees only one thing about La Muse before they got here, what would it be?
Kerry: That La Muse is a retreat. They are retreating from their lives back home so that they can finally get done what they need to get done. It's as simple as that.
Anne: That's a great place to end the interview, I think. Thanks, Kerry and John, for being generous enough to answer all of my questions and give writers out there curious about formal writing retreats so much insight into what they're like behind the scenes.
And, as I always say to my readers, keep up the good work!