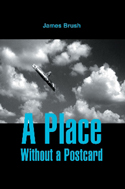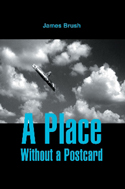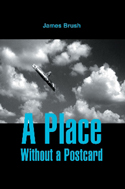 Hello there, campers –
It seems like only yesterday that we were talking about the pros and cons of self-publishing in the rapidly-changing literary market…oh, wait: it was just yesterday. Because we raced over the topic so very quickly, I am more than delighted to bring you an insider's look at the subject, generously provided by poet, blogger, and self-published first novelist James Brush.
And let me tell you, this post's a lulu. I'm tickled to death to be bringing it to you — and to introduce the Author! Author! community to the multiply-talented James.
But first, a few words about how and why I periodically bring you this kind of behind-the-scenes-of-publishing account. As those of you who have been following this month's Getting a Book Published Basics series are, I hope, already aware, I am deeply committed to making this blog as genuinely, practically helpful to writers at every step of their careers as humanly possible. To that end, I occasionally ask beg blandish published authors into coming here to Author! Author! and sharing their first-hand experience in the literary trenches. Their wit, wisdom, and, at times, deep-dyed cynicism is collected under the GUEST BLOGS AND INTERVIEWS category on the archive list at right.
Because I love you people, I am very, very selective in offering space here. Only authors kind and community-spirited enough to want to teach aspiring writers the ropes need apply.
So why, out of the dozens of successful self-published authors I know, was James the one I asked to be here now? Well, several reasons, actually. First, he's not only written and self-published a darned good book; he's written and self-published a darned good first novel.
As literary risk-taking goes, that's a triple back-flip from the highest dive — and he's pulled it off. Here's the back jacket blurb:
Paul Reynolds, a photographer who creates fake photos for tabloid magazines, wakes up with no idea where he is or how he got there. He can't even recall his name. A strange man lurks nearby, breathing heavily and slowly flipping through a book. Paul hears the man's breath, but he cannot see him. He realizes with mounting panic that his eyes no longer function.

He remembers racing down a desolate West Texas highway. He remembers a cop who pulled him over for speeding. He remembers a shotgun-brandishing cook chasing him out of a diner. And he remembers a life abandoned, but he cannot put together the jigsaw puzzle that brought him where he is: blind, wanted by the law, and in the company of this invisible stranger.

In the backcountry town of Armbister, Texas, where temperatures hover around a hellish 110 degrees, Paul's memory, intangible as a heat mirage, lies just beyond his reach, and God may be a coyote.
Intriguing, eh? Not to mention being an awfully good elevator pitch. (Not sure why? Okay, let me ask you: did it immediately introduce you to an interesting protagonist in an intriguing situation? Did it contain unusual details instead of generalities? And if you'd heard 150 pitches in a day, wouldn't you remember the one where God was a coyote? That's a good pitch.)
I also thought James might be a good fit for this series because, like so many novelists, he found that A Place Without a Postcard did not fit neatly into a single book category. Something tells me that more than a few of you out there could identify with that maddening dilemma.
Since learning how to narrow down a complex book into the appropriate marketing category is an essential skill for any professional writer, here's a pop quiz — given the description below and the pitch above, what category would you have picked for it?
A Place Without a Postcard is an unusual story about a man who gets lost. That's about as simple as it can be put. It's about more than that, though. It's about friendship, redemption, belief, and self-discovery.

It is part science fiction and part murder mystery and part myth. It takes place in West Texas. Not so much the western part of Texas, but the mythical West Texas where one might run into a coyote named Mercury or a man who dreams of invisibility.
Stumped? Well, would it help or hinder you to know that the writing is quite literary? As one reviewer noted,
His descriptions of this landscape alone are well worth the read… In fact, this book is filled with sense-based ways of looking at ordinary things and, in so doing, Brush has created a unique story, full of mystery, suspense, and outright terror. He is quite good, however, in first creating a thread in the plot and then resolving it soon or later. I recommend this book to readers who enjoy mystery stories, as well as a good old-fashioned story of the human spirit triumphing over adversity.
Tell me: what did you pick? Literary or science fiction? Paranormal or Western mystery? Thriller or regional interest?
If you flung your hands over your eyes and shouted, "Stop! Stop! How on earth could I possibly answer this without having read at least a few pages of the book?" congratulations: that is precisely what a seasoned book category-chooser would say. (And should you be interested in doing so before I reveal James' answer, you can check out the first few pages at the book's Amazon page.)
So how was A Place Without a Postcard categorized? James made a simple, elegant, and most market-savvy decision: it's simply categorized as Fiction (a.k.a. General Fiction, Fiction — Other, or Adult Fiction). That's is both an accurate descriptor of the book and gave him the most marketing leeway. (For more insight into how and why he made that choice, check out this interview; as always, if you're looking for direction in narrowing down your own book's category, see the posts under the BOOK CATEGORY section of the archive list at right.)
Finally, I asked James to come here and talk to you because he is a smart author with a lot of experience promoting that most difficult of book types, a novel with regional appeal. He's thought a lot about this, made good choices, and successfully survived what can be for many self-published authors a very intimidating experience.
Peruse very carefully what he has to say. And if you've ever wanted to ask questions about self-publishing, this would be an excellent time to do it.
Please join me in welcoming today's very helpful guest blogger, James Brush. Take it away, James!
In 2003, I self-published my first novel, A Place Without a Postcard, using iUniverse. Self-publishing was a good experience for me and I learned a lot. In the interest of sharing some of what I learned, Anne invited me to write a guest post in which I thought I'd answer the questions I'm most frequently asked.
Are rescued racing greyhounds really such great pets?
Yes, they really are, but we're talking about writing and self-publishing.
Oh, sorry. Should I self-publish my book?
That depends. The conventional wisdom is that nonfiction writers do better self-publishing than fiction writers. There isn't a strong market for poetry, so many poets self-publish.
If you've got a fiction book, and you want readers, then you need to think about how you're going to get people interested in your book.
These days, even authors published by the big houses are expected to do more and more of the promotional work themselves, but they have more tools at their disposal. Whether you self-publish or go the traditional route, your sales will depend largely on the work you are willing to do to market your book. More so for the self-published author.
Since your sales will likely depend on your effort, the writer who does self-publish and is willing and savvy enough to promote himself effectively and relentlessly stands to sell a lot of books and maybe even make some good money. But there is still one thing stacked against you: bookstores.
The big bookstore chains will rarely stock a self-published book. You may be able to convince your local Barnes & Noble or Borders to sell a few of your books on consignment, but to get your book in stores, you need to approach those indie booksellers who might be interested in quirky titles by local authors. That's where I found the most luck.
Having said that, the big box stores will order your book for a customer who wants it, and it is likely to be available through that store's website as well.
What you've got going for you, however, is the internet. In the years since I published A Place Without a Postcard, e-books have become viable. The internet has grown and blogs and social networking have gone mainstream. All of these things give writers, self-published or otherwise, even more ways to reach readers and promote themselves and their books.
The question then becomes, how hard do you want to work to find readers? As a self-published author, that will be entirely on you.
Ok, I'm going to do it. What should I do before I self-publish?
Don't jump into it. Never publish your first, second or even third, fourth or fifth draft.
I had the advantage of working out the plot and dialog in grad school, where I received awesome and painfully honest critiques. Make sure your book is read by as many people–hopefully a few of them writers who will tell you the truth about your work–as you can find.
Have it edited. As an English teacher, I trust myself to do a solid proofread, but I'll still miss a lot in my own work. You need to have someone else edit it.
Read the entire thing, out loud to yourself from a hard copy. I've seen Anne give this same advice here at Author! Author!, and she is absolutely correct. Do it. Much will be revealed.
In addition to making your manuscript the best you can possibly make it, you should develop a marketing plan of some kind prior to publishing, which brings us to…
What would you have done differently?
I would have spent more time thinking through marketing before I published.
When I published Postcard in 2003, blogs were not on my radar. The internet was something for tech savvy people. No one read e-books. Those were my perceptions, anyway.
I built my website, Coyote Mercury, in 2003, after publishing Postcard. In 2005, I rebuilt the site with a blog and fell in love with blogging. I also began building a larger audience for my writing. Now, most of the sales of my book come from people who have found my blog and enjoyed my writing there.
I suspect that a self-published author (or likely any author) will sell more books if she already has a readership, even a small one, prior to publication.
If I were self-publishing for the first time today, I would start a blog, maintain it, write regularly and build a readership before publishing the book. Maybe a year or two before publishing. Remember when I said don't jump into it? Building a website and blogging are fun diversions for you while your manuscript cools before the next round of revisions. You might also be able to find an audience who will be as excited as you are the day your book hits the market.
I would also look around at other self-publishing options. I was happy with my experience with iUniverse, but there are more companies out there with different approaches and different ways of doing things. I would research those options.
Lulu intrigues me because they will allow you to publish your book in such a way that your own publishing company becomes the publisher of record. I like that and that would appeal to me if I were doing this again.
Do you plan to self-publish again?
I always intended A Place Without a Postcard to be something I would do on my own. It's been a very rewarding experience, and I have no regrets.
I have a second novel now, A Short Time to Be There, that I'm shopping around to agents. I intend to do the traditional route for this book for a variety of reasons. I don't have the same DIY desire for this book, though I know that when it is published, I will still have to do much of the marketing work myself and apply much of what I learned from A Place Without a Postcard.
I do write poetry, which I publish on my blog, and I've had some luck getting my poems published in various e-zines and journals. At some point, I will have a complete collection of poetry, and I may publish that myself.
Anything else?
I'll say it again: make sure you've gotten other people to read and critique your work. Pay them if you must in dollars, chickens or eighteen-year-old Scotch because if you're self-publishing, you're going to have to accept the fact that some people consider all self-published books to be failures. This is simply not true, but you have a duty to make sure that you aren't providing the world one more reason to categorically reject all self-published works.
Ultimately, you need to believe in your book, maybe even more so than when you submit to agents and editors. When you do that, you are looking for someone else to believe in your work and help you make it even better. You won't have that when you self-publish. You'll be on your own and you have to know down to your core that your book is good enough for you to look a stranger in the eye and tell him that your book is worth his time.
Mine is, but it took almost ten years to get it there.
Finally, the most important advice I know for anyone seeking to publish anything by any means:
Be patient and keep writing.
—

James Brush is a writer and teacher living in Austin, TX with his wife, cat and two greyhounds. He teaches English in a juvenile correctional facility, and was once a James Michener Fellow at the Texas Center for Writers. He published his first novel, A Place Without a Postcard, in 2003. His writing has been published by qarrtsiluni, Thirteen Myna Birds, ouroboros review, Bolts of Silk, a handful of stones, The Journal of Pediatric Oncology Nursing and Good Gosh Almighty! He can be found online at Coyote Mercury.