I'm taking advantage of my usual Sunday break to step back from our ongoing, take-a-magnifying-glass-to-it examination of standard format for manuscript submissions. Rest assured, it's for a very happy reason: to accept, I hope graciously, the Kreativ Blogger Award. Many thanks to Courtney Vail of creative burst for nominating me back in November.
I love aspiring writers' blogs — including many of my commenters' blogs, so please make sure to include your URLs when leaving joining in the discussion here — and creative burst is a stand-out in that blessedly crowded field. What I especially like about Courtney's approach is that she not only talks about the struggles we all share, the writing and editorial processes, and books she likes; she also gives vivid, concrete examples.
And we all know how I feel about those! Kudos to Courtney, and long may she keep up the good work.
Yes, I did say that she nominated me several months ago; admittedly I have been a bit slow to pass along the honor. But I had a great excuse, honest, much better than the reason I have not always followed up on these awards in the past, a sheer lack of time. My excellent reason: part of the fun of the Kreativ Blogger Award is that the winner gets to nominate seven new recipients.
Naturally, this is not an honor I take lightly; clearly, it required some major homework. To that end, I read back through both past recipients' blogs (to gain a stronger sense of this award's specific focus), as well as through my perennial mental short list for awards of this kind. I asked people whose opinions I trusted for recommendations, took polls in my classes, and in general gleaned as much input on the subject as humanly possible.
After a couple of months of extensive research, I reached an inescapable conclusion: if I were to choose nominees based purely on creative expression and no other basis, my list would be closer to 700 than 7.
And that was a problem. A delightful problem, certainly, and a tribute to the great richness of the current blogosphere, but still, a barrier to honoring my commitment to passing along the Kreativ Blogger Award to only seven.
What's a girl to do? Well, for starters, I've divided that near-700 list into topic categories, with an eye to perhaps nominating one in each. But then there were far too many categories. Enough of these URLs are burning a hole in my conceptual pocket, though, that I may well resurrect some of those earlier award nominations I did not (shame on me!) have time to pass along before.
Then I decided that this time around, I would reward not only expressive excellence and creativity — as I said, we blog readers are lucky enough to operate in an environment rich in both — but also doing something unusual. something eye-catching with the blog form. And given a choice, I'd vote for recognizing those who did so not from a well-established platform (apologies to those of you who hoped for a list of the seven best agents' blogs), but from a viewpoint one might not expect. It also would hurt if the blogger was a good, caring member of the writing community, a public-spirited sort.
So I thought, fine — I'll raise my voice to recognize some bloggers who were quietly making the world a better place. But do you have the faintest idea how many bloggers are doing that these days?
On my list, 327. Clearly, going about this whilst pretending to be objective about it all was getting me nowhere. Or so I surmised from the fact that almost 3 months had passed since Courtney was kind enough to nominate me.
Today, I decided that the moment of truth had come. Or at least the moment to abandon all illusions of objectivity and tell you instead about a few blogs that I find creative, expressive, innovative, and/or inspiring. Sometimes all four at the same time.
My Kreativ Blogger Awards go to, in no particular order:
Shaun Attwood of Jon's Jail Journal.

Shaun's name should sound familiar to those of you who have been hanging out at Author! Author! over the last year or so — last spring, he was kind enough to share with us his searing first-hand account of trying to write about prison conditions while still incarcerated. Determined to let the outside world know how his fellow prisoners were being treated, he smuggled out bits of writing and had them posted online under the pseudonym Jon. Since his release, he has been continuing his mission, providing blog space and encouragement to others writing behind bars.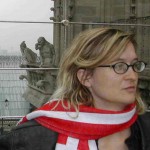 Liz Losh of VirtualPolitik
My current favorite academic blog, precisely because it's much wider-ranging (and ages less myopic) than your garden-variety professorial blog — and thus a fascinating destination for someone looking for intelligent discussion of the ethics of digital rhetoric. A professor at UC Irvine, Liz is relatively new to blogging, but always worth reading.
Joel Derfner, a.k.a. Faustus, M.D. of The Search for Love in Manhattan
Yes, yes, I know: I mentioned Joel here just a couple of days ago, but for my money, he's one of the best — and the funniest — memoirists out there today. (He's also been kind enough to guest-blog here several times, most recently on the author's relationship to his own book cover.) While his blog initially became known for its hilarious accounts of, you guessed it, searching for love (in every sense) in Manhattan, Joel's interests are wide-ranging, and always worth a peek. Both a writer and composer, his insights have often left me both laughing and thinking.


All the fine folks at Extra Criticum
I'm not naming an individual writer here, because Extra Criticum is that rara avis, a group blog that not only produces an interesting interplay between its various contributors, but consistently presents thoughtful writing on a broad array of current events. Emphasis on that last part: although Extra Criticum's writers are primarily performing artists, the topics of their posts range from Q & As with authors to monetary policy. A fun, thought-provoking online community, definitely worth checking out.
Cindy Willis of The Muse
Remember long ago, at the top of this page, how I said I love writers' blogs? Because Courtney's is such a great example of the type that talks about the work process, I wanted to include a bow to a great example of another type I admire: the blog where a writer gives potential readers a genuine, substantial taste of her writing. In Cindy's case, the writing happens to be gorgeous, and the photos of her travels equally so.
Oh, and did I mention that she blogs about hiking into the Alaskan wilderness alone, holing up in a yurt while wolves howled outside, and actually getting some writing done?
I'm forever sending authors who have just sold their first book contracts to Cindy's blog — and not only because it's topped with a quote that speaks so eloquently to how a writer tends to feel at that moment. (In the beginning, every good work looks impossible.) It is, quite simply, one of the best-designed and most aesthetically pleasing author's website's I've ever seen. And let's face it, an author's site that's a pleasure to look at is something of a rarity. If you want to see how to do it well, take a gander at Cindy's website.
Michael Lewis of Mike's Global Adventure
Another blogger of the intrepid variety, Mike is in the midst of spending five years traveling the world solo on a motorcycle. His goal is to make it to every continent — yes, including the one populated primarily by penguins — guided not by a predetermined plan, but by advice he receives from the locals he encounters on the road. "I am simply cashing in on some freedom," his blog's header tells us, "freedom that someday will be gone."
Better still, his trip is also benefitting Write Around the World, a nonprofit dedicated to improving educational opportunities for children everywhere. Mike's going to be helping 'em bring much-needed school supplies to rural schools along his route. How great is that?
If there's a better antidote to a gray Seattle day than logging into Mike's blog to see where he is this week, well, I don't know about it. His photos are always great fun, and his descriptions are more complete than I've seen in any travel guide. And I used to write for a travel guide.
(Full disclosure: as some of you Seattle-based readers may already be aware, prior to embarking on this epic trek, Mike Lewis was my chiropractor. I know that some of you knew that, because I was constantly recommending him to writers. We spend far, far too much time at our keyboards for neck and back health!)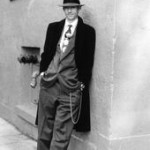 David Gill of Total Dick-Head
I'm usually not a big fan of fansites, but David's blog is, I must confess, my favorite — and not just because his site happens to be devoted to the work of one of my favorite writers and one of my favorite people, science fiction author Philip K. Dick. A professor at USF, David's a well-respected PKD scholar, but that's not the only reason I admire his blog: his writing is simultaneously well thought-out, analytical, and as enthusiastic as even the most devoted fan could possibly desire. He encourages reasonable discussion, is respectful to all points of view, and has, I think, generally elevated the online discussion of an important author's work.
(More full disclosure: Philip was my first serious writing teacher. For those of you who didn't already know, my mother was married to Philip for 8 years — specifically, the eight when he started writing — and they were together for ten. It also didn't hurt when he was starting out, my uncle, Alex Apostolides, was already an award-winning SF short story writer.)
Which leads me to the other obligation receiving this award places upon me: mentioning in the nomination post 7 interesting things about the honoree that her blog readers might not already know. The previous paragraph included several, so here, also in no particular order, are some more: I'm an ambidextrous Libra proud to hold both a Ph.D. and the world's best recipe for dolmades. (They take four hours to make, but they're more than worth it!) I'm also a lifetime insomniac, as some of you may already have guessed from the average length of my posts; my standard measure for whether I'm too tired to keep tapping at my keyboard is if I can name all of the members of the Supreme Court and the Jackson Five (and sometimes Randy!), I should keep going.
Does knowing any or all of that make you trust my nomination judgment more, or less?
Congratulations to all of the new Kreativ Blogger Award recipients — and my profound thanks as a reader. Through your brave creative and life choices, each and every one of you makes the blogosphere a more interesting and inspiring place.
Hey, I did meet my objective criteria! Funny how that worked out. Keep up the good work!