Happy Canada Day, neighbors to the north! Way to combine those provinces and keep them together!
At the risk of sounding trite, my most memorable Canadian experience actually was Mountie-related. I was leaving an exhibit of ancient Egyptian artifacts in a museum in Victoria, I thought the sudden transition to bright sunlight had done something terrible to my eyes: everywhere I looked, I saw blaring red. Every square foot of public space was filled with Mounties in uniform — scarlet jacket, shiny black boots, the works — chatting with friends and relatives. Hundreds, at least, a veritable red sea.
The sight was, I need hardly say, staggering. I felt as though I had accidentally stumbled into a recruitment poster.
Back to business. In the roughly 24 hours since I wrote my last post on name selection, I have sensed a certain amount of reader bewilderment. (Never mind how I know that. Blogging imbues one with super-sharp sensory perceptions.) At least a few hands, I suspect, are still raised from Wednesday. Not too surprising, I suppose, since I have been writing all week about how to avoid confusing readers.
For the last couple of posts, I have waxed long on the Cast of Thousands phenomenon, manuscripts that name every character, no matter how minor, down to the dogs and the goat tethered in the back yard in Chapter 3. "Who," the befuddled reader cries helpfully, "are Ernest, James, and Algernon, and what are their respective relationships to Delilah, the character I have been caring about for the last hundred pages? Have they been mentioned earlier in the book, and I have simply forgotten them, or is this their first appearance?
Don't dismiss this cri de coeur as the just punishment of an inattentive reader, my friends — from a reader's perspective, manuscripts afflicted with COT can get overwhelming pretty fast. Especially, as we have discussed, if the COT members have similar names, either beginning with the same capital letter (to which the skimming eye is automatically drawn, right?), ones that replicate letter patterns and sounds, or — and we have not yet talked about this much — are too like the other proper names in the book.
Still in doubt about the eye-distracting effect of all of those capitals? I wouldn't want you to have to take my word for something like that — cast your gaze over this sterling piece of prose.
See the problem? No? Okay, get up from your desk chair, take two giant steps backward, and look at it again. Notice where your eye is drawn first?
Even when the names don't look anything alike, introducing too many of them in one fell swoop can prove equally frustrating to the reader. Again, take a gander: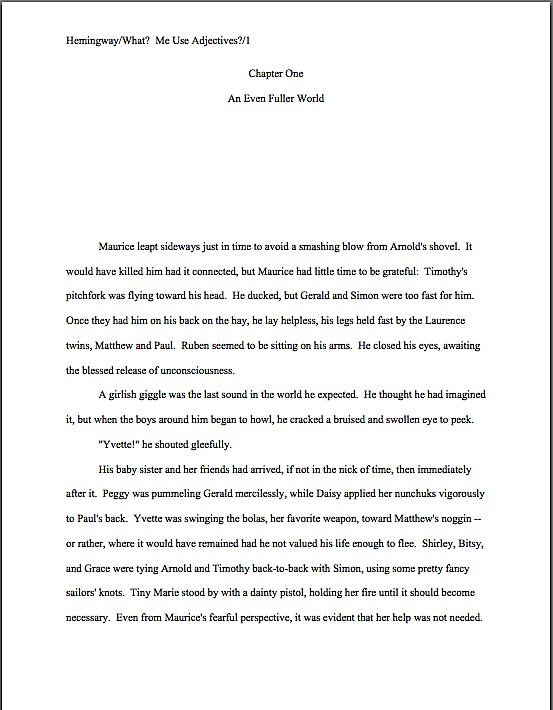 An avalanche of characters on page 1, in particular, before the narrative has established a context in which they might be understood, tends to have a character-blurring effect.
"Who are all these people?" the reader muses. "And why are they all dressed in the quite striking uniform of the Royal Canadian Mounted Police?"
Either variety of confusion, it pains me to say, causes readers to cast otherwise well-written books aside, it pains me to report. If that's not a strong enough reason for a writer self-editing a Frankenstein manuscript to say, "Hmm, perhaps I should devote a few hours of my precious revision time to weeding out some of the extras lurking in the corners of my story," here's another: our old pal Millicent, the agency screener, tends to become impatient when characters pile up.
As, indeed, do editorial assistants, contest judges, and other professional readers; just because it's their job does not mean that they possess a magical ability to absorb 23 names in a single page without mixing them up. "How," the hapless peruser of a COT-riddled manuscript wonders, "am I supposed to keep all of these characters straight? Is this writer planning to market this book with a program, or perhaps dress the background characters in numbered jerseys, so the reader can possibly tell the individual members of this mob apart?"
Or, as Millicent likes to put it, "Next!"
Ooh, the notion of the pros not putting in the necessary effort to keep track of all of your characters ruffles a few writerly feathers, doesn't it? "Wait just a minute" I hear some of you murmuring indignantly. "An ordinary reader may not have options if s/he forgets who is who, but Millicent does. If she finds she's forgotten who a character is, she has a perfectly easy way to find out — her boss asked that I send a synopsis along with my submission. All she has to do is flip to the back of the packet. Or are you saying that if I have a lot of characters in my opening scenes, I should place my synopsis first in the packet?"
To take the last question first, no — at least, not unless an agency specifies in its submission guidelines that it prefers to see submissions packaged that order. Why is it in your interest to pay attention to such minor niceties? Long-time readers, chant it with me now: a submitter should always send a requesting agent PRECISELY what s/he asked to see.
No more, no less. Yes, even if she asked for the first 50 pages and your chapter ends a paragraph into page 51. No fudging.
And please trust a frequent literary contest judge (hey, I don't spend all of my scant leisure time wandering around Canadian museums) when she tells you that rule applies to stated length restrictions in contest rules, too. Part of what you are demonstrating by your submission or entry is that you can follow directions, after all. Professional readers tend to harbor great affection for writers who pay attention to the details of requests; it's so rare. Writers who start printing out pages after reading only the first line of a request for materials seem to be the norm, unfortunately, not the exception.
That giant tsunami-like rush of air you just heard was every agent, editor, and denizen of every publisher's marketing department sighing in unison. They honestly do have a reason to be cranky on this point.
But enough of their pain — I'm sensing more conceptually-based disturbances of the ether out there, especially from those of you just on the cusp of stuffing synopses into submission envelopes. "But Anne," the more literal-minded ether-rockers cry en masse, "I just read a blog by an anonymous agent/heard an agent say at a conference/happened to be eavesdropping in that bar that's never more than 100 yards from the dais at any writers' conference, and this guy said he didn't care about exact page count in requested materials; he just wanted the first three chapters. So aren't you, you know, wrong about the importance of sticking to 50 pages?"
Actually, literal rockers, you've provided evidence in support of my point, not against it. Remember, no matter how much aspiring writers would like for there to be an absolutely uniform set of expectations for submissions — and a well-publicized one, at that — individual differences do exist. So once again, long-time readers, please take out your hymnals and sing along: if your submission-requester says he wants to see something specific in your submission packet, for heaven's sake, give it to him.
Ditto with contest rules, incidentally. General submission or entry guidelines only kick in when the requester doesn't ask for something different — which is to say, the vast majority of the time. (As always, if you're unfamiliar with how professional manuscripts differ from printed books or other commonly-scene formats, I implore you to check out the STANDARD FORMAT BASICS and/or STANDARD FORMAT ILLUSTRATED categories on the list at right. Actually, I would strongly recommend any reader new to this blog to take a gander at those categories first.)
Which is to say: if the agent you overheard wants four chapters, you should send four chapters. If she asks you to give your pitch in mime while juggling seventeen oranges, you should consider doing that, too, because she's the one who is going to be deciding whether she wants to represent you or not.
That being the case, is your first professional contact with her truly the best time to say (at least implicitly), "Look, I know what you said you wanted to see, and that request was based upon your far greater knowledge of both how the publishing industry works and how you like to read, but I'm just going to assume that I'm right and you're wrong. Got a problem with that?"
I can tell you now: she will. So will her Millicent and any contest judge you might see fit to treat in a similar fashion.
That being said, don't revere such requests so highly that you fall into the extremely common trap of generalizing any such quirky individual preferences into industry-wide expectations. Writers brand-new to the biz make this mistake all the time, learning only through hard experience that such extrapolations seldom pay off. Just because one agent, small publisher, and/or contest has a wacky preference doesn't mean that any other agent, small publisher, and/or contest will share it.
Or, to express it in mathematical terms, 1 agent's preference ? every agents' preference.
Bear that in mind, please, the next time you find yourself confronted with the latest panicky iterations of "Oh, my God, I heard an agent speak last week, and submission standards have completely changed!" that trouble the literary world in the wake of every conference season.
Whenever you encounter any hyper-specific submission guidelines that deviate sharply from the rules of standard manuscript format that an agency might post on its website or an agent might specify at a conference — like, say, specifying that submissions may only be in Helvetica or that they should be bound, both usually no-nos — should be treated as applicable to THAT REQUESTER ALONE, rather than to every authors' representative currently walking the earth.
Everyone clear on that? Good.
Back to the original question, and thence to my argument already in progress: why wouldn't a professional reader who got a large character list mixed up simply fish out the synopsis for reference? And if helping a busy Millicent keep the characters straight is a legitimate purpose for a synopsis, shouldn't it come first in the packet?
In a word, no. If you put the synopsis at the front of your packet, Millicent is just going to toss it aside and go straight to the first page of your manuscript. If dear Millie reads all the way through your submission and likes what she sees, THEN she will read the synopsis.
Maybe.
You're hoping that I'm kidding, aren't you? Bizarre but true, that synopsis you slaved to make short enough is not always considered at the submission stage. Reading the synopsis is often not necessary to determining whether to ask to see the rest of the book — and why would Millicent bother to read the synopsis of a manuscript she has just finished reading in its entirety?
Seriously — ask at the next writers' conference you attend. There's a certain logic to this, at least for fiction. After all, if a book made it to the submission stage, presumably, the novel's premise was deemed acceptable by the query screener or the agent to whom the writer pitched it. The only reason to read the synopsis at the submission stage, then, would be to find out what happens after the last page of the submission.
Try not to waste any energy being annoyed about this. If Ernest, James, and Algernon appearance in Ch. 2 was brief enough, chances are that they wouldn't have shown up in the synopsis, anyway.
While I'm apparently free-associating about any and all topics related to character names, and since this contest entry season, this seems like a dandy time to talk about character name choice that could get a writer into a whole lot of trouble. Yes, Virginia, I'm talking about that pesky but oh-so-common literary contest rule that forbids entrants from mentioning their own names anywhere in a submission.
Kind of inconvenient for memoirists and other writers of the real, isn't it? In practice, this ubiquitous rule means that entrants in memoir and personal essay categories, not to mention those many fiction writers who like to blur the line between fiction and nonfiction by making themselves characters in their own narratives, have to select new monikers for themselves.
Stop laughing, oh writers of thinly-veiled autobiographies passing as fiction. For a writer who has embraced the unique difficulties of thinking of herself as a character in a book, renaming himself can be a genuine chore. Novelists attached to their characters' names should be sympathetic to that: if it's trying to track down and change every mention of Monique to Madge when she's your creation, imagine the emotional difficulties involved when Monique has to rechristen herself.
That's not to say that the no-name rule itself is objectionable. However annoying renaming may be to contest-entering writers of the real, it exists for a very good reason: for a contest to be worth its salt, it must be able to claim that its judging procedures are not biased; the first step to assuring lack of personal bias is to institute blind judging, where no judge knows the name of any given author. Admittedly, some competitions are only apparently unbiased, but for the most part, contest organizers take authorial anonymity very seriously indeed.
So no, finding a clever way to get around the rules is not going to endear you to them. Not at all.
Which is why I am about to turn very hard-line: if you are submitting a memoir entry, FOLLOW THE RULE ABOUT NOT HAVING YOUR OWN NAME APPEAR ANYWHERE IN THE MANUSCRIPT. And do bear in mind that this rule applies to not only your entire name, but either your first or your last appearing alone as well.
That may seem like rather redundant advice — every contest entrant everywhere should follow all the rules in the contests he enters, right? — but this is the single most common way memoir entries get themselves disqualified. For a memoir entry, you should never just print up the opening chapter of your book and send it in; check the rules very carefully and apply them to your pages first.
You could, of course, sidestep the issue entirely by not entering a piece of writing in which dear self is a character — which is, again, a trifle difficult for memoirists and other habitual writers of the real. The second-best way that I've found is to christen oneself anew with the name that you wish your parents had had the wit and wisdom to give you in the first place.
Come on — none of us had the name we wanted in junior high school. Pick the one you believe would have made your life lovely and do a search-and-replace.
Obviously, you're going to want to make a duplicate document of the chapter or essay you're planning on entering in the contest before you perform this bit of minor surgery — as I said, it's never a good idea just to print up the requisite number of pages from your already-existing manuscript and send off to a contest. (Your slug line in your submitting-to-agents version will have your name in it, for one thing.) Perhaps less obviously, you're going to need to perform the search-and-replace function for both your first and last name, as well as any nicknames you might have incorporated into the manuscript.
Even when you've gone to all the trouble of using a pseudonym, it is a good idea to add a note on the title page, saying that since the contest forbids the author to mention his own name, you will be using "Bobby" (not your real name) throughout.
Why take that extra precaution, you ask? Because it's practically impossible not refer to yourself by name in the story of your own life. Since judges are aware of that, and become accordingly eagle-eyed.
And don't think being coy about it will help you evade their scrutiny, either. Make yourself comfortable; I'm going to tell you a little story.
I went to college with Danny, a very clever, very ambitious writer who eagerly contributed pieces to the on-campus humor magazine. (As those who happened to be hanging around Harvard at the time would no doubt be quick to point out, I use the term humor loosely here: the magazine was seldom actually funny to those who were not in the writers' clique, but bear with me.) Danny had every reason to try to get his articles published: the magazine had long ago spawned an extremely profitable off-campus humor magazine, so a successful Lampoon piece could be a stepping-stone to a career as a comedy writer.
Despite or perhaps because of these articles' worth as resume-candy, it was the practice of the magazine to publish all of its pieces without bylines, to encourage collaboration amongst members of the writing club. But as I said, Danny was ambitious: he, like many of the other writers in the club, was anxious to graduate with clippings he could use to promote his work later on. So Danny did something exceptionally crafty: he inserted his own name into every ostensibly anonymous piece he wrote, much as Jerry Lee Lewis used to refer to himself in his own lyrics, so radio listeners would know who sang the song.
His favorite way of doing this was to insert an imaginary conversation with himself into the text, so an alter ego could address him by name, as in, "Danny boy, you're really in trouble now!" Occasionally, he would vary it by having an authority figure yell at his narrator: "Wilson, you're out of line!" (Because Danny is now a fairly prominent magazine writer, I should say straight away: to protect his identity, Wilson is not Danny's actual last name. See me practicing what I've been preaching?)
Now, as my parenthetical aside just told you indirectly, Danny's little stratagem actually did help him generate the clippings he coveted, but he was relying upon his club's editorial indulgence to let him get away with breaking the rules. In a contest, however, this practice would have gotten him disqualified immediately.
I bring this up not because I suspect that there are legions of Machiavellian-minded rule-breakers out there, but because I have seen so many contest entrants apparently doing inadvertently what Danny did on purpose. Within the first-person narrative common to memoirs, narrators tend to talk to themselves all the time, à la Hamlet: "Danny, you get ahold of yourself, now." And that single reference, to a judge who was looking to pounce upon contest rule violations, could get a memoir entry disqualified.
Yes, Virginia (if that's even your real name), even though it would be highly unlikely, without the judge's having the list of memoir entrants by his side for first-name cross-referencing purposes, for the judge to guess the author's identity. Simply the implication that the author might have referred to himself can appear to be a rule violation.
So a word to the wise: innocent naming mistakes can knock your entry out of competition. It would behoove you, then, to prepare your entry, like your queries, under the assumption that the judge who is going to read it is the nastiest, most curmudgeonly nit-picker since, well, me.
"But Anne," I hear you cry, quite rightly pale at the prospect of encountering yours truly as a contest judge, "if this mistake is usually made inadvertently, how can I hope to avoid it?"
Well asked, oh fearful trembler. Experience sharpens the editing eye. Rest yourself upon the judge's reading couch for a moment, and take a look at where these slips most commonly occur.
Let's say the memoir's author is named Biddy MacAlister-Thames, not a name anyone's eye is likely to encounter on a page without noticing. Even if Biddy has had the foresight to rename herself Libby McPherson-Seine and do a search-and-replace accordingly, she should double-check her entry especially carefully in the following places:
(1) When another character directly addresses the narrator: "Biddy, have you seen the our pet tiger, Max?"

(2) When another character is talking about the narrator behind her back: "Ward, I'm worried about the Beaver. He's paying too much attention to that Biddy next door."

(3) When another character refers to the narrator by an abbreviation that a search-and-replace might not catch. "I'm talking to you, Bid," is substantially less likely to get changed automatically than, "I'm talking to you, Biddy."

(4) And, in the VAST MAJORITY of childhood memoirs, when the narrator gets in trouble, some adult shouts some version of: "Elizabeth Deirdre MacAlister-Thames, you come in this house this instant!"
Remember, in order to violate the rule, even if a character other than the author appears with the author's last name, it can cost you. So keep our Biddy should keep her eye out for these kinds of situations, too:
(5) When a third party addresses a family member: "Mrs. MacAlister-Thames, your daughter is under arrest."

(6) When the narrator refers to her family collectively, or to a possession as theirs: The Easter Bunny had been unusually generous to the MacAlister-Thames family that year.
Remember, as I pointed out above, self-references to either your first or last name, not just to both together, count as rule violations. So Biddy would be wise to do a search-and-replace for BOTH her first AND last names in her entry before she printed it up, would she not?
Yes, it's a tedious thing to have to do, Biddy (or whatever you're calling yourself these days), and yes, you have my sympathies for having to do it. But frankly, I would rather see you annoyed and on the finalist list than not proofread and disqualified.
I'm funny that way, at least since I was partially blinded by a Mountie convention. Keep up the good work!