We've just been zipping through the diagnosis and treatment of the ailments from which your garden-variety query letter tends to suffer, haven't we? There's a good reason for that: many, many aspiring writers stateside are using this long weekend to prepare their next barrages of query letters, and I wanted my readers to have freshly updated advice on hand for the beginning of the autumn foray.
It's not only the queriers who are feeling autumn in the air these days; it's prime polishing time for submitters, too. Labor Day marks the dividing line between the summer writers' conference season and the fall conference season, so pitchers who received requests for materials over the summer are starting to feel antsy about sending out those submissions. Another week's worth — or month's worth — of proofreading won't harm their books' chances, actually, but still, most savvy manuscript-owers feel that they should send out summer-requested materials by the time school starts.
The cumulative result, naturally, is that when Millicent, her fellow agency screeners, and their boss agents come dragging into the office on Tuesday, they will be greeted by a month's backlog of queries and submissions. Inboxes both literal and virtual will be stuffed to overflowing.
So it's probably not the world's worst idea to hold off for a couple of weeks or so before you mail yours off, if only to wait until Millie's in a better mood. At minimum, do not even dream of e-mailing a query until at least Thursday, when the into-the-agency flood will have subsided a little. (You already knew not to e-mail queries on weekends in general, right? Monday morning always greets Millicents and their agents with overloaded inboxes.)
All of which is to say: just because we're devoting this weekend to all things query-related does not mean that you absolutely have to send something off by the end of the weekend, or even the end of the week. I'd much, much rather see my readers spend an extra week or two on drafting a really good query letter than to have any of you kicking yourselves a month from now, wishing you'd queried differently.
Especially if the difference between popping it in the mail on this Tuesday a.m. and next means being able to have someone whose literary (and grammatical) opinion you trust read your query draft. Even if a writer's been at it a while, it can be pretty hard to see the flaws in one's own query letters — and for some reason I have never been able to fathom, even aspiring writers professional enough to be routinely soliciting feedback on their manuscripts often guard their queries jealously from any human eyes other than Millicent's.
Whose peepers, as those of you who have been visiting this blog for a good long time are already aware, are not generally charitably-oriented. And that's as much of a problem for writers accustomed to the querying process as for those new to it: since most experienced queriers will tweak their basic query letters to personalize them for each (don't worry; I'll be getting to that), there tends to be a lot of cutting, pasting, and general rewriting going on between mailings and/or strikings of the SEND button.
And what is an extremely likely outcome when any piece of writing is constantly being revised over time? Shout it out, those of you who were hanging around this blog earlier in the summer: it can turn into a Frankenstein manuscript, an unholy mish-mash of half-completed revisions.
The single most common type of Frankenstein query, as we saw last time, is the mismatched salutation and address. Nothing screams out I'm doing a mass mailing of queries, and you, sir, are palpably on the bottom of my wish list! like a letter that runs thus:
See the problem? In the stress of sending out multiple queries — a smart strategy in its own right, by the way; with sometimes months-long turn-around times at some agencies and no-reply policies at others, waiting to hear back from Agent A before querying Agent B is a sure-fire strategy for wasting years of your life — Mssr. Flaubert copied the address of one agent onto a letter personalized for another.
What he intended to send (and probably didn't ever notice he didn't send) was this: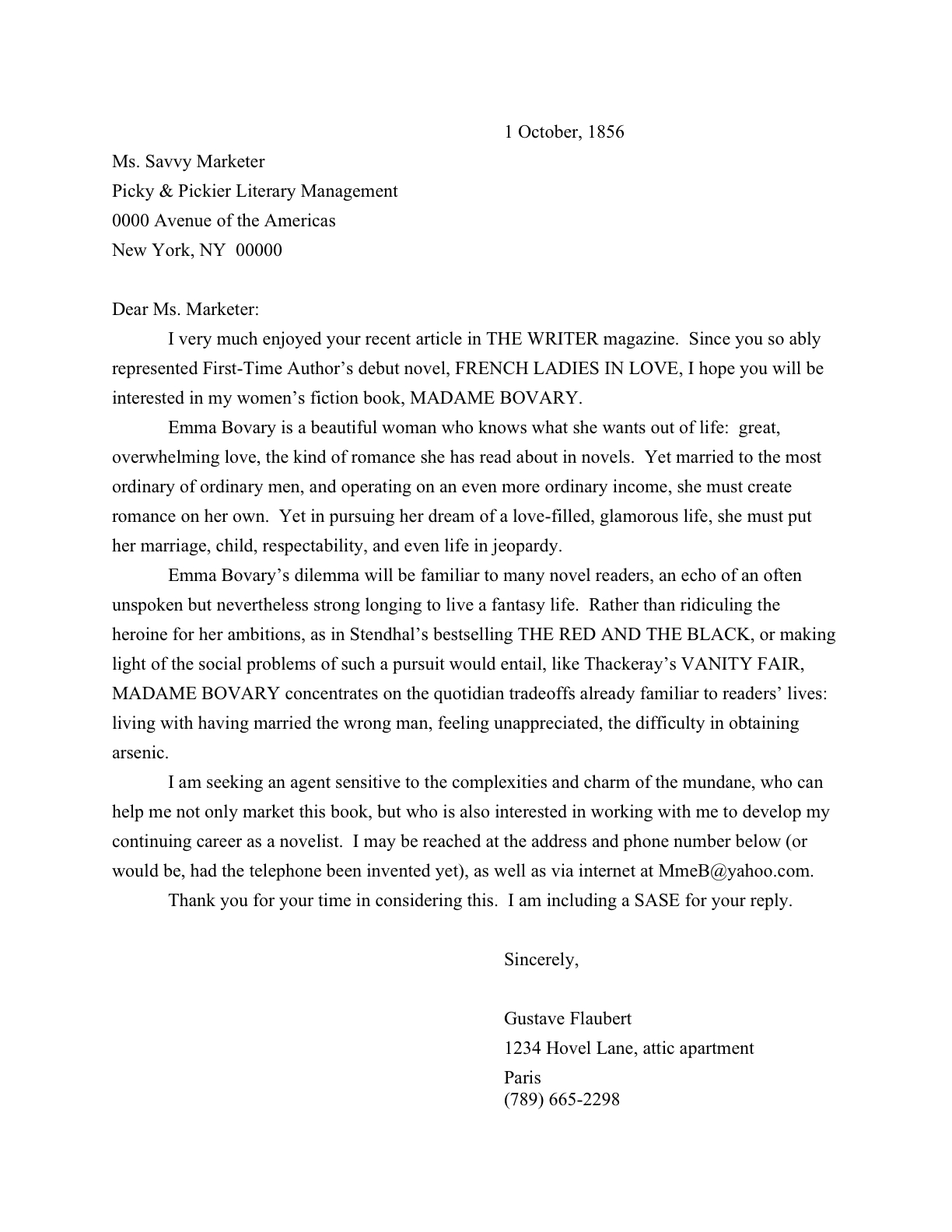 Our Gustave fell victim to query fatigue, in short. Quite understandable, of course, but how do you think Ms. Marketer is likely to respond not only to being addressed by the wrong name and with the honorific for the wrong sex, but being congratulated for her speech at a conference she never attended?
That's right, campers: "Next!"
So please, proofread every single query every single time . Yes, even e-queries. Many a Millicent has been left shaking her head regretfully over a dropped word or misspelling in an otherwise admirable query.
Better yet, have a first reader you trust go over it. This is an excellent contribution to your writing career for any significant others, family members, or friends whom you, in your great wisdom, have deemed too fond of you to be trusted to provide critical feedback on your manuscript. (Trust me, "But my mom loved it!" is not an argument that flies well in the publishing industry.)
Whatever you do, don't fall into the oh-so-common trap of getting complacent about your basic query. Just because a letter has garnered chapter requests in the past does not mean that it couldn't use a bit of punching up. Even if you are a querying veteran, at least cast your eye over this list of garden-variety query turn-offs.
That's right, campers: it's another of my famous faux pas check-lists.
Why should a writer who has been querying a while take the time to go through a do-not list? Well, for most aspiring writers, it takes quite a bit of rejection to open their eyes to the possibility that their query letters themselves might be problematic. Okay, out comes the broken record:
Unfortunately, writers all too often automatically assume that it's the idea of the book being rejected, rather than a style-hampered querying letter or a limp synopsis.
But how is this possible, without a level of mental telepathy on the screener's part that would positively stun the Amazing Kreskin?
Are the rejecting agents seeing past the initial letter to the manuscript itself, decreeing from afar that the writing is not worth reading — and thus that the writer should not be writing? Do they have some sort of direct cosmic link to the Muses that allows them to glance at the first three lines of a query and say, "Nope, this one was last in line when the talent was handed out. Sorry," before they toss it into the rejection pile?
No, of course not. Only editors have that kind of direct telephonic connection to the demi-gods.
Yet this particular fear leaps like a lion onto many fledgling writers, dragging them off the path to future efforts: it is the first cousin that dangerous, self-hating myth that afflicts too many writers, leading to despair, the notion that if one is really talented, the first draft, the first query, and the first book will automatically traject one to stardom.
It never –- well, almost never — turns out like that. Out comes the broken record player again:
Being a professional writer is work, and what gets the vast majority of queries rejected is a lack of adherence to professional standards. Which can, my friends, be learned.
As, indeed, we've seen over the course of Querypalooza. But what if you already have a query letter that meets all the technical criteria, and it's still not getting the responses you want?
Pull up your chairs close, boys and girls: it's time for the master class on querying. Today, we're going to concentrate on fine-tuning the delicate art of query diagnosis.
Why? I feel another broken record coming on:
The querying market is even tighter than it was the last time I visited this issue. It's as competitive now as it has ever been in my lifetime.
And I'm not nearly so young as I look. (Nor is my hair always as wild as it appears in the photo at the top of this post, but that's another story.)
Seriously, it's a jungle out there, to coin a phrase. But before you begin to feel for your submission's pulse, please (wait for it):
Re-read everything in your query packet IN HARD COPY and OUT LOUD: your query letter, synopsis, author bio, and ANY pages the agency's website or agency guide listing has asked queriers to include in a querying packet.
Better still, read them over AND have someone you trust read it over as well, checking for logical holes and grammatical problems. For any attached pages, the best choice for this is another writer, ideally one who has successfully traversed the perils of the agent-finding ravine. Let's slap another broken record on the turntable:
As much as you may love your mother, your spouse, and your best friend, they are, generally speaking not the best judges of your writing.
Look to these fine folks for support, encouragement, and the occasional spot-check for salutation-matching, not for technical feedback on your writing. Find someone whose LITERARY opinion you trust — such as, say, a great writer you met at a conference, or the person in your writing group who keeps being asked to send sample chapters — and blandish her into giving your query packet materials a solid reading.
(Lest you think I am casting unwarranted aspersions upon your mother, your spouse, or your best friend, let me add that my own fabulous mother spent her twenties editing the work of Philip K. Dick and others; fifty years later, she is one of the best line editors I have ever seen, in my professional opinion, but as she is my mother, I would never dream of using her as my only, or indeed even my primary feedback source. Naturally, that doesn't stop her from line editing while she reads my work, as I do for hers — years of professional editing causes a particular type of myopia that prevents one from ever reading again without brandishing a vicious pen that attacks margins with the intensity a charging rhinoceros — but I respect my work enough to want first reader feedback from someone who was NOT there when I took my first toddling steps.)
As excellent as this advice is, I sense that some of you are already merrily making plans to disregard it. If you are planning to be the only pre-Millicent peruser of your query packet…
Make sure that you read all of the constituent parts of your submissions in hard copy, not just on a computer screen. Proofreading is far easier –- and more likely to be accurate — in hard copy.
I'm quite serious about treating this a final flight-check: don't leave rooting out the proofreading and logic problems until the last minute. As Gustave knows to his sorrow, it's just too easy to skip them when you're in a hurry.
Once you have cleared out any grammatical or spelling problems and made sure your submission pieces say what you thought they were saying (you'd be surprised how many don't), sit down with yourself and/or that trusted first reader and ask yourself the following questions.
(1) Is my query letter longer than a single page in standard correspondence format?
I covered this earlier in this series, speaking of broken records, but it bears repeating: even e-mailed queries longer than a page are seldom read in their entirety. I know it's hard to cram everything you want to say to promote your work into a single page, but it's just not worth it to go longer.
And please, for your own sake, don't take the common escape route of shrinking the margins or the typeface; trust me, any screener, agent, editor, or contest judge with even a few weeks' worth of experience can tell. (For a quick, visual-aid-assisted run-down on why their being able to tell that is bad news for the querier who does it, please see my last post.)
Remember, if you are sending a paper query or any pages at all (even if the agency's guidelines ask you to imbed them in an e-mail),
You must indent your paragraphs in a mailed query letter — or, indeed, in any writing sample of any length intended for agent-dwelling eyes. No exceptions; business format is not acceptable in this context.
For those of you unclear on the difference between correspondence format and business format (or, to put it another way, those who are coming upon this checklist in my archives, rather than reading it as today's post), please see my earlier post on the subject.
(2) If my query letter just refuses to be shorter than a page, am I trying to achieve too much in it? Specifically, is my query trying to do more than get the agent to ask to see the manuscript?
Is it perhaps trying to convince the agent (or the screener) that this is a terrific book, or maybe including the plot, rather than the premise? Is it reviewing the book, rather than describing it? Is it begging for attention, rather than presenting the book professionally? Is it trying to suit the tastes of every agent to whom you might conceivably send it, rather than the one to whom it is currently addressed?
All of these are extremely common ways in which query letters over-reach. Like pitches, queries often turn into litanies of summary, rather than convincing, professional presentations of a book's category, premise, and selling points. As I have advised before,
Don't try to cram a half an hour's worth of conversation about your book into a scant page. Just present the information necessary to interest an agent in your manuscript, then STOP.
(3) If my query letter is too long, am I spending too many lines of text describing the plot?
The attempt to force the query to serve the purpose of the synopsis or book proposal is, of course, the most common letter-extender of them all. All too often, the plot or argument description overflows its allotted single paragraph so dramatically that other necessary features of the query letter — why the querier has selected THIS agent and no other, the intended readership, the book category — get tossed overboard in a desperate attempt to keep the whole to a single page.
The simplest fix for this, in most instances, is to reduce the length of the descriptive paragraph.
Remember, your job in the query is not to summarize the book (that's what the synopsis is for), but to pique enough interest to generate a request for pages. Keep it brief.
How brief? Well, let's just say that if you can't say the first two paragraphs of your query letter — the ones where you say why you are approaching that particular agent, the book category, and the premise — in under 20 seconds of normal speech, you might want to take a gander at the ELEVATOR SPEECH category at right.
(4) Is my query letter polite? Does it make me sound like a professional writer it might be a hoot to get to know?
You'd be amazed at how often writers use the query letter as a forum for blaming the agent addressed for prevailing conditions in the publishing industry, up to and including how difficult it is to land an agent. But (feel free to sing along; you should all know the words by now)
Millicent and her ilk did not create the ambient conditions for writers; treating them as though they did merely betrays a lack of familiarity with how the industry actually works.
And even if they had plotted in dark, smoke-filled rooms about how best to make writers' lives more difficult, pointing it out either explicitly or implicitly would not be the best way to win friends and influence people. In my experience, lecturing a virtual stranger on how mean agents are is not the best tack to take when trying to make a new friend who happens to be an agent, any more than cracking out your best set of lawyer jokes would be at a bar association meeting.
I've seen some real lulus turn up in query letters. My personal favorite began Since you agents have set yourself up as the guardians of the gates of the publishing world, I suppose I need to appeal to you first…
A close second: I know that challenging books seldom get published these days, but I'm hoping you'll be smart enough to see that mine…
And third: Before you dismiss this query without reading it, just let me point out…
Remember, even if you met an agent at a conference (or via a recommendation from a client) and got along with him as though you'd known each other since nursery school, a query is a business letter. Be cordial, but do not presume that it is okay to be overly familiar.
Demonstrate that you are a professional writer who understands that the buying and selling of books is a serious business. After hours staring at query letters filled with typos and blame, professional presentation comes as a positive relief to Millicent.
The checklist shall continue in my late-night (2 am Pacific) Querypalooza post. Keep plowing forward, everyone, and keep up the good work!