Before I launch into Part II of our ongoing chat about craft, I'd like to waft some especially good energies toward members of the Author! Author! community living in the tornado-ravaged southeastern U.S. Here's hoping that all of you are safe, sound, and clutching back-up copies of your writing files even as I type this.
And to everyone living outside the tornado zone: please back up your writing files right now, in sympathy with the poor souls whose computers were just blown away. Even if you simply e-mail the files to yourself, it's worth doing. But do give some thought, please, to where you could keep a back-up other than your home, just in case.
Not sure why? Turn on the news. Somewhere in the path of those twisters, works-in-progress were irrevocably lost.
On to happier news: let's take a moment to cheer for a long-time member of the Author! Author! community: Harold Taw's debut novel, Adventures of the Karaoke King, came out this week from AmazonEncore. Congratulations, Harold, and our best wishes for the book's success!
Keep that good news rolling in, everybody! The long and twisting road to publication is much, much easier if we learn to celebrate not only our own successes along the way, but the triumphs of our fellow travelers. And to make back-ups early and often.
Speaking of interacting with other writers, last time, I embroiled us all in a chat with novelist Layne Maheu , author of Song of the Crow about literary fiction — including, believe it or not, quite a good definition for it — working with an agent, and how to survive the slings and arrows of outrageous revision. In Part II, our discussion will range even more widely, taking us from establishing a non-human narrative voice through the demands of the new electronic media to developing a sense of one's readership.
For those of you joining us mid-interview, here is the publisher's blurb for Layne's first novel:
From the moment that he looks down on the ancient gray head of Noah, who is swinging his stone axe, the narrating crow in this unique and remarkable epic knows that these creators called Man are trouble. He senses, too, that the natural order of things is about to change.

At a time when so many of us are searching for meaning, Layne Maheu's debut novel lingers in a masterfully rendered ancient world just long enough to ponder our fears of disaster and to watch as humanity struggles to survive, to understand, and finally to prevail.

Recalling both the magical imagination of Richard Adams' Watership Down and the spiritual richness of Anita Diamant's The Red Tent, Song of the Crow is a soaring debut.
Reviewers the world wide just love that sort of pun, by the way. Consider yourself warned.
Come with me now to the thrilling days of last month, when Layne and I were in the throes of discussing the challenges of moving from the narrative voice of one book into the narrative voice — and worldview — of another. This is a question that affects every career novelist: after developing a full, rich narrative voice specifically geared to the dramatic needs of one story, how does a writer switch to a fresh voice adapted to the next story?
Since Layne's first novel was written from the point of view of a crow on Noah's Ark, and his second from the perspective of humans in the early days of heavier-than-air flight, he seemed like a dandy person to ask.
One of the intriguing quirks of the Song of the Crow's narrative voice lies in its creative use of italics — specifically, italics in dialogue. Take a gander — and, as always, if you're having trouble seeing the details, try holding down the Command key and pressing + to enlarge the image.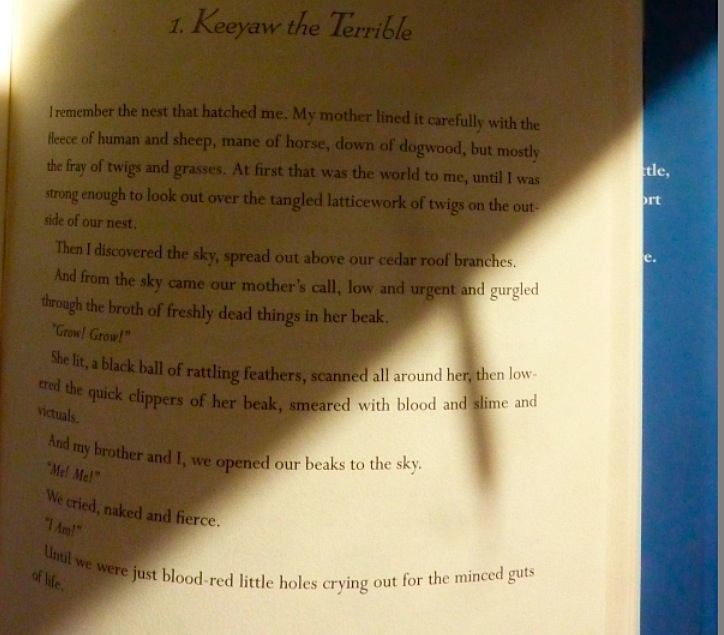 You must admit, that's a genuinely unusual way to use slanting type. Typically, italics are used in dialogue to show emphasis. As in:
"You're imagining things, Gerald." Martha guided the car smoothly into the line of late-night highway traffic. "No one at the party was staring at your nose."

"I promise you, Martha, it's not my nose that was attracting all of the attention. People were impressed by my sartorial bravery."

She sighed, reluctant to reopen the wardrobe fight for a second time that night. "Who could fail to be impressed by a shirt emblazoned with fuchsia pineapples on an electric yellow background, coupled with cherry-red slacks? The effect was positively eye-searing."

"You're just jealous," he sniffed, "because no one noticed your dress."
Editors, writing teachers, and other professional readers often frown upon relying upon italics to convey the emphasis in a sentence — and not merely because published writing tends to use this trick only sparingly. Plenty of professional readers feel, and with good reason, that the content of the dialogue and the narrative sentences surrounding it should be sufficient to demonstrate how characters are speaking. Therefore, they reason, dialogue laden with italics is likely to be a sign of insufficiently-polished prose.
That's unfortunate, because many, many aspiring writers seem to believe the point of dialogue is to reproduce how someone might actually say something down to the last vocal inflection. Or so we must surmise from the radical overuse of italics for emphasis in submissions. A not particularly exaggerated example:
"I promise you, Martha, it's not my nose that was attracting all of the attention. People were impressed by my sartorial bravery."

She sighed, reluctant to reopen the wardrobe fight for a second time that night. "Who could fail to be impressed by a shirt emblazoned with fuchsia pineapples on an electric yellow background, coupled with cherry-red slacks? The effect was positively eye-searing."

"You're just jealous," he sniffed, "because no one noticed your dress."
Eye-searing is right. After reading a few thousand exchanges like this, it's not hard to imagine why our old pal, Millicent the agency screener, might cringe at the very sight of italicized words within quotation marks.
As we have discussed so many times before, however, what may work on the pages of a published book — where, lest we forget, the overwhelming majority of formatting decisions are made by the publisher, not the author — may not work in a manuscript, particularly one being submitted by a brand-new writer. Manuscripts do not resemble published books in many important respects (if that's news to you, you might want to take a peek at this summary of the rules of standard format for book manuscripts); what may seem to an aspiring writer as a cool suggestion for what her book might look like when it is published will often strike Millicent as unprofessional presentation.
Trust me, at that juncture, it will not help you at all to be able to list twenty-seven published books that embrace the same convention you chose to include in your manuscript. Since book manuscripts and books are formatted differently, what any of us may have seen in print is simply irrelevant.
In case I'm being too subtle here: every industry has the right to set its own standards for evaluating newcomers' work. It would behoove you to take the time to learn the ropes before you submit.
In the course of that micro-lecture, a forest of hands sprouted out there in the ether. "But Anne," writers just thirsting to italicize demand, and who can blame you? "If we are supposed to hold onto our nifty formatting suggestions until after our manuscripts have successfully passed through the querying and submission stages, how did a first-time novelist like Mssr. Maheu manage to get those cool-looking italics onto his pages?"
An excellent question, thirsters. I asked it of Layne.
And that, my friends, is how I suspect non-writers think we writers sound when we sit around and talk to one another: all technicality and nuance. Would only it were true.
What many writers — and professional readers — have been talking about lately is the potential impact of electronic readers upon the future of the novel. At the moment, as a freelance editor, I am more interested in the current impact of the Kindle upon how agents and editors read manuscripts; since so many pros now screen manuscripts on electronic readers, it is harder for a writer to predict how the words will appear on the page.
The same holds true, of course, for readers of published books: never before has the reader had so much control over what the words look like. Now, a reader can manipulate the type size, font, number of words per page, contrast — all factors formerly entirely in the hands of the publisher. With Layne's interesting italicization choices, that ability to tinker could make a huge difference in how the reader experienced the book.
Learning to approach one's own manuscript not only as a writer — and therefore someone already familiar with the story, the characters, and, naturally, the author's intention in any given scene — but also as the book's target reader might is an essential skill for a self-editor. When words have freshly fallen off our fingertips, attaining the necessary distance can be extraordinarily difficult; that's one reason that setting a manuscript aside for at least a few months before sending it out used to be absolutely standard authorial advice to newcomers.
Now, technological advances permit — nay, encourage — aspiring writers to start submitting practically the moment after composing the final page of the first draft. Since industry etiquette has long dictated that unless an agent explicitly asks a writer to revise and resubmit, an aspiring writer may approach any given agent only once with any given book project (yes, even if it was revised beyond recognition in the meantime), many overeager submitters find that they have exhausted their initial querying lists before the manuscript is sufficiently polished.
All the more reason, then, to work on developing one's sense of the reader. Let's hear what Layne had to say about that.
At the risk of bringing this free-floating discussion down to earth, I want to clarify that bit about the writer's obligation to the reader, at least as it relates to revision. At minimum, the writer owes the reader a clear and absorbing narrative, not one in which it is hard — and not hard in a way that serves any specific literary purpose — to follow what is going on and who the characters are. That's in the writer's best interest, too, of course, especially at submission time: if Millicent ever says over a manuscript, "Wait — what just happened?" it's typically sunk.
What does that have to do with revision and/or developing a sense of the reader, you ask? Plenty. All too often, aspiring writers seem to forget that their readers are not already familiar with the stories they are telling, leaving logical holes in the narrative for the reader to fill. Millicent frequently finds herself shaking her head over sentences and paragraphs that, while they might make perfect sense to the writer, are not sufficiently detailed to allow the reader to picture what is going on. Or simply have necessary words missing, due to incomplete revision.
"I recognize that problem!" long-time readers shout. "That's a symptom of a Frankenstein manuscript, one in which overlapping or incomplete revisions have left the narrative uneven, like a patchwork quilt. But how would developing a sense of my target reader help me remedy that?"
Good question, shouters. The short answer is that while, as Layne mentioned, it's much more satisfying in the long run to write what one wants than to sit down and try to write something trendy, ultimately, what you write will have to appeal to readers. If you want to sell the book, that is — and no, that's not the same thing as compromising one's artistic vision.
Actually, gaining a sense of what one's target reader wants and how to fulfill those desires can enhance an original artistic vision. Think about it: unless that vision is reproduced on the page in a manner that is accessible to the reader, meaning will be lost, right?
Learning to read one's own sentences with fresh eyes — difficult, admittedly, when one has seen the same page 157 times already — rather than simply skimming over the familiar bits is essential to the revision process. Remember, it's not enough for those sentences to make sense to you; a reader who knows nothing else about the story but what is on the page should be able to derive a rich sense of situation, place, and character based on those sentences alone.
But that's not all developing a sense of the reader entails. It also involves figuring out what readers of books in your chosen category like about it, what its conventions are, and how you may work with them creatively.
Before I show you what Layne and I had to say about that issue, an explanatory note: in the next part of the interview, Layne is using the term genre both as a synonym for book category and to refer to all novels that do not fall into the literary fiction book category. (Nor is he the only established author you are likely to hear use the term in the latter manner; it used to be quite a quite common distinction twenty or thirty years ago.) So when he says that a writer must know what is expected in her chosen genre, or that it has an expected story, he's referring to adhering to the book category's established conventions, not that there is only one kind of story per genre.
Layne wasn't kidding about the public response to the demise of French novelist Colette (1873 – 1954), best known in this country as the creator of GIGI. (For my money, though, her Claudine novels are far more intriguing.) Thousands filed past her casket as she lay in state.
Now that's a readership.
While I'm tempted to end on that delightful note — oh, you weren't daydreaming of your lifetime of writing being honored by a grateful nation? — one of the reasons this series of interviews is concentrating on first novels is, lest we forget, practical. So let's ask Layne the most practical question of all: how did you land your agent?
For those of you busy picking your jaws off the floor about the two years between initial agent interest and signing a representation contract: that's actually not unheard-of, even today. Contrary to what most starry-eyed first-time submitters believe, agents do not typically drop everything they are doing as soon as requested materials arrive; even after those pages pass under Millicent's hyper-observant eyes, they usually have to wait until after the agent has perused all of the other screener-approved submissions that came in first. Agents are busy, busy people, after all.
Word to the wise: don't hold your breath. And don't mistake a slower-than-you-would-like turn-around time for lack of interest in your work — but do keep querying and submitting while you wait. It honestly is the best use for all of that nervous energy.
Yes, I know it doesn't feel like it. Do it anyway, if only to humor me.
At the risk of horrifying you further, it's also far from unusual for an agent to request revisions prior to signing a client. (Heck, it's not all that uncommon for editors to request major revisions before acquiring a manuscript.) Such requests are seldom arbitrary, either. Not only will the changes in theory render the manuscript easier for the agent to market, but seeing how the writer responds to such a request — tears? Argument? Disappearing for five years, then showing up with a beautifully-revised manuscript? — will tell him quite a bit about what working with that writer will be like.
Hint: "Wow, that's an interesting idea. I'll get right on it!" seldom fails to go over well.
Does that multipart chorus of moans I'm hearing out there in the ether indicate that some of you were hoping to get through the agent-seeking process rather faster — or without revisions? Sadly, quick signings are not the norm.
So how does a good writer live with that level of nail-gnawing suspense? More fundamentally, how does one keep the faith in the face of rejection?
As promised: SONG OF THE CROW is available at Amazon, or, for those of you who would prefer to order it from an independent bookstore, Powell's. While I would encourage folks to post follow-up questions for Layne here, you may also reach him via his blog, The Crow Zone.
As always, keep up the good work!