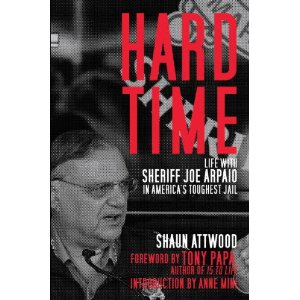 No, your eyes do not deceive you, readers — that is in fact my name on the cover of a book. And not just any book, but one written by a memoirist who has long been a member of the Author! Author! community: Shaun Attwood, author of Skyhorse Publishing's brand-new release, Hard Time: Life with Sheriff Joe Arpaio in America's Toughest Jail.
If Shaun's name sounds familiar, it should. As some of you may recall from my post last August, announcing the release of the U.K. edition of his memoir, I felt rather strongly that it was a terrible shame that readers in the U.S. — the country in which Shaun was incarcerated, and thus in which his tale of outrageous jail conditions is set — would not be able to find the book in most domestic bookstores. So when the fine folks at Skyhorse bravely stepped up to bring this startling memoir to North American readers, I was thrilled.
How thrilled, you ask? Well, let me put it this way: it's the first time I've written an introduction for another author's book.
What's more, I did it for free. And I did so for a memoir by an admitted drug dealer, despite the fact that I had recently given the eulogy for one of my best friends, dead of an overdose. Believe me, I couldn't be more hostile to drugs and the damage they so often do to creative people.
So why was I willing to introduce this book to the American reading public? Because at base, I believe Shaun's memoir to be deeply anti-drug. It's also one heck of a story — and, I think, an important one.
But you don't have to take my word for it. Take a gander at the publisher's blurb:
Shaun Atwood was a millionaire day trader in Phoenix, Arizona, but his hedonistic lifestyle of drugs and parties came to an abrupt end in 2002 when a SWAT team broke down his door. Overnight, Atwood found himself on remand for drug distribution charges in the notorious Maricopa Jail – run by Sheriff Joe Arpaio, a.k.a. the self-proclaimed "Angel of Death."

In Hard Time, Atwood describes his life in one of the most controversial jails in the country. In vivid language, he illustrates a real world where rival gangs vied for control, crystal meth was readily available, moldy bread was the staple diet, and breaking the rules could result in beatings or even death.

Hard Time is the harrowing account of the twenty-six months Shaun spent trying to stay alive in a nightmarish world of violence, cockroach-infested cells, and food with dead rats in it. Atwood's remarkable story provides a revealing look at the brutal, tragic, and even darkly comical aspects of life in America's toughest jail.

"I once asked a guard how Sheriff Joe Arpaio got away with the illegal jail conditions," Atwood explains, "and he
said, 'the world has no idea what is really going on in here,' so I decided to document my entire jail experience to change that."

Arpaio's jail conditions are notoriously atrocious. According to a judge's ruling, the Sheriff admitted knowing about, and in fact intentionally designing, some conditions at Tent City that created a substantial risk of inmate violence. Inmates are routinely denied access to necessary medical procedures to the extent that one pregnant inmate's cries of pain were dismissed by Arpaio and his staff, resulting in a miscarriage that could have been prevented by more attentive medical attention. In 2005, county health inspectors found the water well in the facility where the pregnant women were held to be filled with mice feces!

What's worse is that most of the inmates in Arpaio's jail, like Atwood, are awaiting trial and have not yet been convicted of any crimes. Deborah Braillard, a diabetic 46-year-old mother who was arrested for nonviolent crimes and was awaiting her trial in Arpaio's jail, was denied insulin by the jail's staff, and died shortly thereafter.

Hard Time reveals these and dozens of other atrocities committed by Arpaio and his staff in secret. "I hope that my book causes outrage from the American public," Attwood exclaims, "and that changes are made for the inmates rotting away in Arpaio's jail system. Changes could save lives."
Of course, as a loyal member of the Author! Author! community, Shaun will be sharing his memoir-writing trials, tribulations, and tips with us in the weeks to come. I'll also be hitting him up for some insights into how to find a great memoir agent. As he is also well versed in the tricky twin arts of public readings and talking about his book in public — two skills most first-time authors are generally desperate to learn, and pronto — I'm also in hopes of blandishing him into sharing his author presentation secrets with us sometime this summer. (And yes, campers, I will be walking you through the ins and outs of writing an introduction. Did you honestly think I would leave you in the lurch?)
But right now, today, I want to let his story speak for itself — and I can't think of a better way to do that than to share Shaun's original guest post from 2009, along with my original introduction to it. Not merely because what he had to say then was starling, but because I think it will be informative for all of you memoir-writers to see just how much his book concept did and did not change throughout the proposal, writing, and editing processes.
To render the piece even more interesting to those of you first shocked by it two years ago, I shall be adding some clips from a couple of Shaun's inspirational anti-drug speeches. While I'm sure that all of us believe that the true test of any memoir — indeed, of any book — lies in what is on the page, I can't resist offering you a bit more of the story.
Welcome again to our ongoing series on censorship, subtle and otherwise. Fair warning: today's is of the not-so-subtle variety, so as they say on television, viewer discretion is advised.
I'm quite serious: this is most emphatically not going to be a guest post for the queasy. It is, however, an important voice talking about often-taboo subjects — and, I think, a fairly stunning tale about a writer struggling against incredible odds to tell a story that desperately needed (and still needs) to be told.
Therefore, I'm delighted to be introducing today's guest author, Shaun Attwood, blogger extraordinaire. Since 2004, he has been writing Jon's Jail Journal — and yes, in response to what half of you just thought, it was not safe for him to write under his own name when he first began trying to expose the grim realities of prison life.
Inexplicably, the folks who ran the prison took exception to that. I imagine that the authorities in the Dreyfus case objected to Emile Zola's writing about that, too.
As my parents liked to point approximately once every 42 seconds throughout my excruciatingly literary childhood, that's precisely what good writers are supposed to do, isn't it?
To give you a sense of the scope of the incredible story Shaun has to tell, here is a blurb for his memoir-in-progress — which I, for one, cannot wait to read — that he was kind enough to share with me:
Green Bologna and Pink Boxers: Surviving Sheriff Joe Arpaio's Jail is an account of my journey through America's most notorious jail system, a netherworld revolving around gang violence, drug use and racism. It provides a revealing glimpse into the tragedy, brutality, comedy and eccentricity of jail life and the men inside. It is also a story of my redemption, as incarceration leads to introspection, and a passion for literature, philosophy, and yoga. The book ends with me starting Jon's Jail Journal, exposing the conditions in the jail.
Call me zany, but I suspect he knows more than most of the rest of us about institutional censorship. So I am positively overjoyed that he has agreed to share some of his thoughts on the subject with all of us here at Author! Author!
Those of you reading in the UK may already be familiar with Shaun's writing, either through excerpts of his prison diary published in The Guardian or the numerous articles on his efforts to bring public attention to appalling conditions for prisoners. He also speaks to young people about his jail experiences and the consequences of his drug use.
Even if prison memoir is not your proverbial cup of tea — even if memoir isn't your usual reading material — please try not to turn away from the horrendous story Shaun is about to share with you. Read it, and read his bio, below. Consider visiting his blog to read what a talented writer has to say about being denied the right to share his writing with the world.
As writers, no one knows better than we the vital importance of self-expression to the human soul; this entire series has been about that, hasn't it? After all, telling the truth, regardless of obstacles, is what good writers are supposed to do.
So please join me in welcoming a very brave and interesting writer, Shaun Attwood. Take it away, Shaun!
Towards the end of my stay at the Madison Street jail in Phoenix, Arizona, I asked a guard how Sheriff Joe Arpaio got away with flagrantly violating federal law by maintaining such subhuman conditions.
"The world has no idea what really goes on in here," he replied.
I decided that was about to change.
Some of you may be familiar with Sheriff Joe Arpaio, the star of the reality TV show, Smile…You're Under Arrest! He's the sheriff who feeds his prisoners green bologna, puts them to work on chain gangs, and makes them wear black-and-white bee stripes and pink underwear.
He has labeled himself "America's toughest sheriff," but he never mentions that he is the most sued sheriff in America due to the deaths, violence and medical negligence in a jail system subject to investigation by human rights organisations including Amnesty International and the American Civil Liberties Union.
In a maximum-security cell — about the size of a bus-stop shelter, with two steel bunks and a seatless toilet — I used a golf pencil sharpened on the cement-block wall to document the characters, cockroaches, suicide attempts, and deaths. Wearing only pink boxers, I wrote at the tiny stool and table bolted to the wall, trying to ignore the discomfort from my bleeding bedsores. Outdoor temperatures — that sometimes soared up to 120 °F — converted the cell into a concrete oven, making it difficult to write without the sweat from my hands and arms moistening the paper.
Here are the first few paragraphs I wrote:
19 Feb 04

The toilet I sleep next to is full of sewage. We've had no running water for three days. Yesterday, I knew we were in trouble when the mound in our steel throne peaked above sea level.

Inmates often display remarkable ingenuity during difficult occasions and this crisis has resulted in a number of my neighbours defecating in the plastic bags the mouldy breakfast bread is served in. For hours they kept those bags in their cells, then disposed of them downstairs when allowed out for showers. As I write, inmates brandishing plastic bags are going from cell door to door proudly displaying their accomplishments.

The whole building reeks like a giant Portaloo. Putting a towel over the toilet in our tiny cell offers little reprieve. My neighbour, Eduardo, is suffering diarrhoea from the rotten chow. I can't imagine how bad his cell stinks.

I am hearing that the local Health Department has been contacted. Hopefully they will come to our rescue soon.
Fearing reprisals from guards notorious for murdering prisoners, I wrote under the pseudonym Jon. As the mail officer could inspect outgoing letters, posting my words was too risky. To get my words out undetected by the staff, I employed my aunt.
She visited every week, and I was allowed to release property to her, such as mail I'd received, legal papers, and books I'd read. The visitation staff's chief concern was stopping incoming contraband such as drugs and tobacco, so they never thoroughly examined outgoing property.
I hid my words in the property I released to my aunt. She smuggled them out of the jail, typed them up and emailed them to my parents who posted them to the Internet. Considering the time involved in maintaining a blog, I was lucky to have such outside help.
That's how Jon's Jail Journal came about. It was one of the first prison blogs, and went on to attract international media attention after excerpts were published in The Guardian.
After serving almost six years for money laundering and drugs, I'm now a free man. I've kept Jon's Jail Journal going, so the friends I made inside can share their stories.
Like most prisoners, those in Arizona do not have Internet access. To get their writing online, they need outside help. Unfortunately, most of them do not have family members willing to run a blog for them.
I started Jon's Jail Journal unaware Arizona had been the first state to censor its prisoners from the Internet. This came about after the widow of a murder victim read an online pen-pal ad in which her husband's murderer described himself as a kind-hearted lover of cats. A law passed in 2000 carried penalties for prisoners writing for the Internet. Privileges could be taken away, sentences lengthened.
The freedom to speak without censorship or limitation is guaranteed by the First Amendment, so the ACLU stepped in and challenged this law. In May 2003, Judge Earl Carroll declared the law unconstitutional. Since then, no other state has attempted to introduce such a law.
But even with that law repealed, any inmate writing openly about prison is running the risk of reprisals from the staff and the prisoners. The threat of being harmed or killed by your custodians or neighbours is a strong form of censorship.
I always got permission from the prisoners I wrote about. I hate to think of the consequences if I hadn't. But even with that safeguard in place, I still ran into occasional problems.
I once wrote about how the prisoners made syringes from commissary items. A prisoner received a copy of that blog in the mail, and circulated it on the yard. Some of the older white gang members gave the order to have me smashed, claiming they were concerned the staff would read that blog and stop the inmate store from selling the items the prisoners needed to make the syringes.
Fortunately, I was writing stories about some well-established prisoners at the time. Like Two Tonys, a Mafia associate classified as a mass murderer. Frankie, a Mexican Mafia hitman. C-Ducc, a Crip with one of the toughest reputations on the yard. They intervened, pointing out that the staff were well aware of how the prisoners made syringes, and that I hadn't divulged anything that the staff didn't already know about. After a few tense days during which they instructed me not to walk the yard alone, the matter died down.
To avoid conflict with the administration, I never used real staff or prisoner names. Using real names would have enabled the administration to classify me as a threat to the security of the institution. If you are deemed such a threat, the administration can invoke laws that strip you of your standard human rights. You can lose your privileges, be housed in the system's darkest quarters, and if the staff really have it in for you, you may suddenly receive a gorilla-sized cellmate intent on using you as his plaything.
On that front, I must credit Shannon Clark — my friend in prison who writes the blog Persevering Prison Pages — for being a much braver man than I. He has sprinkled guards' names liberally throughout his blog, and he's not exactly praising them for their humanity. Shannon has a reputation for being fast to slap lawsuits on the staff, which I hope continues to protect him from major retaliation.
After my release in December 2007, I figured my censorship battles with the Arizona Department of Corrections were over. I was maintaining the blog mostly for the stories of the friends I'd made inside, stories they were mailing to me in England. But in August 2008, I stopped receiving mail from them. Then in September, I received a disturbing email:
I wanted to let you know that *** called me today with a message for you. I guess the prison spoke to all of the guys that write to you and told them they are not allowed to write to you anymore. He thinks it's because they (the prison) don't like what is being said on your blog. It is a free country isn't it? Can they do that? It's ridiculous!
Attempting to sabotage Jon's Jail Journal, certain staff members had ordered the contributors to stop writing to me. If they continued to write to me, they would receive disciplinary sanctions such as losing their visits, phone calls, and commissary.
This violation of their freedom of speech earned me a nerve-racking live spot on Sky's headline news. The publicity attracted a prisoners'-rights attorney, and the problem eventually went away.
With all of these obstacles, it's unsurprising that so few prisoners are writing for the Internet.
Googling for prison bloggers, I immediately noticed the absence of women in this fledgling community. I found one writer, but she had been released. Hoping to bring the voices of women prisoners online, I wrote to two women — Renee, a lifer in America serving 60 years, and Andrea, a Scottish woman arrested for the attempted murder of her abusive boyfriend in England. I'm delighted that these two women are now regular contributors to Jon's Jail Journal, giving their unique insights on what it's like in women's prisons.
To keep Jon's Jail Journal going, I've had to overcome censorship from many angles, some foreseen, some unexpected. The blog has managed to survive these challenges, and to build up a loyal readership over the years. It has become a bridge to the outside world for my prisoner friends. They really enjoy the feedback from the public, and some of them receive pen pals from around the world. Through blogging, they are cultivating their own writing skills, and focusing on something positive in such a negative environment. Jon's Jail Journal has come a long way since when I lived with the cockroaches.
Shaun Attwood grew up in North West England where he was an early participant in the burgeoning rave scene that soon took over the whole country. Graduating from Liverpool University in 1991 with a business degree, he immigrated to Phoenix, Arizona to try his luck in the world of finance, and rose quickly through the ranks to become a top-producing stockbroker.
But it was not quite plain sailing. Shaun lost control of his life and finances in the mid-nineties, declared bankruptcy and quit his job.
The rave bug had never left him, and Shaun started to throw raves in Arizona while investing in technology stocks online. By 1999, he was living in a luxurious mountainside home in Tucson's Sin Vacas, working as a day trader in the day and partying at night. It was the time of the dot-com bubble and he made over a million on paper, but the bubble was soon to burst and Shaun lost most of his fortune and moved back to Phoenix.
In May 2002, he was arrested in Scottsdale during a SWAT-team dawn raid, and alleged to be the head of an organisation involved in a club-drug conspiracy. The local media described him as "bigger than Sammy the Bull." Facing a life sentence, he entered a lengthy legal battle.
In 2004, Shaun started the blog,Jon's Jail Journal, documenting the inhumane conditions at the cockroach-infested Madison Street jail run by Sheriff Joe Arpaio. After two years of being held on remand while three trial dates were cancelled, Shaun signed a plea bargain admitting guilt to money laundering and drug offences. He was sentenced to 9 ½ years, of which he served almost 6.
Shaun had only read finance books prior to his arrest. While incarcerated, he submerged himself in literature –- reading 268 books in 2006 alone, including many literary classics. By reading original texts in philosophy and psychology he sought to better understand himself and his past behaviour. His sister sent him a book on yoga, which he still practices.
In September 2004, blog excerpts were published in The Guardian attracting further media attention, including several BBC news stories.
Shaun was released in December 2007, and has since kept Jon's Jail Journal going by posting prison stories sent to him from the friends he made inside. In July 2008, Shaun won a first prize, a Koestler/Hamish Hamilton Award, for a short story, which he read to an audience at the Royal Festival Hall. In February 2009, Shaun moved to London to work for the McLellan Practice speaking to audiences of youths about his jail experiences and the consequences of his drug taking.