So far in the course of Queryfest posts, I have been talking about how to present your book project so that it sounds like a professional writer's argument that a manuscript is worth a peek, rather than a carnival hawker's introducing the Greatest (fill in the blank here) in the World. Take a peep behind the curtain for only 10 cents!
Both are intended to prompt the onlooker to want to look, of course, but as we discussed last time, hard sells (You'll be sorry if you let this book slip through your fingers, Mr. Agent!), self-assessments (This book contains the most exciting chariot race since Ben Hur!), and the ever-popular claim of universal appeal (every woman who has ever had a best friend will want to read this novel!) tend to fall flat in queries. Agents like to make up their own minds about the quality of writing. A much savvier way of piquing their interest: a straightforward, professionally-worded description of what your book is about, who its specific intended readership is, and why you think the agent you're addressing would be a good fit for it.
What's that you say, campers? You would like to see some concrete examples of queries done well and others that miss the mark?
What an excellent idea; the rest of Querypalooza shall be stuffed to the gills with plenty of both. Rather than leap right into questions of content, however, let's get ourselves accustomed to how a query should — and should not — look on the printed page.
Gird your loins, campers: today, we're going to be tackling the purely cosmetic issues.
I hear some of you grumbling already, do I not? "But Anne!" a few voices protest out there in the ether. "I can understand why I need to make my manuscript appear professional by adhering to the rules of standard format, considerately gathered for my benefit under the HOW TO FORMAT A MANUSCRIPT category on the archive list conveniently located on the lower right-hand side of this page, but a query letter rises or falls purely on its content, doesn't it? As long as I do not scrawl it in crayon on tissue paper, why should I worry about what it looks like?"
Good question: why is it in your interest to pay attention to the superficial side of querying? Because in a mailed query, formatting and presentation are the first things Millicent the agency screener notices. It's the first indication she has of just how familiar a writer has made herself with how the publishing industry actually works.
Okay, I'm afraid I didn't quite catch all of the implications of that gale-force collective gasp. Did it indicate (a) a certain level of surprise that Millicent will be judging anything but the content of the query, (b) a shocked realization that the denizens of agencies might perhaps harbor some expectations about how the information in a query should be presented, rather than simply regarding it as a free-form expression of creativity, and/or (c) a clawing, pathological fear that the seventeen queries you sent out last week for your memoir about living in the wilderness for five years might lose some credibility because they were written on bark with blackberry juice?
In the interest of rendering the comparisons to follow as useful to as broad a range of queriers as possible, I'm going to assume it was all of the above. And rather than tell you why our Millie's view of a query might be colored by how it is presented, I'm going to show you.
Because first impressions can be indelible, before I demonstrate just how a poorly presented query looks wrong, let's take a gander at what a really good query letter looks like. Not so you can copy it verbatim — lest we forget, rote reproductions abound in rejection piles — but so you may see what the theory looks like in practice.
And please, those of you who only e-query: don't assume that none of what I'm about to say about traditional paper queries is inapplicable to you. Even agents who accept only e-mailed queries were weaned on mailed ones; the paper version is still the industry standard, dictating what does and does not look professional to folks in the biz. Even if there is no paper whatsoever involved in your querying process, you should still be aware of how query letters should appear on a page.
For ease of comprehension, I've decided to construct a query for a book whose story you might know: MADAME BOVARY. (At least, I hope that those of you who write novels about the human condition will be familiar with it. If not, and you are at all interested in learning anything about how a few vivid details can light up a page, I would highly recommend your picking up a copy.) If you're having trouble reading this example at its current size, try holding down the COMMAND key and pushing the + key a couple of times to enlarge the image.
Makes the book sound pretty compelling, doesn't it? If you were Millicent, wouldn't you ask to see the first 50 pages?
After the last few posts, I hope it's clear to you why this is an awfully good query letter: in addition to containing all of the required elements, it presents the book well, in businesslike terms, without coming across as too pushy or arrogant. Even more pleasing to Millicent's eye, it makes the book sound genuinely interesting and describes it in terms that imply a certain familiarity with how the publishing industry works. (The date on the letter is when the first installment of MADAME BOVARY was published, incidentally; I couldn't resist.)
Well done, Gustave! It's perfectly obvious that, in addition to having written a whale of a good book, you were professional enough to learn how the agent of your dreams would expect to see that book's many excellencies presented in a query.
For the sake of comparison, let's take a gander at what the query might have looked like had Mssr. Flaubert not done his homework.
You see what's wrong with this version, right? Obviously, the contractions are far too casual for a professional missive.
No, but seriously, I hope that you spotted the unsupported boasting, the bullying, disrespectful tone, and the fact that this query doesn't really describe the book. Also, to Millicent's eye, its being addressed to Dear Agent and undated would indicate that ol' Gustave is simply plastering the entire agent community with queries, regardless of individual agents' representation preferences.
That alone would almost certainly lead her to reject MADAME BOVARY out of hand, without reading the body of the letter at all. And those ten pages the agency's website or listing in a standard agents' guide said to send? Returned unread to our pal Gus.
The Dear Agent letter has a first cousin that also tends to engender automatic rejection. It's a gaffe to which even very experienced queriers routinely fall prey. See if you can spot it in its natural habitat: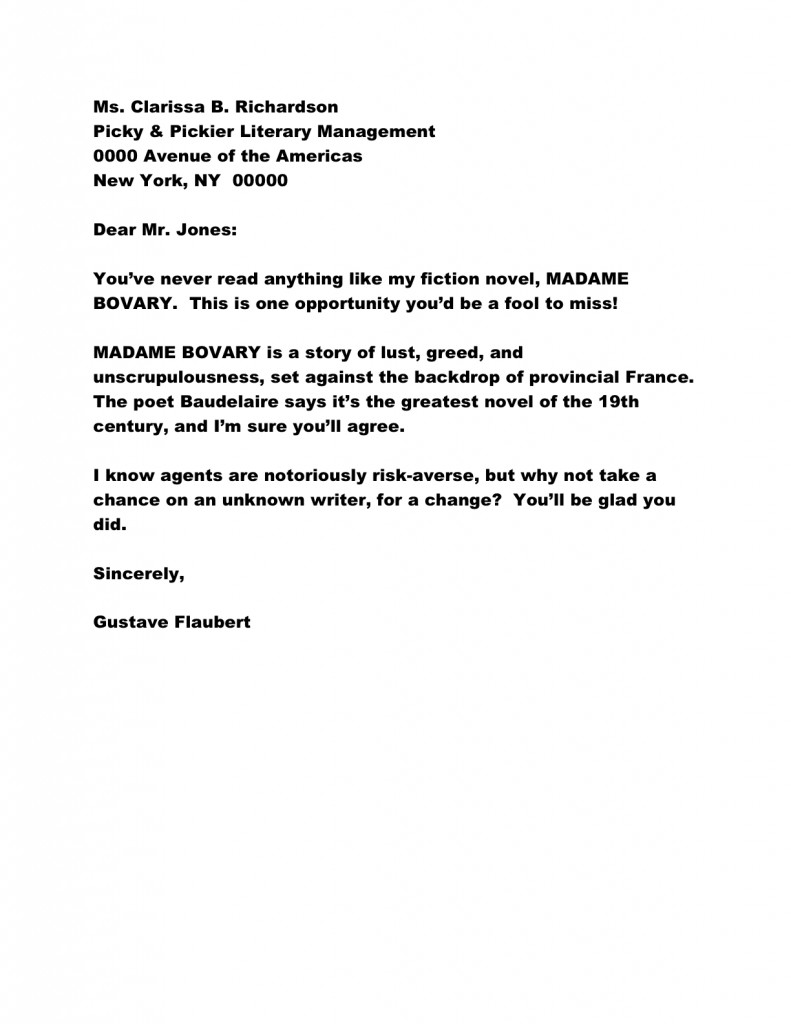 If you reared back in horror, exclaiming, "Oh, no! Our Gustave has sent the query to agent Clarissa Richardson, but left the salutation from what was probably his last query to agent Tom Jones!" congratulations: you win a gold star with walnut clusters. Since the advent of the home computer, aspiring writers have been falling into this trap constantly; cutting and pasting only works if all of the personalized elements get changed each and every time.
The cure? Pull out your hymnals, long-time readers, and sing along: read EVERY SYLLABLE of each query letter IN HARD COPY and OUT LOUD before you send it, every single time you send it.
Yes, even if you are e-querying or pasting a letter into a form on an agency's website. Do not hit SEND until you have made absolutely sure that the salutation matches the recipient.
Did you catch the two other major problems with both versions of this letter? Go ahead; go back and look again.
First, how exactly is the agent to contact Gustave to request him to send the manuscript? She can't, of course, because Mssr. Flaubert has made the mistake of leaving out that information, as an astonishingly high percentage of queriers do.
Why? I suspect it's because they assume that if they include a SASE (that's Self-Addressed Stamped Envelope, for those of you new to the trade, and it should be included with every mailed query and submission unless the agency's website specifically says otherwise), the agent already has their contact information. But if, heaven forfend, the SASE and the query get separated — hey, Millicent's desk has been known to hold reams and reams of paper at any given moment — or, as is increasingly common, the agency prefers to respond to queries via e-mail, Gus is out of luck.
And no, in response to what half of you just thought: no matter how great the query makes the book appear to be, Millie is not going to take the time to track down Gustave's address. "I don't care if it is the next A SENTIMENTAL EDUCATION," she sniffs, moving on to the next query. "I have 500 queries to get through before I can go home tonight."
Aspiring writers are even less likely to include their contact information in e-mailed queries. "Why bother?" the e-query thinks, blithely hitting SEND. "All the agent needs to do to get in touch with me is hit REPLY, right?"
Not necessarily: e-mailed queries get forwarded from agent to assistant and back again all the time. Millicent's hitting REPLY might just send the joyous news that she wants to read your first 50 pages to someone in the next cubicle.
I hesitate to bring this up, but it's also not unheard-of for e-mails to be sent to the wrong querier, or for SASEs to get mixed up. I once received a kind rejection for someone else's book stuffed into my SASE. I returned the manuscript with a polite note informing the agency of the mistake, along with the suggestion that perhaps they had lost my submission.
True story. To add a happy ending: the agency assistant who wrote the extremely apologetic response to my having handled it professionally grew up to be my current agent, now a senior agent at the same agency.
The moral: don't depend on the SASE or return button alone. Include your contact information either below your signature or in the header.
This is especially important if you happen to be querying a US-based agent from outside the US. English-speaking foreign writers often presume, wrongly, that US agents have a strong preference for working with the locals, that not being able to fly a few thousand miles for frequent face-to-face meetings would be a deal-breaker, or that an expatriate would be better off using her mom's home address in Indiana so as to appear to be living in North America. As a result, they tend not to mention in their (almost invariably e-) queries that they and their manuscripts are not currently stateside.
However, the US is a mighty big country, and e-mailing is inexpensive; distance is not a deal-breaker, typically. NYC-based agents have been representing clients without meeting them in person since the early 20th century. Some agencies might deduct the cost of international phone calls from the advance, just as they might choose to charge the writer for photocopying, but in the era of e-mail and Skype, that's increasingly rare.
Go ahead and include your contact information, wherever you are. Being far-flung might even be a selling point, if the agent happens to like to travel. (Oh, you don't think the agent of your dreams would like to crash for a few days on your couch in London?)
But I digress. Back to the diagnosis already in progress.
Gustave's second problem is a bit more subtle, not so much a major gaffe as a small signal to Millicent that the manuscript to which the letter refers might not be professionally polished. Any guesses?
If you said that it was in business format rather than correspondence format, congratulations: you've been paying attention. In a mailed submission, this format would strike most Millicents as less literate than precisely the same letter properly formatted. (It would be fine in an e-mailed submission, where indented paragraphs are harder to format.)
Any other diagnoses? No? Okay, let me infect the good query with the same virus, to help make the problem a bit more visible to the naked eye:
See it now? This otherwise estimable letter is written in Helvetica, not Times, Times New Roman, or Courier, the preferred typefaces for manuscripts.
Was that huge huff of indignation that just billowed toward space an indication that favoring one font over another in queries strikes some of you as a trifle unfair? Especially since very few agencies openly express font preferences for queries (although a few do; check their websites and/or agency guide listings).
To set your minds at ease, I've never seen font choice alone be a rejection trigger. I can tell you from very, very long experience working with aspiring writers that queries in the standard typefaces do seem to be treated with a touch more respect.
I know; odd. But worth knowing, don't you think?
Font size, however, often does prompt knee-jerk rejection; stick to 12 point.
Don't believe me? Okay, here's a modified version of the good query, accidentally mailed out in 14-point type: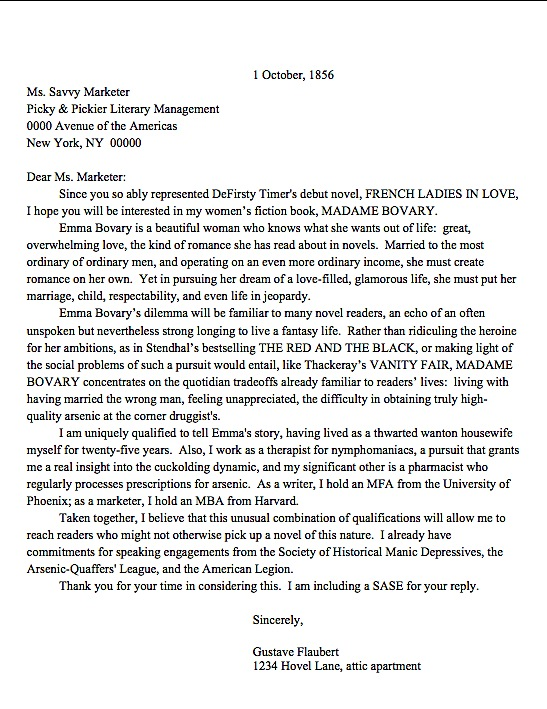 Yes, yes, I know: you probably wouldn't even dream of having sent it out this way on purpose — but are you absolutely positive that your default font is 12 point, not 14? Are you sure that when you copied your letter from Word and pasted it into an e-mail, your e-mail program didn't alter the query into the 14-point type you prefer for composing e-mails?
The moral: even if you have sent out essentially the same query letter dozens of times (oh, don't pretend that you've never just pasted in new contact information to an already-used letter), it's very much in your interest to read it over each time. You'd be surprised how often simple slips of the mouse result in some rather odd outcomes on the query page. Or how frequently e-mails arrive looking substantially different than their authors intended.
While we're on the subject of cosmetic problems, let's take a look at another common yet purely structural way that well-written query letters can send off an unprofessional vibe: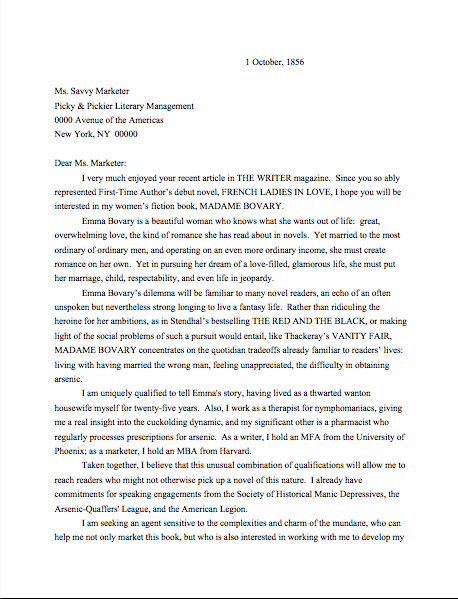 Not all that subtle, this: a query letter needs to be limited to a SINGLE page. This restriction is taken so seriously that very, very few Millicents would even start to read this letter.
Why are agencies so rigid about length when dealing with people who are, after all, writers promoting book-length works? Long-time readers, chant it with me now: TIME. Can you imagine how lengthy the average query letter would be if agencies didn't limit how long writers could ramble on about their books?
Stop smiling. It would be awful, at least for Millicent.
Fortunately, the one-page limit seems to be the most widely-known of querying rules, if one of the most often fudged in e-queries. "What's Millicent going to do?" the fudger mutters. "Print it out in order to catch me at my little ruse? She doesn't have that kind of time."
Which is rather unfair to screeners, since e-queries can, since they omit the date and address salutation at the top of the message, be several lines longer and still fit within the one-page ideal. I just mention. If you're fearful of running long, compose your query in Word, ascertain that it could be printed onto a single page, then copy and paste it into an e-mail.
The one-page limit is so widely known, in fact, that aspiring writers frequently tempt Millicent's wrath through conjuring tricks that force all of the information the writer wishes to provide onto a single page. Popular choices include minimizing the margins:
or shrinking the font size: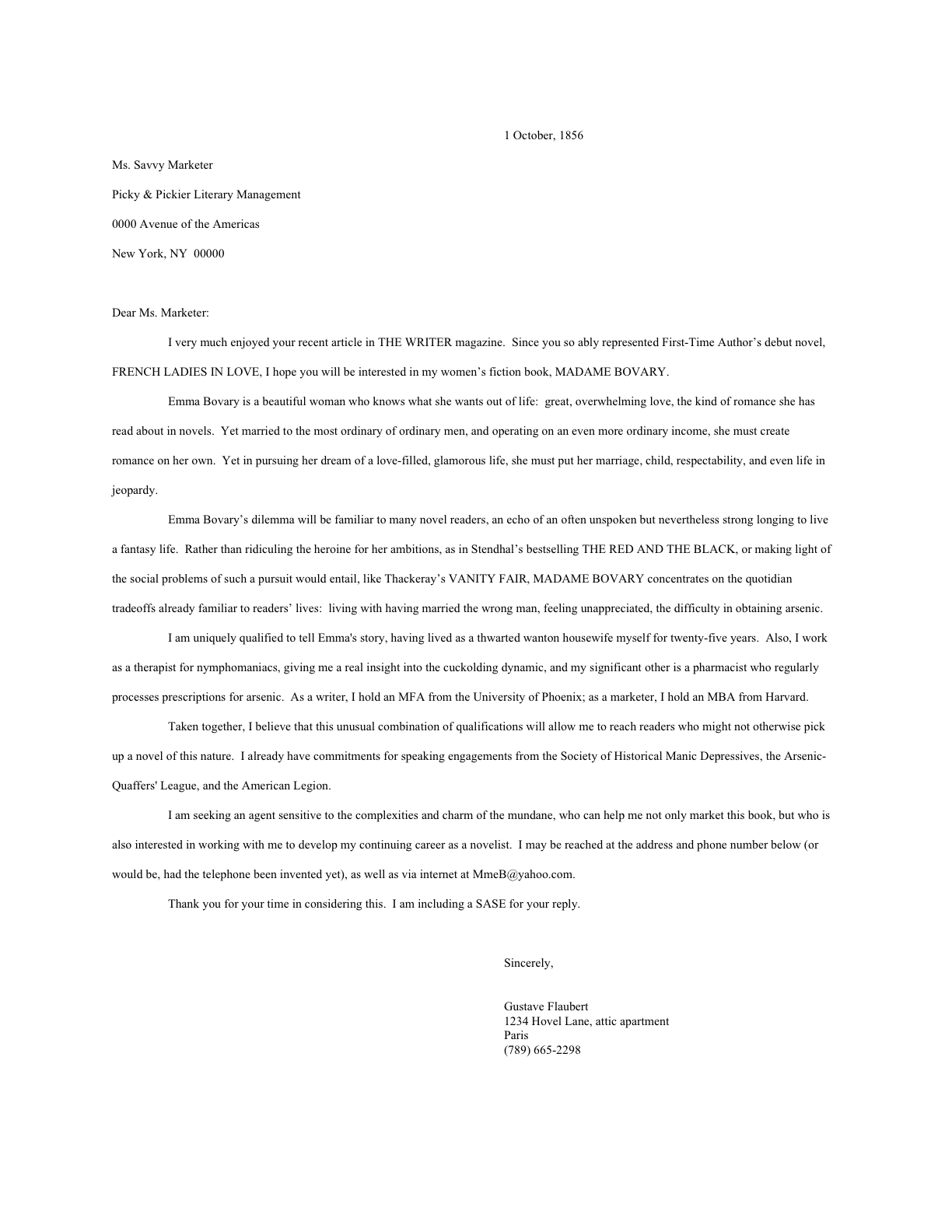 or, most effective at all, using the scale function under Page Setup in Word to shrink the entire document: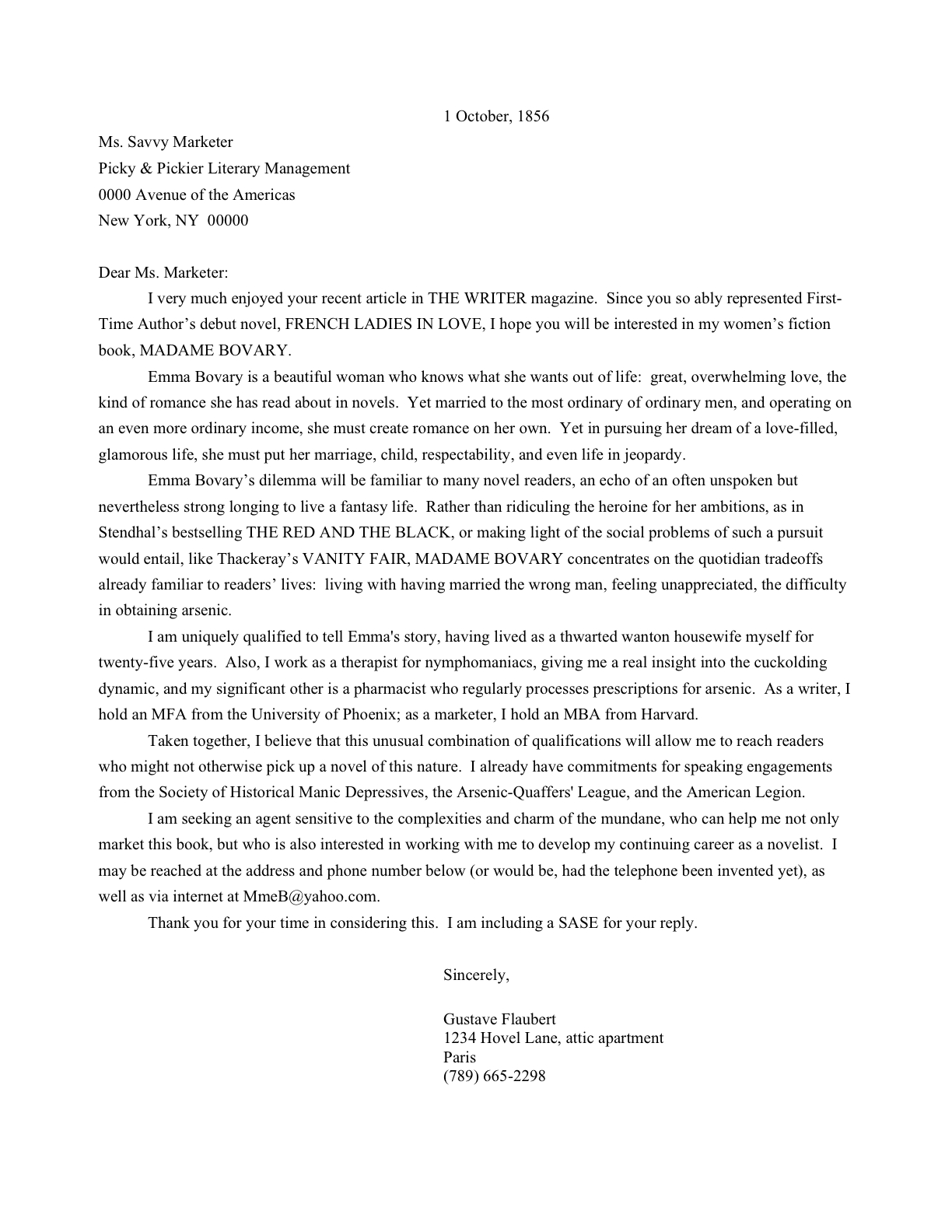 Let me burst this bubble before any of you even try to blow it up to its full extent: this sort of document-altering magic will not help an over-long query sneak past Millicent's scrutiny, for the exceedingly simple reason that she will not be fooled by it.
Not even for a nanosecond. The only message such a query letter sends is this writer cannot follow directions.
An experienced contest judge would not be fooled, either, incidentally, should you be thinking of using any of these tricks to crush a too-lengthy chapter down to the maximum acceptable page length. Ditto for pages requested for submissions to agencies or publishing houses: if you shrink it, they will know. And they won't appreciate your attempt to trick them,
Why am I so certain that any professional reader will catch strategic shrinkage? For precisely the same reason that deviations from standard format in manuscripts are so obvious to professional readers: the fact that they read correctly-formatted pages ALL THE TIME.
Don't believe the tricks above wouldn't be instantaneously spottable? Okay, glance at them, then take another peek at our first example of the day:
Viewed side-by-side, the formatting differences are pretty obvious, aren't they? Even in the extremely unlikely event that Millicent isn't really sure that the query in front of her contains some trickery, all she has to do is move her fingertips a few inches to the right or the left of it, open the next query letter, and perform an enlightening little compare-and-contrast exercise.
Don't tempt her to do it. It will not end well for you.
The benefits of eschewing formatting skullduggery is not the only thing I would like you to learn from today's examples, however. I would also like you to take away this: with one egregious exception, these examples were more or less the same query letter in terms of content, all pitching the same book. Yet only one of these is at all likely to engender a request to read the manuscript.
What does that mean, in practical terms? Even a great book will be rejected at the querying stage if it is queried or pitched poorly.
Yes, many agents would snap up Mssr. Flaubert in a heartbeat after reading his wonderful prose on the manuscript page — but with a query letter like the second, or with some of the sneaky formatting tricks exhibited here, the probability of any agent's asking to read it is close to zero. Millicent receives too many well-written queries from writers who follow the rules to waste even a moment regretting those who do not.
The moral, should you care to know it: how a writer presents his work — in the query or on the manuscript page — matters.
That means, by extension, that even a long list of rejections based upon an improperly-formatted query might well be unreflective of how Millicent would respond to the same manuscript as presented in an impeccable query. So keep refining that query, campers: even a book as genuinely gorgeous as MADAME BOVARY would not see the inside of a bookstore today unless Flaubert kept sending out query letters, rather than curling up in a ball after the first rejection.
Oh, don't pretend that you haven't considered giving up. Deep down, pretty much every aspiring writer believes that if she were really talented, her work would get picked up without her having to market it at all. It's an incredibly common writerly fantasy: there's a knock on your door, and when you open it, there's the perfect agent standing there, contract in hand.
"I heard that your work is wonderful," the agent says. "Here, sign this, so I may sell the manuscript I have not yet read to that editor who is waiting at the car parked at your curb."
Or perhaps in your preferred version, you go to a conference and pitch your work for the first time. The agent of your dreams, naturally, falls over backwards in his chair; after sal volitale has been administered to revive him from his faint, he cries, "That's it! The book I've been looking for my whole professional life! I can die contented now!"
Or, still more common, you send your first query letter to an agent, and you receive a phone call two days later, asking to see the entire manuscript. Three days after you overnight it to New York, the agent calls to say that she stayed up all night reading it, and is dying to represent you. Could you fly to New York immediately, so she could introduce you to the people who are going to pay a million dollars for the film rights, as well as the publisher that wants to release your book two weeks hence?
I have nothing against a good fantasy (especially of the SF/Fantasy genre), but while you are trying to find an agent, please do not be swayed by daydreams. Don't send out only one query at a time; it's truly a waste of your efforts. Try to keep 7 or 8 out at any given moment.
This advice often comes as a shock to writers. "What do you mean, 7 or 8 at a time? I've been rejected ten times, and I thought that meant I should lock myself away and revise the book completely before I sent it out again!"
Feel free to lock yourself up and revise to your heart's content, but if you have a completed manuscript in your desk drawer, you should try to keep a constant flow of query letters heading out your door. As they say in the biz, the only manuscript that can never be sold is the one that is never submitted.
There are two reasons keeping a constant flow is a good idea, professionally speaking. First, it's never a good idea to allow a query letter to molder on your desktop: after awhile, that form letter can start to seem very personally damning, and a single rejection from a single agent can start to feel like an entire industry's indictment of your work.
I've said it before, and I'll say it again: one of the most self-destructive of conference-circuit rumors is the notion that if a book is good, it will automatically be picked up by the first agent that sees it. Or the fiftieth, for that matter.
This is simply untrue. It is not uncommon for wonderful books to go through dozens of queries, and even many rounds of query-revision-query-revision before being picked up. There are hundreds of reasons that agents and their screeners reject manuscripts, the most common being that they do not like to represent a particular kind of book.
So how precisely is such a rejection a reflection on the quality of the writing?
Keep on sending out those queries several hundred times, if necessary. Until you can blandish the right agent into reading your book, you're just not going to know for sure whether it is marketable or not. Keep up the good work!