That's right, campers: it's time for another one of my little object lessons on the desirability of taking context into account. Quick, tell me what the snapshot above depicts.
A trifle difficult to hazard a reasonable guess without knowing what falls outside the bounds of the photo, is it not? Since light has a delightful habit of bouncing off many types of medium in similarly attractive ways, you might well have shouted out a wide array of answers: raindrops on a windshield backlit by a changing stoplight, perhaps, or confetti falling at night. A hailstorm as seen through rose-colored sunglasses might also have seemed plausible.
Would you change your answer, though, if I told you that I took this photograph not only indoors, but in a funky women's apparel boutique? There, too, my camera might have picked up quite a few different reflective options by focusing tightly on a piece of amber jewelry, for instance, or shooting the shop through a beaded scarf.
I'm relatively certain, however, that even had first I named the shop and listed its entire contents, few of you would have glanced at the photo above and immediately exclaimed, "Oh, that's a close-up of a black wool tam o' shanter with gold sequins knitted into it at irregular intervals." At least, not unless some of you have been secretly harboring your old disco togs for a few decades now, waiting for the day the Bee Gees cease merely stayin' alive and begin actively making their comeback.
I sense more than a few rolling your eyes, and not just at the notion of dancing the night away in a heat-saturated club while wearing wool headgear. "That was a trick question, Anne," the eye-rollers huff, and who could blame you? "By basing my guess purely upon that single snapshot — as opposed to, say, an array or pictures documenting the other items for sale adjacent to that tam o' shanter or a photograph of some benighted soul getting down and funky underneath it — I was bound to guess incorrectly."
Precisely, eye-rollers: it's never a good idea to glance quickly at something complex that's brand-new to you and assume that you understand it completely. Yet that's precisely what many, if not most, first-time queriers do when approaching an agency to seek representation.
"Oh, I can do that," they say, squinting at whatever letters happened to pop up when they typed query + novel into a search engine, or casting a cursory glance over a checklist on a how-to website. "All I need to do is talk about my book."
Those of you who have been following Queryfest are already cringing, I hope. In case anyone isn't, let's take a gander at the all-too-common result of the reasoning above. As always, if you are having trouble reading the individual words, try holding down the COMMAND key and hitting the + key a few times to enlarge the image.
I am not showing you the second page of this misguided missive for the exceedingly simple reason that there is absolutely no chance that our old pal, Millicent the agency screener, would even consider reading beyond the bottom of this page. Had Meanswell done his/her homework on querying a little better, s/he would know why: under no circumstances should a query exceed a single page.
Do those gales of laughter indicate that some of you found that last point a bit on the self-evident side? "Oh, come on, Anne," some of you scoff. "Surely, we don't need to take up our valuable analytical time here going over that faux pas. Keeping the query under a page is literally the first thing most of us learned about approaching agents."
Ah, but I'm not bringing it up for the benefit of writers who have taken the time to learn something about the querying process. I felt compelled to mention it because it's actually not beyond belief that some swiftly-scanning web surfer will click onto this post someday and try to copy Meanswell's letter.
Oh, you may giggle, but you haven't seen my comments archives. Believe it or not, I do occasionally receive messages from would-be queriers who inform me in aggrieved tones that they followed my example to the letter, so to speak, but they still haven't landed an agent. Surprisingly often, it turns out that they simply lifted the first example I posted on a particular day, without reading any of the explanation around it.
Well might you shudder. But as you do, congratulate yourself on being serious enough about your writing career to do your homework about what differentiates a good query from, well, 99% of what Millicent sees.
Noticing a pattern here? Throughout this long series, I have doggedly kept re-using a key phrase: I have been encouraging savvy writers to do their homework on individual agency guidelines before they send off a query; I've pointed out that this or that faux pas just screams at Millicent the agency screener that the queriers who commit them have not done their homework; the single best means of figuring out a book's marketing category is — wait for it — for writers to do their homework about what similar books are currently on the market.
As opposed to, say, embracing the astonishingly popular alternative of glancing at a website or two, assuming that what one finds in a ten-minute search will necessarily cover everything a writer might need to know about pulling together a query, and scrabbling together something that seems to fit the bill. Being in that much of a hurry not only maximizes the chances of rejection, but also tends to come across as disrespectful to both the agent being approached and the manuscript itself. As I have said before and shall no doubt say again, there is no such thing as a generic agent, right for every conceivable type of book; agents specialize. They also have individual tastes. So no matter how much the current literary market might, in the author's estimation, need a particular book right away, it just doesn't make sense to skip the information-gathering step.
In other words: do your homework.
The sad thing is that the staggeringly high percentage of first-time queriers who make mistakes like Meanswell's do so innocently. Since virtually any agency will use the word query in its submission guidelines, just plugging the term into a search engine should come up with an adequate definition, right? Every agent is looking for precisely the same thing, right? And since writing is writing, it doesn't matter whether the directions that happen to pop up first are for querying a book manuscript, writing a cover letter to accompany a book proposal, or approaching a magazine with an article or short story, right?
Actually, wrong on all counts. Words frequently mean more than one thing, especially terms that crop up in unconnected contexts. Travel agents book trips for their clients, after all, but that activity does not remotely resemble the kind of booking police officers perform when they arrest people. And just because publishing houses, magazines, academic journals, and railroad schedules all contain writing doesn't mean that those who produce them go about collecting that writing in the same manner. It's only reasonable, then, to expect that each of these disparate types of publishers would have its own standards for querying.
Context, people. Figure out what kind of entity is best suited for your type of writing — an agency for a manuscript, an agency or small publishing house for a book proposal, a magazine for a short story, a journal for an academic article, a newspaper for a news article, etc. — then take the time to learn how professionals publishing in that forum construct query letters. For book publishing, I think you'll find that the most successful purveyors of manuscripts to agents do not use the same letter for everybody they approach, but tweak each query to speak to the individual agent's interests.
In other words, they do their homework before they query.
Yes, yes, I know: you've begun to twitch like Pavlov's pups at mealtime each time I mention this, but I'm not the only querying guru fond of this phrase, as it happens. You can't throw a piece of bread at a writers' conference without hitting an agent, editor, contest judge, or writing coach loudly deploring just how few of the aspiring writers they meet seem to have do their homework before querying, submitting, pitching, entering a contest, or anything else that would require putting ink on paper and handing it to somebody in a position to evaluate it professionally.
Why is this phrase so ubiquitous in professional reader circles? Well, not being a mind-reader, I can't say for certain what each and every speaker who spouts it is thinking, but I can hazard a guess: it probably stems from the fact that a good half of the queries any agency receives are so unprofessionally put together and worded that they might as well be billboards declaiming THIS ASPIRING WRITER DID NOT TAKE THE TIME TO LEARN HOW AGENCIES WORK BEFORE POPPING THIS INTO THE MAIL.
"Half?" a good quarter of you ask, gulping. "Seriously, that many?"
Actually, most of the agents I know place the percentage closer to 60% and rising. Why might it be going up? Again, I don't profess to be a mind-reader, but I'll take a crack at an answer: with the rise of the Internet, it's not only become much, much easier to generate a list of who represents what kind of book; with the relative ease of e-mailed queries, it's become substantially less expensive and time-consuming for an ambitious non-homework-doer to query 75 agents in a weekend.
Often, unfortunately, with missives like the charmer below. This writer has done a bit more homework than Meanswell; he, at least, is aware that he needs to limit his missive to a single page. Like so many generic queries, though, this one has the agent's name and address mail-merged into the top, to give it the appearance of a personalized letter.
Don't believe that this is a representative sample? You're quite right: this letter is spelled far too well.
I would hope that by this late point in Queryfest, I would not need to elaborate on what's wrong with this letter. (Arial Black 16 point type? Please!) Obviously, it contains none of the required elements but the title, so its chances of charming Millicent into reading so much as a syllable of the attached manuscript are approximately nil. And she wouldn't even need to read the query if she worked at one of the many, many agencies that does not accept unsolicited submissions — at most agencies, a query packet that included a manuscript would simply be dumped into the trash.
Resentme is really racking up the instant-rejection points here, isn't he? Clearly, this writer has not done his homework: he doesn't know what a query letter is supposed to do, other than act as an introduction to a stack of paper.
Yet even if by some miracle Millicent decided to look past this letter's complete lack of requisite information, writing style, and professional presentation, Resentme still could not possibly receive any benefit from having sent this query. Any guesses why?
If you immediately leapt to your feet, hand waving wildly in the air, and cried out, "For heaven's sake, Anne, the guy forgot to include his contact information!" you have more than earned your gold star for the day. Even homework-doing writers routinely forget to include these salient details — a genuine pity, because when Millicent unearths a truly professional-looking query for an interesting book of the variety her boss typically represents in a day's mail, she gets excited about it. How sad, then, if she has no way to convey that excitement — or a request for pages — to the person who wrote it.
A small forest of raised hands just sprouted out there in the ether. "But Anne," the puzzled masses shout with one voice, "I only query via e-mail. So I don't have to worry about this contact information stuff, right? All Millicent has to do to contact me is hit REPLY."
Well, technically, yes, puzzled masses — if she happens to make up her mind while the e-mail is still on her screen. (Oh, your finger has never slipped while you were scrolling through e-mails, accidentally deleting something you wanted to keep?) And if she is empowered to ask for pages without consulting a higher-up — which may not be the case, if she just started her new screening gig, say, immediately after January 1, and Resentme was one of the tens of thousands of North American writers whose New Year's Resolution was to send out a flotilla of queries. (More on that last bit follows next week, never fear.) If she is required to forward the queries she liked up the ladder, her supervisor's hitting SEND would shoot the missive back to her, not to you.
But none of that is the primary reason that every query, every query packet, and every submission packet should include the sender's full contact information, including phone number, mailing address, and e-mail address. You should do it because you don't want Millicent to have to waste even a moment thinking, oh, didn't this writer remember to tell me how to get ahold of her? Didn't she do her homework?
Speaking of the perils of not doing one's homework, did you catch the other omission that would cause Millicent to grind her teeth and cry, "This is a form letter! Resentme has probably sent this to every agent in the Manhattan phone directory within the last 24 hours. Next!"
Any wild guesses? How about the fact that the letter is not dated, presumably so the sender can reuse it in perpetuity?
Seriously, this is a classic agents' pet peeve — precisely because it's an extremely common time-saving technique for all of the Resentmes out there. Or at least it was back when lazy aspiring writers had to rely upon Xerox machines, rather than just hitting the print key repeatedly or SEND, to wallpaper New York with completely generic queries.
Why does the very sight of a generic query make Millicent's fingertips itch for a form-letter rejection? Well, for starters, one-size-fits-all letters make her job more difficult. Generic queries virtually never give her any hint about
(a) the book in question's category (so she will have to guess whether it falls into one that someone at her agency actually represents),

(b) why the writer thinks her boss would be a good fit for it (since a generic query is intended for every agent's eyes, it cannot afford to be specific), and/or

(c) what might make this book marketable (because that would require the querier to do a bit of, you guessed it, homework).
So can you honestly blame her for leaping to the conclusion that the sender just didn't do his homework? Or for assuming, as most professional readers would, that a writer who didn't do his homework about how to write a query probably didn't do his homework about how to format a manuscript, either?
Yes, really — and that presents a serious stumbling-block at querying time. Even in an agency already resigned to explaining how the publishing industry does and doesn't work to first-time authors, a non-homework doer would stand out an unusually energy-sapping client: he doesn't even know enough about the ropes of the industry to know that he should learn how to climb them.
The second reason that obviously generic queries tend to engender such universally negative reactions amongst screeners — other than the fact that they're often phrased as demands for attention, rather than requests for assistance, that is — lies in human nature. No one likes to be treated as if she were a service-providing machine. Good agents have a right to be proud of what they do: they help bring great writing — and great writers — to publication.
What's wrong with their appreciating queriers who have taken the time to find out about what they have sold in the past more than those who address them as though any agent were as good as any other? Or preferring queriers who phrase their requests politely, in a query that deliberately speaks to the agent's individual interests, over those who are quite clearly just trying to hit as many agencies in as short a time as possible?
Why should we blame them, in short, for preferring writers who have obviously done their homework to those who equally obviously have not?
The problem is, it's getting harder to tell the difference. Ten years ago, there was a lot less querying advice available upon demand. Today, anyone with the minimal technical ability to perform a Google search of the word query might well find within just a few clicks a prototype that avoids the faux pas above entirely.
If she's lucky, that is. She's equally likely to come up with something that doesn't fit the bill at all.
With a little bit of homework, pretty much anyone can find a template into which he can simply plug his information instead of writing a truly unique query letter from scratch. So what ends up on Millicent's desk on any given morning is 150 letters rather like this:
with perhaps one like the following somewhere in the middle of the stack:
Both are generally passable by prevailing wisdom standards, right? Millicent actually does have to read a bit closer in order to separate the wheat from the chaff.
Please tell me, though, that it was clear to you why the second was better. Competent told Millicent why she picked this particular agent (complimenting a current client's book is always a classy touch), described her premise well, and listed a couple of legitimate authorial credentials for this particular book. Perhaps her book's title was a trifle derivative of the existing client's, but overall, this query did what it needed to do.
The first example, sadly, did not. True, Sadie did open the first with an eye-catching hook statement (and not a bad one, actually), but she made Millicent guess the book category — probably because Sadie wasn't sure of it herself. She's also left Millie to guess what her qualifications are to write this particular book. And what on earth does a collection of insights mean, anyway? It isn't even clear from this query whether what's being offered is a how-to book for living with a food restriction, a quote book, or an illness memoir.
It would, in short, be pretty obvious to a careful reader which writer had done her homework and which hadn't. However, if Millicent happened to be having a bad day — and who is more entitled, really? — both of these writers might have ended up receiving form-letter rejections.
Why? Well, did you spot the notorious agents' pet peeve in Competent's first paragraph that might have caused our Millie to choke irritably on her too-hot latte and reach gaspingly for the form-letter pile?
No one could blame you if you missed it, because it's quite subtle: Competent referred to her book as a fiction novel. Technically, this is redundant; all novels are fiction, by definition.
Which is why, in case anybody had been wondering, authors often pause a moment or two before answering the ubiquitous question, "Oh, you've just finished a novel? Fiction or nonfiction?" Like everyone else even vaguely affiliated with the publishing industry, we have to tamp down our knee-jerk response: there's no such thing as a nonfiction novel, silly!
Actually, the epithet at the end of that thought is usually quite a bit harsher, but this is a family-friendly site.
As I mentioned in passing earlier in this series, fiction novel is not the only phrase likely to provoke this reaction. So is true memoir. Or, perversely, sci-fi novel instead of science fiction novel.
Why the last one? Literary history, my dears: science fiction and fantasy had a hard time getting taken seriously as literature. That prejudice extends practically to this very moment: the first science fiction author to be included in the prestigious Library of America series was my old friend Philip K. Dick.
In 2007, more than 25 years after his death.
The literary world's slowness to embrace one of the great literary genres frequently used to take the form of insults aimed at SF writers. As late as the early 1980s, literary-voiced science fiction and fantasy was still routinely being dismissed in mainstream literary circles as just sci-fi. As in, "Oh, I never read sci-fi; that's kid's stuff."
Historically, then, it's been a matter of respect to refer to the category either by its full name, science fiction, or SF. So from the perspective of a Millicent who works at a science fiction-representing agency, an aspiring writer who refers to his own writing as a sci-fi novel clearly hasn't done his homework about his own chosen book category.
Competent did do something clever, though: for an agent whom one has not had the opportunity to hear speak at a conference, read an article or blog authored by, or come up with some other excuse for picking him out of an agents' guide, bringing up a current client's most recent publication is a dandy justification. As a bonus, up-to-date client lists are almost always readily available on agency websites.
I just mention that for the benefit of those of you who might not have time to do much homework.
Let's face it, these days, many, not most, aspiring writers decide whom to query not through extensive market research about who is selling what in their chosen book categories, but by plugging a book category into a search engine and sending a query to the first name that it spits out. Or first 25 names. Or, in some cases, all of 'em.
I've already spoken enough about the advantages of personalizing one's query to match each individual agent's expressed preferences, literary tastes, and sales track record that I shall not take up blog space today by commenting again upon the strategic wisdom of this method of query list generation. Suffice it to say that I hope those of you who have followed Querypalooza from the beginning looked at that paragraph above and immediately muttered, "Wow, 25 agents. That's going to be days of background research," rather than, "There's a search engine that would spit out more than 25 names for my list? Great — I'll send out another 50 generic queries tomorrow."
Normally, I would take issue with that last statement, energetically pointing out the many potential pitfalls into which a one-size-fits-all querying strategy is likely to lead a writer who — chant it with me now — hasn't done his homework. But it's getting late, and I'd like to talk about another example or two before I sign off for the night.
Besides, you're intelligent people: you already have the tools to analyze the qualitative difference between a generic query and a well-personalized one yourself. Compare the following, for instance, with the last two examples above. All were sent to the same agent, and all of the queriers had access, via the Internet, to precisely the same information about her.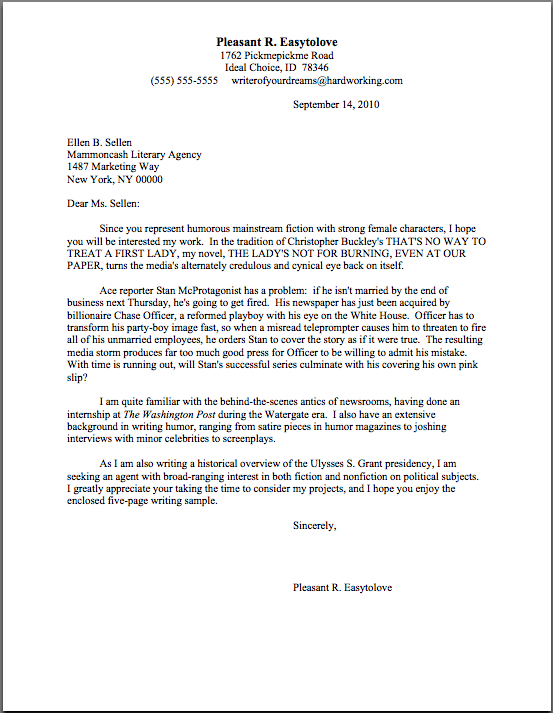 Notice anything as you cast your eyes over those three letters? Perhaps that what elevated the last two's opening paragraphs was a single reference each to work the agent had done in the past? Just how long do you think it took either of those writers to dig up those tidbits on the agency website?
Word to the wise: the amount of homework required to personalize an already-solid draft query is not particularly extensive. Nor is the imperative to check each agency's website or guide listing for specialized submission instructions especially onerous. It honestly is worth every second it takes.
Bearing all of that in mind, let's take another peek at today's first example, poor old Meanswell's overstuffed missive, with an eye to giving him some much-needed advice on how to present that book better on the query page.
Did you catch more problems this time around? Beginning at the top of the page, the letter is undated; it's in a wacky typeface (and a large one at that); the salutation is too familiar (unless Meanswell had actually met Aiden before, s/he should have stuck with the formal and safer Dear Mr. Authors); the query doesn't mention what kind of book it is (indeed, Millicent would not learn that the protagonist is a fifth grader until well into the plot summary); there's no indication of why Meanswell is approaching Aiden; the plot summary is far too long, and so is the query. Heck, it isn't even clear, except from the Jupiter element, whether the book is fiction or nonfiction.
If you were Millicent, would you be willing to take the time to make sense of this?
As if all of that weren't enough, there are another couple of extremely common faux pas here. Care to guess?
If you flung your hand to the skies and shouted, "I know! Since an agent will expect a potential client to have written the novel manuscript in question in its entirety before even thinking about querying, Meanswell's mentioning that the manuscript is completed is unnecessary," award yourself a second gold star for the day. Although this phrasing appears in a startlingly high percentage of the query templates floating around out there, including this information implies ignorance about how fiction is sold in this country.
If you also muttered under your breath, "Well, in Meanswell's shoes, I wouldn't have mentioned the word count at all, given how long the book is," help yourself to another gold star out of petty cash. Although acceptable word counts do vary from book category to book category, in most fiction-representing agencies, the Millicents are trained to regard anything over 100,000 words as too long to sell readily. All Meanswell has really done by mentioning the length of the manuscript is to provide Millie with a reason to reject it unread.
"Wait just a knee-jerk rejecting minute!" template-lovers across the Internet point out. "What do you mean, s/he should have left it out? I've seen plenty of how-tos that insist that word count is an essential part of the query!"
Would you throw the nearest portable object at me if I pointed out that this belief can only be the result of insufficient homework-doing? Yes, there are a few agencies out there that do ask point-blank for word count in queries — the better to reject the overly-long, my dears — but it's far from a universal request. Since it can only work to a novelist's disadvantage to include word count (trust me, Millicent is not going to clap her hands and exclaim, "Oh, goody, it's only 85,450 words!"), why include it in queries to agencies whose submission guidelines don't request it?
Let me answer that one for you, homework-avoiders: the only plausible reason to do it is if you believe that all agencies want to see exactly the same things in their queries. Anything called a query must refer to precisely the same thing, right?
Of course not. Even a quick glance at fifteen or twenty sets of agency guidelines — or a rapid flip through one of the standard agency guides — will demonstrate not only that different agencies routinely ask for different information to be included in queries, but that the expectation that word count will be mentioned at all is a relative rarity.
I leave it to your fertile imaginations to figure out why, under these circumstances, there are so many templates and how-tos out there that call for word count. While your creative wheels are spinning, however, let's take a look at how Meanswell might have approached Aiden in a manner that makes it plain not only that the book is interesting, but that its writer has done his/her homework:
"Hey, no fair, Anne!" the sharper-eyed among you protest. "When I read Meanswell's first version, I had no idea s/he had such good credentials for writing this book."
Exactly — and neither did Millicent. Whose fault was that?
After all, you can't reasonably expect her to guess the context in which you wrote your book, right? Keep up the good work!