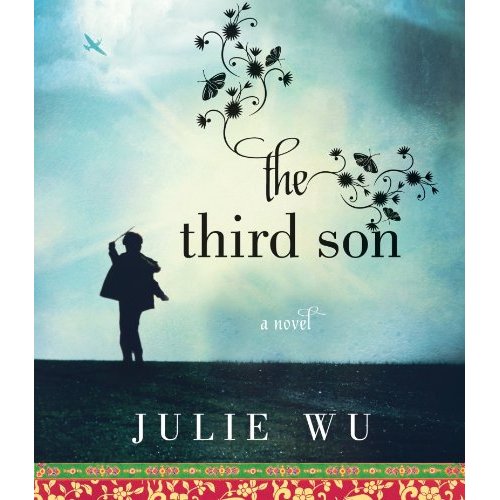 Okay, I'll confess it: I'm known for my enthusiasm about fabulous writing and the fine people that produce it. Guilty as charged. I'm also, I hear, notorious for waxing especially rhapsodic when a good writer who has paid her dues first breaks into print. Yet even for me, a phrase like particularly overjoyed is a rarity.
What's sent me into overjoy overload, you ask? This time, I'm announcing a fabulous novel by a great writer who has paid her dues — and who also happens to have been my college roommate. So if you think I'm not going to be tap-dancing on the rooftops about this one, well, all I can say is that my neighbors have been anxiously spreading nets under their eaves for weeks, in anticipation of this moment.
Ahem: Julie Wu's first novel, THE THIRD SON, is now available for presale at Amazon! Congratulations, Julie!
Algonquin Books will be bringing the book out in April. Here's the publisher's blurb:
It's 1943. As air-raid sirens blare in Japanese-occupied Taiwan, eight-year-old Saburo walks through the peach forests of Taoyuan. The least favored son of a Taiwanese politician, Saburo is in no hurry to get home to the taunting and abuse he suffers at the hands of his parents and older brother. In the forest he meets Yoshiko, whose descriptions of her loving family are to Saburo like a glimpse of paradise. Meeting her is a moment he will remember forever, and for years he will try to find her again. When he finally does, she is by the side of his oldest brother and greatest rival.

Set in a tumultuous and violent period of Taiwanese history — as the Chinese Nationalist Army lays claim to the island and one autocracy replaces another–The Third Son tells the story of lives governed by the inheritance of family and the legacy of culture, and of a young man determined to free himself from both.

In Saburo, author Julie Wu has created an extraordinary character, a gentle soul forced to fight for everything he's ever wanted: food, an education, and his first love, Yoshiko. A sparkling, evocative debut, it will have readers cheering for this young boy with his head in the clouds who, against all odds, finds himself on the frontier of America's space program.
Having gotten a sneak peek at this lyrical novel, I can't recommend it highly enough. Double that recommendation for those of you currently pursuing the difficult-but-rewarding path of literary fiction: I think you're going to be interested in the lovely things the language does in Julie's talented hands.
I'm just a trifle excited, in short, that her work is about to be available to a wider audience. To celebrate, I've decided to rerun one of my all-time favorite guest posts, by, you guessed it, Julie Wu's. I first ran it in 2011, soon after Algonquin acquired the novel.
I think it might resonate particularly well right now, as I know so many of you have spent the first three weeks of January (insert martyred sigh here) frantically querying agencies already dealing with what I like to call the New Year's Resolution Avalanche. Still others have, bless your hearts, been champing at the bit, waiting for half the aspiring writers in North America to work that first querying enthusiasm of the year out of collective system.
But I'm correct, am I not, in saying that every single one of you has been gnawing your nails, worrying about whether your manuscript or book proposal is polished enough to make the grade? That's completely normal; even the best books have to run the rejection gamut. Yet it's amazing how seldom published authors speak frankly to those facing the prospect for the first time about something everyone who writes for a living knows is the case: facing rejection is an inescapable fact of the writing life.
Stop shaking your head — it's true. Every single living author you admire has had to deal with it. What's more, every living author you admire has been precisely where you are now.
Don't believe me? Ask Julie. Not only in the guest post below, but in her wonderful essay on rejection and literary success. Those of you struggling to free regular writing time in your schedule might also want to check out this interesting interview on Book Architecture; first-time authors rarely talk so openly about this perennial challenge, either.
If you doubt that any of these writing woes have been under-discussed, let me ask you: when's the last time you heard a writer mention rejection or struggling to wrest writing time from his busy schedule as anything but a complaint?
What I like so much about today's post is how unblinkingly it examines something else writers published and unpublished alike seldom like to admit: many a great premise has been lost to posterity for lack of necessary revision. It's easy to lose faith in mid-revision — and even easier to reject the notion of revision at all.
Advance disclaimer: I'm not the roommate mentioned in the piece; I couldn't throw a pot to save my life. In the interest of full disclosure, however, I should tell you that Julie is the kind soul that first introduced me to that modern miracle, Kraft Macaroni & Cheese, a fact that in no way affects my estimation of her literary talents. A Boston-area native, she also probably saved my life by instructing this rural California girl on the delicate art of crossing Massachusetts Avenue on foot without being flattened like a pancake.
The local joke at the time was that Cambridge traffic tended to separate Harvard students into two categories: the quick and the dead. So if you have ever enjoyed a post here at Author! Author!, Julie's teaching me to dash through traffic unscathed is partially to thank.
Please join me, then, in welcoming Julie Wu. Take it away, Julie!
My roommate once made a clay pot in art school. Threw it on the wheel, drew up its walls between the tips of her fingers, fired it, glazed it. When she and her classmates held up their finished pots, gleaming and beautiful, the instructor led the students to a pit and ordered them to throw down their pots. The point was, he said, not to become attached to a particular piece of work. You can always make more.
Some students cried. My roommate was traumatized, still bitter about the experience years later when she told me about it.
Hearing her story made my stomach twist. I had written a few short stories, and they were my precious babies, conjured up as I sat cross-legged in the dark in an apartment overlooking the Hudson River. My stories were praised in student workshops, but their strengths were no more robust or reproducible than the street lights' glinting on the water's surface. Even after the literary magazine rejections came in, I revised only a sentence here or there, hoping that would be enough.
Because I was afraid that if I revised more, I would ruin what was good and never get it back again. I was one of those art students, crying and clutching my pot at the edge of the pit.
Here's the thing: that instructor was right. It has taken me ten years to understand that. Make one beautiful pot–maybe you were lucky. Make another from the ground up, and another, still more beautiful, and you are an artist. It takes practice, study, the making and smashing of many pots beautiful, average, and ugly, to really know that clay, to know exactly how to push your hands into it to get what you want.
It took me ten years to understand, because it took me ten years to write my first novel. I revised it countless times–a little when it first didn't sell, then more and more. Eventually, I changed its structure, its point of view, its tone, its style. With each revision I received comments and started over, page one. Each time, I learned more, until I could revise without fear. And it was then that I sold the book.
In writing we have a safety net: the computer. Open a new file and you have smashed your pot and kept a picture of it at the same time. How to proceed at that point is a study in humility, in open-mindedness, in self-examination. It's remembering all the advice you read about in the craft books–that you must have an interesting protagonist, a need, lots of conflict–and admitting you need to take that advice yourself. It's hearing all the feedback from your readers–that the protagonist is unsympathetic, that nothing happens, that what happens is implausible–and admitting that they are true. It's realizing that there's power in depth, and that depth is a function of your narrative arc. It's an equation of equal parts emotion and mechanics, and it's fueled by that elusive beast, imagination.
After so many years, book one is done. I'm thinking about book two. I've got clay in my hands again, but I feel different now. Because I'm not afraid. Because I know now I can make a pretty good pot. And because if it doesn't turn out well, I don't have to cry. I can throw it into the pit, and make something better.
Julie Wu's novel, The Third Son, won a short-listing in the 2009 William Faulkner-William Wisdom Novel-in-Progress Competition and will be published by Algonquin Books in April, 2013. Her short fiction has won honorable mention in the 2010 Lorian Hemingway Short Story Contest and has been published in Columbia Magazine. Also a physician, she has published a personal essay in The Journal of the American Medical Association (JAMA). She earned a B.A. in Literature from Harvard and spent a year studying opera performance at Indiana University in Bloomington, many lifetimes ago.