Hello, campers —
Anne here, bringing you your promised treat for hanging on through Book Marketing 101: a guest post from the subversively hilarious author Jonathan Selwood. Since Jonathan's first novel, The Pinball Theory of Apocalypse, is coming out from Harper Perennial next week, I've asked him to share his insights on how to market offbeat fiction.
He generously agreed — and the results surpassed even my high expectations. This is one seriously creative marketer.
If anyone is qualified to enlighten us on the subject of selling controversial writing, it's Jonathan. Check out the blurb for his book:
For years, painter Isabel Raven has made an almost-living forging Impressionist masterpieces to decorate the McMansions of the not-quite-Sotheby's-auction rich. But when she serendipitously hits on an idea that turns her into the It Girl of the L.A. art scene, her career takes off just as the rest of her life heads south. Her personal-chef boyfriend is having a wild sexual dalliance with the teenage self-styled Latina Britney Spears. If Isabel refuses to participate in an excruciatingly humiliating ad campaign, her sociopathic art dealer is threatening to gut her like an emu. And her reclusive physicist father has conclusively proven that the end of the world is just around the corner.
Now, with the Apocalypse looming — and with only a disaffected Dutch-Eskimo billionaire philanthropist and his dissolute thirteen-year-old adopted daughter to guide her — there's barely enough time remaining for Isabel to reexamine her fragile delusional existence…and the delusional reality of her schizophrenic native city.
Now that, my friends, is a PITCH. Take it away, Jonathan!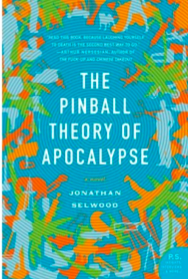 I don't think I'm going to shock anyone if I say that it's difficult to market an "offbeat" novel. The truth is it's difficult to market any novel, and the less an author's work fits into one of the currently hot genres, the more complicated the task becomes. So how does one best go about it? I have no #%$#&@% clue. What I do know is how I've tried to go about it.
As a first-time novelist with a dark comedy that at least one blogger described as "stumbling drunk through a fun house," I began my marketing endeavors by looking online to see what some of the other less mainstream authors (read: mentally ill) like myself were doing.
I soon found that the answer was not much. Since the first thing I do when I hear about a new writer is start Googling, I was baffled to find that many of my favorite writers didn't have websites or even MySpace pages. This seemed… insane.
I knew that if my little dark comedy was going to stand out in a tabloid world glutted with photos of pantyless starlets snorting cocaine, I'd have to do more than just send out a few reviewer copies and hope for the best. I also knew that the only way to get myself to put actual effort into marketing was to break out a fifth of Old Crow and try to have fun with it.
My first step was to design a webpage. Since I wanted the same kind of control over it that I have over my writing (I'm one of those sub-clinical OCD rewriters), I decided to learn HTML and design it myself.
Was this an efficient use of my time? No. In fact, it was a ridiculously stupid use of my time. I highly don't recommend designing your own website unless you already know how to do it. In any case, at least I ended up with something that does not remotely resemble anybody else's website.
When it came to writing my bio, I decided to forgo the usual banal listing of my MFA degree and utterly obscure publications, and instead compete directly with all those pantyless tabloid starlets by highlighting the nude cocaine parties of my own Hollywood youth. (Note: I've since discovered that if you Google "nude cocaine parties," my bio comes up number one!)
I also had yet to garner any reviews (the novel was still in the editing phase), so I posted a bunch of embarrassing photos of my friends and just made up some reviews for a Readers Like You section. Why my friends allowed me to do this is beyond me…
Once I'd wasted so much time learning HTML, I decided I might as well design some more sites. Since the title of my novel is The Pinball Theory of Apocalypse, I quickly snapped up the domain and put up a bogus site purporting to scientifically explain said "Pinball Theory of Apocalypse."
I think my favorite part is the description of what will happen when Pluto loses its stable orbit and collides with Uranus: "Once impacted, Uranus will quickly stretch out and expand into a superheated cloud of molten rock and toxic gas large enough to engulf the entire inner solar system."
Since the protagonist of my novel becomes LA's "It Girl Artist" by painting replicas of classic artwork with the faces changed to celebrities, I thought I'd also use the magic of Photoshop to put up some of her artwork in a gallery site. Macaulay Culkin as Blue Boy is my favorite, but I also like Tom and Katie as American Gothic.
It was at this point that too much coffee and perhaps too little lithium salt combined to send my marketing approach off into… well, a rather bizarre direction. In the novel, my protagonist is at one point pressured by her sociopathic art dealer to do an ad campaign for the hottest new craze in plastic surgery—vaginal rejuvenation. A deranged friend of mine here in Portland suggested that I actually create a joke brochure for vaginal rejuvenation.
The idea sounded so completely wrong, that I sat down and wrote the copy for it immediately. Another friend of mine in New York was kind enough to do the design work, and within a week, I had a lovely tri-fold brochure advertising everything from "Labial Microdermabrasion" to complete "Hymenoplasties."
I then emailed a PDF of the brochure to my editor and asked if there was any way we could send out some of the brochures with the reviewer copies.
"Wait…You want me to send out a brochure for vaginal rejuvenation along with the reviewer copies of your novel?" she asked.
"Yes."
There was a short pause.
"I love it." She laughed.
(Did I mention that my editor rocks?)
In any case, Harper Perennial printed up the brochures and (still trying to justify all the time I spent learning HTML) I put up the Selwood Institute website.
Now you may be wondering whether sending out a vaginal rejuvenation brochure might perhaps backfire with some of the more humor-impaired reviewers. Well, the answer is, yes, it did—in fact, I'm still getting hate email.
However, The Pinball Theory of Apocalypse is a dark comedy, and anybody without a dark sense of humor is obviously going to hate it anyway. When you write something offbeat, you shouldn't hope to please everyone—that's what the mild-mannered mainstream is for.
Take a writer like Charles Bukowski (not that I'm making any direct comparison between my own work and his). The fact that so many people truly hate him only makes his fans that much more fanatical. When people came to protest his readings, he would blow them kisses.
The final move in my unconventional campaign was to set up a MySpace page —which is actually pretty damn conventional these days. Not only does it give me another place to try to hook readers with my bio, but it's given me invaluable insight into just how disturbed my potential readership is.
In other words, I'm thinking about investing in some new deadbolts and a stun gun.
I should conclude by saying that my book has yet to be released, and I have no idea whether any of these techniques will work to boost sales. What I do know is that the next time I try to get a "straight" job, I'm totally #$#%$@. Seriously, who the hell is gonna hire the "nude cocaine party" guy?
Anne again: thank you, Jonathan! If that doesn't get all of our marketing synapses firing, nothing will. In the midst of marketing season, it's a timely reminder that knowing who your target audience is — and isn't — is crucial to promoting a novel at every stage.
If Jonathan's book piqued your interest, but you live in a part of the world that might frown upon your marching into the nearest bookstore and announcing, "Give me the book by that nude cocaine party guy!" here's a good independent bookstore that just loves to ship things discreetly in plain wrappers.