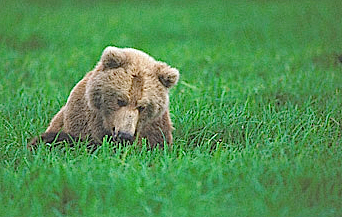 Are my eyes ever bloodshot today! With good reason, too: I've been reading up a storm for the past couple of days, in order to polish off some promised reviews. Everything I've been reading has been quite well written, thank goodness — although reading a bad review can sometimes be fun, writing one seldom is — but a certain type of repetition has been making me feel an unusually high level for Millicent.
What species of repetition am I complaining about now, you ask? Let me answer that with an appeal to you: as a reader, have you ever had one of those weeks where every piece of dialogue you scan seems to be a lightly-disguised monologue? Running, perhaps, a little something like this:
"I can't believe how arrogant that car dealer was!" Sandy fumed. "You'd think he'd never met a woman who wanted to buy a car."
"Yeah," Jeff replied.
"I should have told him that I was going home to e-mail the National Organization of Women, to get them to issue a general boycott of his lot." Angrily, she wrestled to undo the bungee cords that held the driver's side door onto her 1978 Saab, provided that she never attempted to accelerate above thirty miles per hour. "Did you see how surprised he was that we left?"
"Um-hm."
"You don't suppose his telling me that women don't know anything about cars is his standard sales technique, do you? Other women can't actually have bought cars after a line like that."
"No," Jeff said, crawling into the passenger seat via the smashed back window. "I imagine not."
Sandy dug under the visor to retrieve the seatbelt. "Well, I wouldn't be so sure. It's like those construction workers who yell disgusting things at women walking by their worksites: if it didn't provoke a positive response at least once every 10,000 times, would they keep doing it? Or do you think that's just blaming the victims?"
"Could be."
"Anyway," she concluded after she had successfully hot-wired the car, so she would not have to force the mangled key into the half-melted ignition, "I guess he won't be offering five dollars on a trade-in again!"
"Absolutely," Jeff said, clinging for dear life to what was left of the dashboard.
I ask you: what purpose is Jeff serving in this conversation, other than listener? And if he isn't in the scene for any other reason, why doesn't he just shut up and let Sandy blurt out her entire speech, instead of adding line after excisable line of entirely colorless dialogue?
Not to mention repetitious.
As you may have picked up from the subtle clues I've left lying around over the past week, dialogue has been on my mind for the past couple of days, because I recently enjoyed a long, gossipy conversation with a very old friend of mine with a very distinctive speech pattern: she says, "Like I said…" every other minute or so. In a long anecdote — to which she is quite addicted, as a world traveler with unusual tastes in traveling companions — she often uses this phrase ten or fifteen times.
Since we grew up together, you would think I would know where she had picked up this rare trope, but I don't; it's an adult acquisition. We have both wandered far from home, evidently. But still, you'd think I would have some inkling as to its origin: she and I were so closely allied in high school that at her wedding, her father spent 45 minutes grilling my boyfriend about his prospects and intentions toward me.
You might say that we come from a close-knit community.
Our hometown does in fact have a distinct speech pattern, a mixture of the lilt remaining when a small town in Switzerland (cow and wine country) picked up and became a small town in California (wine and cow country), certain Mexican-influenced words, a smattering of barrel-related French, and a linguistically inexplicable tendency to pronounce "mirror" as "meer."
Being a farming community (the aforementioned wine), of course, certain agricultural tropes abound in season, such as, "How about this rain? Sure do need it," "The grapes would have been in by now, 20 years ago" (untrue, incidentally), "Did you hear that bears have been at Farmer X's grapes?" (true, incidentally; brown bears like expensive fruit), and "Damned drunken tourists have been at my vines again. They think every grape in sight is a free sample."
But "like I said," no.
Now, being a sharp-eyed writer with a strong sense of verisimilitude in dialogue, you may have noticed something about all of these phrases, real-life tropes that actual people say quite bloody often in my native neck of the woods. Chant it with me now: they would be DEADLY dull in written dialogue.
As would a character who constantly punctuated her personal stories with "like I said…" Or indeed, almost any of the small talk which acquaintances exchange when they bump into one another at the grocery store. Take this sterling piece of Americana, overheard in Sunshine Foods in my hometown not so long ago:
A: "See you got some sun today, Rosemary."
B: "I was picking peaches. How did your dentist appointment go?"
A: (Laughs.) "The dentist won't be buying his new boat on my dime. Was that the Mini girl who just dashed by?"
B: (Craning her head around the end of the aisle.) "Could be. She was supposed to be visiting her mother sometime soon. She's not married yet, is she?"
A: (Shakes her head.) "Oh, hi, Annie. Visiting your mother?"
Me: (Seeking escape route.) "Yes. How's your son? I haven't seen him since high school." (Murmurs to boyfriend, covered by Mrs. A's lengthy description of the relative heights, ages, and weights of her grandchildren.) "Thank God."
A: "And how's your mother?"
Me: "Oh, fine, fine. I'd better be going. Nice to see you."
B: "Give my regards to your mother."
Me: (Wheeling cart away.) "I will. Remember me to Bobby."
A: "Well?"
B: (Sighing.) "Still no wedding ring."
Okay, what's wrong with this scene as dialogue on the page, over and above its repetition? You can hardly fault this exchange for verisimilitude — it not only is a transcript of an actual conversation, but it sounds like one, literary traits that do not necessarily go hand-in-hand — but it's missing something, right?
Any guesses, wild or otherwise?
Give yourself three gold stars if you yelled, "Well, it's hardly character-revealing, is it? Who are these people as individuals, as opposed to representatives of a collective small-town mentality?"
See it now? This exchange might as well have been said by actors, rather than specific people with personal quirks. Granted, as is, it might tell you a little something about the spying capability of my home town's feared and respected Little Old Lady Mafia, but it doesn't tell you much about the speakers as human beings, or our relative positions within society.
And if there was a plot (other than to get me married off to someone with whom I might produce more little winemakers, a quest that is ongoing and perpetual), its intricacies are not particularly well revealed by this slice o'life.
Oh, how often writers forget that real-life dialogue generally does not reproduce well on the page! If I had a nickel for every time I've heard a writer say, "But s/he really said that!" or "But that's what people really sound like!" I would buy my own Caribbean island and send the entire Little Old Lady Mafia on annual vacations there.
Do I see a raised hand or two out there? "But Anne," I hear some of you protest, "haven't we already talked about this, and recently? Just as real-life events often don't translate well into fiction, neither does most dialogue. Am I missing a nuance here?"
Perhaps one: aspiring writers also tend to forget that real-life dialogue is SELDOM character-revealing — and thus reproducing it in a manuscript will often not convey as much about a character as we sometimes expect.
Take, for instance, the oh-so-common writerly habit of placing the speeches of an annoying co-worker, relative, ex-lover, nasty dental receptionist, etc. into fictional mouth of a minor novel character as a passive-aggressive form of revenge. (Come on, every writer's at least thought about it.) To a professional reader, the very plausibility of this type dialogue often labels it as lifted from real life:
"Oh, wait a minute, Sarah." Pausing in mid-gossip, Theresa picked up the overturned plastic cup before anyone else could step on it, placing it neatly on the dining hall checker's desk.
Dina the checker glared at it as if it was covered in baboon's spit. "Don't you dare leave your trash on my desk. Do you think I have nothing to do but clean up your messes?"
"It was on the floor," Theresa stammered awkwardly.
"Don't you give me your excuses." Dina grew large in her seat, like a bullfrog about to emit a great big ribbet. "You walk that right over to the trash can. Now, missie."
"I thought you had dropped it."
"Go!"
"I'll save you a seat," Sarah offered, embarrassed.
Inwardly seething and repenting of her Good Samaritanism, Theresa obediently gave up her place in the block-long lunch line in order to take the walk of shame to the garbage receptacles on the far end of the dining hall. How quickly a good mood could evaporate.
Tell me: what about this scene would tip off Millicent that this really happened, and that Dina is a character from the author's past? And why would her being able to tell this be a liability? Why, in fact, would Millicent be surprised if Dina ever showed later in the book any side other than the touchy one displayed here — or, indeed, if she ever appeared again?
Actually, that was a trick set of questions, because the answer to each part is the same: because the narrative doesn't provide enough motivation for the intensity of Dina's response — and fairly clearly, the writer doesn't think that any such explanation is necessary. That's usually an indication that the writer has a fully-formed mental image (negative, in this case) of the villain in question.
In other words, this is a rather subtle manifestation of the telling, rather than showing phenomenon: because the writer experienced this exchange as nasty because Dina was nasty, she has assumed that the reader will perceive it that way as well.
But without more character development for Dina — or indeed, some indication of whether this kind of insistence was typical for her — the reader isn't really getting enough information to draw that conclusion…or any other. It's just an anecdote.
Without reader feedback, the writer almost certainly wouldn't notice this narrative lack — any guesses why?
If you said it was due to the fact that his memory of Dina the real person is so strong, run out and get yourself a chocolate sundae with jimmies on top. In his mind, her character is so well established that he can just write about her, rather than helping the reader get to know her.
The other tip-off that this was a real exchange, in case you were wondering, is that Theresa is presented as a completely innocent victim of an unprovoked attack. The pure villain vs. completely blameless protagonist is a dead giveaway that dear self is concerned.
And yes, I WAS darned annoyed when Dina — in real life, a very nice woman named Ellen who happened to be having a spectacularly bad day — misinterpreted my act of good citizenship. But if I crave well-deserved vindication from the total strangers who might conceivably read this story, I'm going to have to do quite a bit more character development.
Not to mention integrating the incident into the storyline well enough that it's actually interesting to read.
Of course, we want to be true-to-life in our dialogue: as Virginia Woolf wrote, "fiction must stick to the facts, and the truer the facts, the better the fiction." But let's not forget that in order to maintain a reader's interest, a book has to have entertainment value, too — and that however amusing a verbal tic might be in person, repetition is often annoying in a book.
This is especially true when a character is tired, angry, or in pain, I notice: all of a sudden, the dialogue sounds as though all of the characters are trapped in one of those interminable Samuel Beckett plays where the people are doomed to move immense piles of sand from one end of the stage to the other with teaspoons. See if this dialogue sounds familiar, theatre-goers:
A: "Oh. You're home."
B: (nursing the thumb the elephant trod upon in the last scene) "Yeah."
A: "Have a nice day?"
B: "Um-hm."
A: "I was cleaning out the attic today, and I came across that picnic blanket we used when we went out to Goat's Rock Beach to scatter Father's ashes. How it rained that day, and then the sun broke out as if Father and God had joined forces to drag the clouds aside to smile upon our picnic."
B: "Yeah."
A: "Ham sound good for dinner?"
B: "Yeah."
As a general rule of thumb, I like to flag any piece of dialogue that contains more than one use of yeah, really, yes, no, uh-huh, um, or a linguistic trope such as our old pal "like I said…" Almost invariably, these are an indication that the dialogue could either be tightened considerably or needs to be pepped up.
"Like I said…" would be a particularly easy edit, because it would be a pretty sure indicator that the speaker is repeating herself (although interestingly enough, my old friend habitually uses this phrase when she ISN'T repeating herself, I notice). Yes, people do repeat themselves all the time in spoken English. Is it boring on the page? You bet.
Similarly, anyway and however in dialogue are pretty reliable flares, indicating that the speaker has gotten off-topic and is trying to regain his point — thus warning the manuscript reviser that perhaps this dialogue could be tightened so that it stays ON point.
My fictional characters tend to be chatty (dialogue is action, right?), and I was once taken to task for it by a fairly well-known writer of short stories. She had just managed to crank out her first novella — 48 pages typeset, so possibly 70 in standard manuscript format — so perhaps unsurprisingly, she found my style a trifle generous with words.
"Only show the dialogue that is absolutely necessary," she advised me, "and is character-revealing."
Now, since the dialogue in her published works has seldom, if ever, strayed beyond three lines, regardless of situation or character, I was not particularly inclined to heed this advice — have you noticed how often it's true that established writers with little or no teaching background spout aphorisms that all boil down to "Write as I do"? — but I have to say, it has been useful in editing, both for others' work and my own.
I can even derive an axiom of my own from it: if a person said it in real life, think twice before including it. Because, like I said, if it isn't either interesting or character-revealing, does it really need to be there?
Keep up the good work!