As you may see, this summer's litter of wee raccoonlets (I'd call them cubs, but the term fails to convey the relevant cuteness) have found our outdoor cat's food bowl. In broad daylight, no less, with the kitty in question regarding them with singular disfavor from a few scant feet away. Since we fed the babies' mother when she was a cub, and her parents when they were, I suppose I would be unreasonable to expect them to be shy. They scratch on my door when they're hungry.
I don't have a whole lot of leisure to watch them, unfortunately, because I'm still on relative hiatus (read: I'm writing this propped up on a couch, nearly buried in blankets, cats, and Kleenex, not the healthy person's choice for stylish summer apparel), but by gum, I'm on the job. The task at hand: helping those of you new to constructing query letters learn to build a good one — and giving those of you who have been at it for a while some tips on making yours better.
To that end, my last couple of posts have been re-runs (yes, a bit lazy of me, but you try moving the cat who likes sleeping on top of my mousing arm) on what a query letter is and isn't. For the rest of this week, I'm going to continue this trend — mostly, like today, combining some material from different past posts into fresh ones, then folding in some visuals. After we're all good and clear on the basic concepts, I'll move on to how to spot trouble spots in existing query letters. Sounds like fun, eh?
Well, okay, maybe not fun, but doesn't it at least sound bearable?
At minimum, it should be exceedingly useful. Honest. Think of it as taking your query letter to the gym.
Now would be a great time to work on its muscle tone: for those of you who don't know, most of the NYC-based publishing world goes on vacation from mid-August until after Labor Day. Throughout that sleepy, humid period, mail rooms back up and desks disappear under as-yet-to-be-read query letters and manuscripts, threatening to bury the lone, pale intern left behind to answer e-mails and phones (or, alternatively, the agent who likes to work uninterrupted, and thus took his vacation at some other time of year).
It's not the best time to query or submit. Nor is immediately after Labor Day, when Millicent and her cronies return, groaning, to sort through that pile — if you picture the look on her face when she reappears in the office after the winter holidays, wincing at the sight of the thousands of envelopes sent by well-meaning keepers of New Year's resolutions, you're feeling the mood correctly.
Take a couple of weeks to polish your query or submission. Trust me, Millie will be in a better mood after the 10th or so.
Why — what a remarkable coincidence! I have a couple of weeks of query-burnishing posts planned. Why so many? Well, plenty of aspiring writers find the querying process quite intimidating.
And who can blame them, considering how short a query letter is supposed to be? "My God," the little voice in the back of my head which I choose to attribute to you is saying, "how is all of that possible within the context of a single-page missive? How can I cram all I need to say to grab their attention in that little space?"
Um, are you sitting down? You don't actually have the entire page to catch their attention; on average, you have about five lines.
Yes, you read that correctly.
While you already have the heart medication and/or asthma inhaler at the ready, it seems like a good time to add: most query letters are not even read to their ends by screeners.
Why? Because the vast majority of query letters disqualify themselves from serious consideration before the end of the opening paragraph.
Hey, I told you to sit down first.
Unfortunately, Americans are so heavily exposed to hard-sell techniques that many aspiring writers make the mistake of using their query letters to batter the agent with predictions of future greatness so over-inflated (and, from the agent's point of view, so apparently groundless, coming from a previously unpublished writer) that they may be dismissed out of hand. Some popular favorites:
"This is the next (fill in name of bestseller here)!"
"You'll be sorry if you let this one pass by!"
"Everyone in the country will want to read this book!"
"It's a natural for Oprah!"
"This book is like nothing else on the market!"
I hate to burst anyone's bubble, but to professional eyes, these are all absurd statements to find in a query letter. Yes, even if the book in question IS the next DA VINCI CODE.
Why? Because these aren't descriptions of the book; they're back-jacket blurbs, marketing copy, equally applicable to (and equally likely to be true about) any manuscript that crosses their desks. Even in the extremely rare instances that these statements aren't just empty boasts based upon wishful thinking, consider: whose literary opinion would YOU be more likely to believe in Millicent's shoes, the author's vague claim of excellence about his own book or another reader's recommendation?
Hitting too close to home? Okay, let me put it this way: if someone you'd never met before came up to you on the street and said, "Hey, I bake the world's best mincemeat pies, the kind that can change your life in a single bite," would you believe him? Would you trustingly place that total stranger's good-looking (or not) slice of God-knows-what into your mouth? Or would you want some assurances that, say, this hard-selling Yahoo knows something about cooking, had produced the pie in a vermin-free kitchen, and/or hadn't constructed the mincemeat out of ground-up domestic pets?
Oh, you may laugh, thinking that this isn't really an apt parallel, but what is agents and editors' desire to hear about a new writer's past publication history — or educational background, or even platform — about, if NOT to try to figure out if that pie is made of reasonable materials and in a manner up to professional standards of production?
That's why, in case you've been wondering, a good query letter includes what I like to call ECQLC, Eye-Catching Query Letter Candy. Not because agencies are determined to seem exclusionary toward previously unpublished writers (okay, not merely to seem exclusionary), but because specific references to specific past literary achievements are signals to a quick-scanning screener that this is a query letter to take seriously.
As will an opening paragraph that states clearly and concisely why the writer decided to query this agent, as opposed to any other; a well-crafted single-paragraph elevator speech for the book; some indication of the target market, and a polite, respectful tone — the same basic elements, in short, as an effective verbal pitch.
Did some light bulbs just flicker on over some heads out there? That's right, campers — the difference between a vague boast and solid information about your book and why THIS agent is the best fit for it is actually a show, don't tell problem, at base. Your goal in the query letter is to demonstrate through your professional presentation of your project that this is a great book by an exciting new author, not just to say it.
As in, "My friends say this is the greatest novel since THE GRAPES OF WRATH. It's also a natural for Oprah."
"But Anne," I hear some of you protest, "my book really is a natural for Oprah! I'm going on her show next week!"
Well, congratulations — go ahead and open your query letter with the date of your appearance on the show, and the best of luck to you. For the vast majority of you who have not already heard from her production staff, I wouldn't suggest mentioning your book's Oprah potential at all, either in the query letter or, if you write nonfiction, in the book proposal.
Why? Because, conservatively speaking, at least 40% of book proposals will mention the possibility of appearing on Oprah. As will most marketing plans, a hefty percentage of verbal pitches, and a higher percentage of query letters than I even like to say.
What's the result of all of that repetition? Usually, Millicent will simply stop reading if a query letter opens with an empty boast, because to her, including such statements is like a writer's scrawling on the query in great big red letters, "I have absolutely no idea how the industry works."
Which, while an interesting tactic, is unlikely to get an agent or her screener to invest an additional ten seconds in reading on to your next paragraph.
That's right, I said ten seconds: as much as writers like to picture agents and their screeners agonizing over their missives, trying to decide if such a book is marketable or not, the average query remains under a decision-maker's eyes for less than 30 seconds.
That's not a lot of time to make up one's mind, is it?
Even the best-meaning Millicent might conceivably, after as short a time as a few weeks of screening queries, might start relying pretty heavily upon her first impressions. Consider, for instance, the English major's assumption that business format is in fact not proper formatting for either query letters or manuscripts.
Again, think about it: it's true, for one thing, and let's face it, improper formatting is the single quickest flaw to spot. Let's take another gander at what Millicent expects to see, a letter formatted observing standard English rules of paragraph-formation: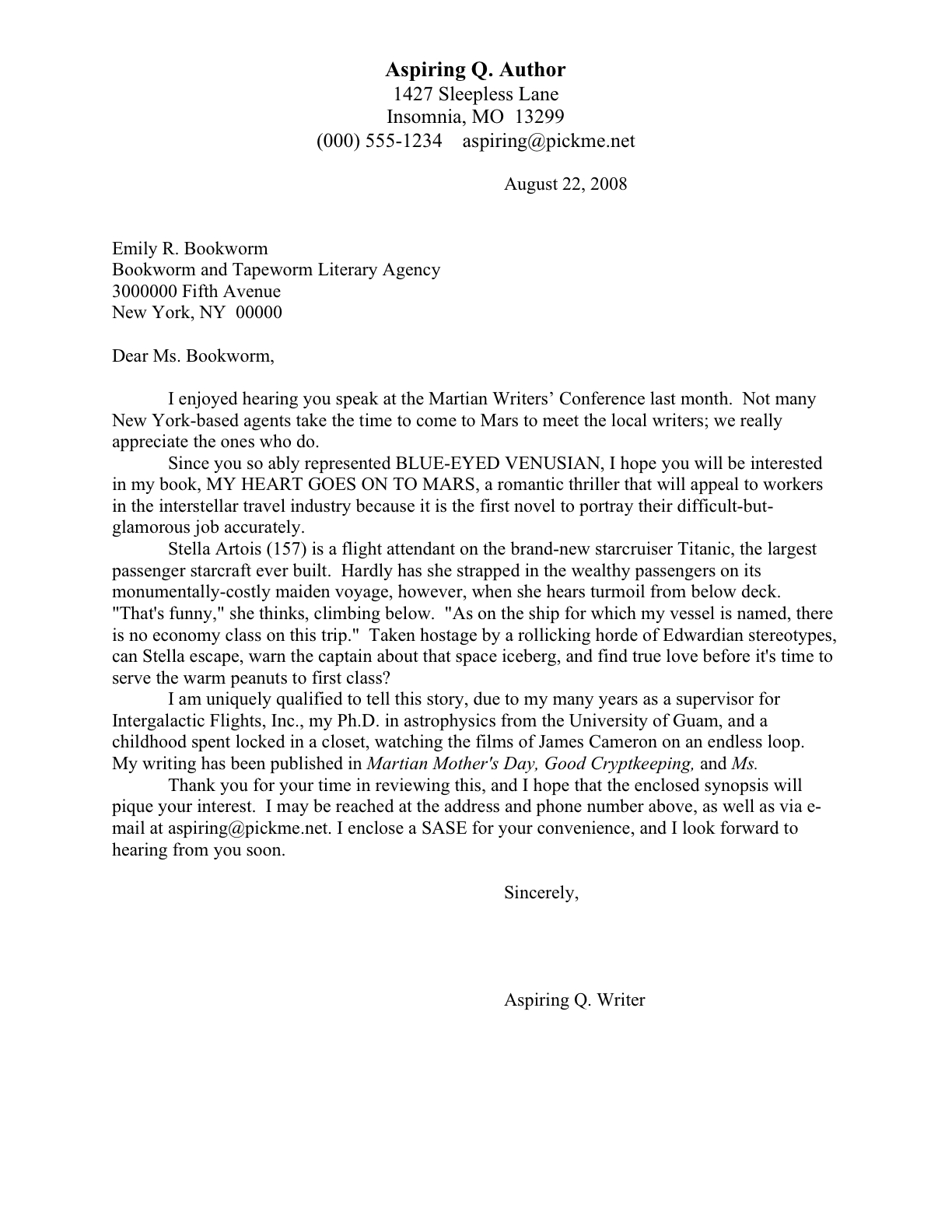 Now let's take a look at exactly the same letter in business format: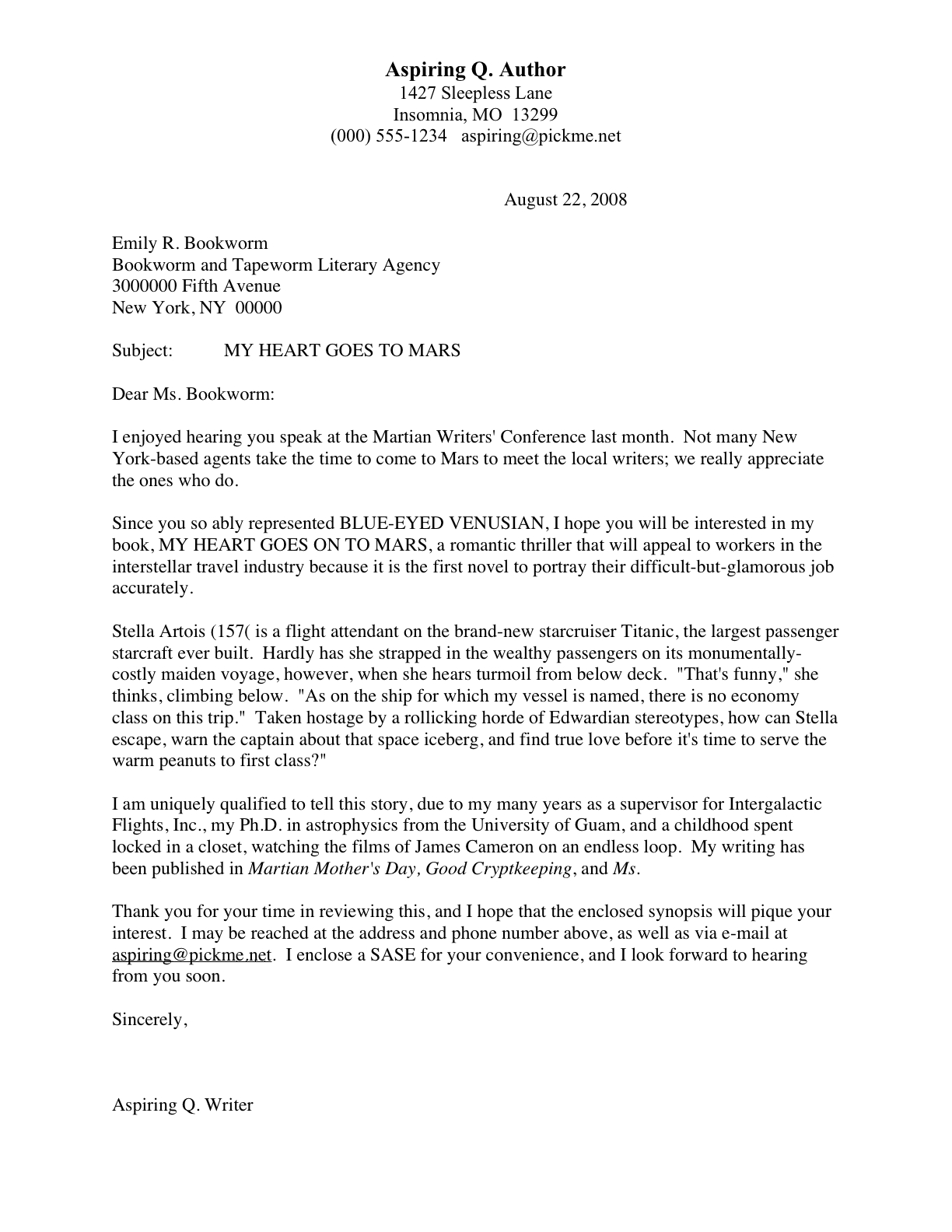 Interesting how different it is, isn't it, considering that the words are identical? In an e-mailed query, of course, the latter format would be acceptable, but on paper, it's not the best strategic choice.
Which may, I gather, come as a surprise to some of you out there. Unfortunately, a lot of aspiring writers seem not to be aware that business format tends to be regarded in the industry as less-than-literate, regardless of whether it appears in a query letter, a marketing plan, or — heaven forfend! — a submitted manuscript. (If you don't know why I felt the need to invoke various deities to prevent you from using business format your manuscripts, please run, don't walk to the STANDARD FORMAT ILLUSTRATED category at right.)
In fact, I am always meeting writers at conferences and in classes who insist, sometimes angrily, that a query letter is a business letter, and thus should be formatted as such. They tell me that standards have changed, that e-mail has eliminated the need for observing traditional paragraph standards, that it's the writing that counts, not the formatting.
I understand the logic, of course, but it just doesn't apply here: not all businesses work in the same way. As anyone who works in an agency or publishing house would no doubt be delighted to tell you, there are many, many ways in which publishing doesn't work like any other kind of business. One does not, for instance, require an agent in order to become a success at selling shoes.
If you're looking for evidence of the biz' exceptionalism, all you have to do is walk into a bookstore with a good literary fiction section. Find a book by a great up-and-coming author that's sold only 500 copies since it came out last year, and ask yourself, "Would another kind of business have taken a chance like this, or would it concentrate on producing only what sells well? Would it continue to produce products like this year after year, decade after decade, out of a sense of devotion to the betterment of the human race?"
Okay, so some businesses would, but it's certainly not the norm.
Yet almost invariably, when I try to tell them that publishing is an old-fashioned industry fond of its traditions, and that agents and their screeners tend to be people with great affection for the English language and its rules, I receive the same huffy reply from writers who dislike indenting: some version of, "Well, I heard/read/was told that a query/marketing plan had to be businesslike."
I'm always glad when they bring this up — because I strongly suspect that this particular notion is at the root of the surprisingly pervasive rumor that agents actually prefer business format. I can easily envision agents stating point-blank at conferences that they want to receive businesslike query letters.
But businesslike and business format are not the same thing. Businesslike means professional, market-savvy, not overly-familiar — in short, the kind of query letter we have been talking about for the last couple of posts.
Business format, on the other hand, doesn't dictate any kind of content at all; it's purely about how the page is put together. There's absolutely nothing about this style, after all, that precludes opening a query with the threat, "You'll regret it for the rest of your natural life if you let this book pass you by!"
All of these negative examples are lifted from real query letters, by the way.
All that being said, there's another reason that I would strenuously advise against using business format in your query letters — and a comparative glance at the two letters above will show you why.
Take another look, then put yourself in Millicent's shoes for a moment and ask yourself: based upon this particular writing sample, would you assume that Aspiring Q. Author was familiar with standard format? Would you expect Aspiring's paragraphs to be indented, or for him/her (I have no idea which, I now realize) NOT to skip lines between paragraphs?
Okay, would your answer to those questions change if you had a hundred query letters to read before you could get out of the office for the day, and you'd just burned your lip on a too-hot latte? (Millicent never seems to learn, does she?)
No? Well, what if it also contained a typo within the first line or two, had odd margins, or began with, "This is the best book you'll read this year!" or some similar piece of boasting? Wouldn't you be at least a LITTLE tempted to draw some negative conclusions from the format?
Even if you wouldn't, Millicent would — and perhaps even should. Why? Because although most aspiring writers seem not to be aware of it, every sentence a writer submits to an agency is a writing sample. Even if the writer doesn't treat it as such, a screener will.
After all, when that stranger comes up to sell you a meat pie, you're going to be looking for whatever clues you can to figure out if he's on the up-and-up.
Quick rejections are not about being mean or hating writers — they're about plowing through the mountains of submissions that arrive constantly. The average agency receives 800-1000 queries per week (that's not counting the New Year's Resolution Rush, folks), so agents and screeners have a very strong incentive to weed out as many of them as possible as rapidly as possible.
That's why, in case you were wondering, that agents will happily tell you that any query that begins "Dear Agent" (rather than addressing a specific agent by name) automatically goes into the rejection pile. So does any query that addresses the agent by the wrong gender in the salutation. (If you're unsure about a Chris or an Alex, call the agency and ask; no need to identify yourself as anything but a potential querier.)
So does any query that is pitching a book in a category the agent is not looking to represent. (Yes, even if the very latest agents' guide AND the agency's website says otherwise.)
And you know what? These automatic rejections will, in all probability, generate exactly the same form rejection letter as queries that were carefully considered, but ultimately passed upon. Again: how precisely is an aspiring writer to learn what does and doesn't work in a query?
By finding out what agency screeners like Millicent are trained to spot — and learning what appeals to her. So go to conferences and ask questions of agents about what kind of queries they like to see. Attend book readings and ask authors about how they landed their agents. Take writers who have successfully landed agents out to lunch and ask them how they did it.
But do not, whatever you do, just assume that what works in other kinds of marketing will necessarily fly in approaching an agent. After all, almost universally, they specifically ask aspiring writers not to use the hard-sell techniques used in other types of business: writers seeking representation are expected not to telephone to pitch, send unrequested materials, or engage in extracurricular lobbying like sending cookies along with a query letter.
Instead, be businesslike, as befits a career writer: approach them in a manner that indicates that you are aware of the traditions of their industry. And, of course, keep up the good work!