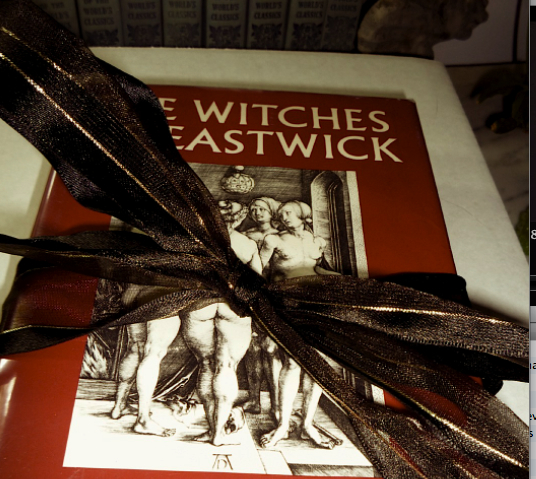 A moment of silence, please: John Updike is dead.
Since nothing elevates the short-term literary stature of an established author as much as his death, I'm sure that there will be no shortage of superlatives being bruited about out there for Mr. Updike, so I shall not attempt to add to them here, nor shall I reproduce his oft-quoted comments about the decline of literary fiction as a mainstream art form. Suffice it to say that he was a writer who alternately impressed and infuriated me — not a bad goal in and of itself for a literary novelist — and leave it at that.
When I heard the news — one of the mixed blessings of being widely known as a writer and descendent of a long line of writers is that people very considerately call to break the news to me whenever any well-established author kicks the bucket, as if everyone who has ever set pen to paper were a distant cousin of mine whose death I should not be forced to learn from the standard media sources — I naturally went straight to my bookshelf and glanced through some of his work. In light of our ongoing series on opening pages and the fact that his first novel, THE POORHOUSE FAIR, came out in 1959, I expected his initial pages would, to put it politely, have a tough time making in past Millicent the agency screener today, thus proving his frequently-made point about how literary fiction has been all but brought to earth over the last 40 years.
I was pleased to find that quite the opposite was true: his first pages were grabbers. Take that, eulogists of literary fiction, including Mr. Updike!
More to the point of the latter part of this series, his hooks largely operated not through garish action, but interesting character development. Take a gander, for instance, at the first two paragraphs of THE WITCHES OF EASTWICK (1984):
"And oh yes," Jane Smart said in her hasty yet purposeful way; each s seemed the black tip of a just-extinguished match held in playful hurt, as children do, against the skin. "Sukie said a man has bought the Lenox mansion."
"A man?" Alexandra Spofford asked, feeling off-center, her peaceful aura that morning splayed by the assertive word.

Now, we could speculate all day about the probable insecurities of a male author who felt compelled not only to have a female character repeat the word man here, as though the very concept of the Y chromosome were inherently troubling to heterosexual women, but also to inform the reader that the word is assertive AND use splayed, a word commonly associated with the things models do in the centerfolds of men's magazines, to describe a mental state. It might also not be too much of a stretch to assume based upon this opening that Mr. Updike wasn't picturing much of a female readership for this book when he wrote it — intriguing, since in 1984 as now, women were far and away the most common purchasers of literary fiction.

But none of that concerns us at the moment. Look, I ask you, at how beautifully he has used visceral details to establish both a mood and character.

Some ears just perked up out there, didn't they? "Visceral details?" those who had dozed off a bit, anticipating a eulogy, now exclaim. "Why, we were talking about those only yesterday. Weren't those the kind of tidbits Millicent and her ilk liked to see, the tangible specifics that make vague generalities fade to gray by comparison?"

Those are they, indeed. Arresting, aren't they, in this museum piece?

In fact, it's a heck of an opening in general. Let's take a moment to ponder why: instead of easing the reader into the story by an extensive description of the physical space in which we discover these characters, or the even more common physical description of the characters themselves, Updike introduces these women by providing specific insight into their mental processes and motivations. Instead of just telling us that Jane is mean and Alexandra shy, he shows us through an analogy and word choices that we might not expect.

Yes, what you just thought is absolutely right: this opening would grab Millicent because it's not only well-written, but surprising.

Seeing all the elements in action helps to clarify what we've been talking about, doesn't it? But while we're at it, let's be thorough about this. Quick, without rushing back and checking our initial list of red flags that often lead Millicent to reject a submission on page 1, what might strike her as problematic if she saw this opening in a submission by a brand-new writer today?

If you pointed out the typo in the very first sentence, give yourself a great big gold star for the day. (Technically, there should be a comma between oh and yes; as Mr. Updike was a graduate of my alma mater, I'm relatively certain that he should have been aware of this.) While some Millicents might be kind enough to read past a first sentence grammatical or spelling error, it's not a foregone conclusion.

Proofread.

While we're giving out prizes for observation, take a red ribbon out of petty cash if you flagged the repetitive dialogue. As we've discussed earlier in this series, repetitive dialogue tends to annoy agents and editors, since they've been trained since they were pups to excise redundancy. Besides, characters who simply echo what has already been said tend to come across as less intelligent than those who actually add something new to the conversations in which they participate — always a tad risky in a protagonist.

Anything else? What about the unnecessary tag lines (Jane Smart said, Alexandra Spofford asked), now out of fashion? Since Mr. Updike had already been established in the first rank of North American authors by the time the use of tag lines fell out of fashion, this might seem like an unwarranted quibble, but remember, we're judging this by the standards that would apply to a writer trying to break into the biz now.

Long-time readers, pull out your hymnals and sing along with me now: an established author can often get away with things that someone new could not.

Did any of you red-flag the semicolon? If Mr. Updike were submitting this to Millicent labeled as anything but literary fiction, you'd be right to consider cutting it. Generally speaking, in fiction that isn't aimed at a college-educated audience — as literary fiction is, ostensibly — semicolons are considered a bit highbrow.

The fact that Millicent regularly sees manuscripts whose vocabulary barely scrapes the 10th grade positively peppered with semicolons might have something to do with this, admittedly. No one but writers really like semicolons, and not even all of us use them correctly (which, John Harvard would no doubt be delighted to note, Mr. Updike has done properly above), but my, don't we like to shoehorn them into a manuscript!

Unless you're submitting your work as literary fiction to an agent with a successful track record of representing a whole lot of it AND her client list fairly bristles with semicolon-wielding authors, you might want to minimize their use.

All of which, as fate would have it, is a perfect lead-in to my wrap-up of the Idol rejection reasons because, really, it's important to recognize that while, in the past, agents tended to be open to working with their clients in order to work out the technical kinks prior to submission to publishing houses, now most of them expect writers to submit manuscripts so clean and camera-ready that the agency screener could confidently walk them directly from the agency's mail room to the desk of even the pickiest editor. Thus these last few weeks of weeding out the most common submission problems, at least on page 1: we've been going over these points exhaustively so that you can meet standards far higher than when the late, great Mr. Updike faced when he was first trying to break into the biz.

Today, however, we get to see the reward: the kind of manuscript that makes agents weak in the knees.

Surprisingly, agents and editors tend not to talk too much about what they love about books at conferences — they tend to stick to describing what is marketable, because that is, after all, their bread and butter. Remember, agents (most of them, anyway) don't hold submissions to such high standards in order to be mean — they want to take on books that they know they can sell within today's extremely tight market. It's not enough for an agent to love your work; she needs to be able to place it at a publishing house for you.

But as those of you who have been querying strong, marketable projects for a while already know, agents often reject submissions for perfectly marketable books, a fact that is very confusing to those who have been taught (sometimes by agents at conferences) to believe that every agent is looking for the same thing, or to those who believe that a single rejection from a single agent means that everyone in the industry will hate a book.

Or that there exists writing so beautifully literary that every agent currently drawing breath will instantly exclaim, "Oh, of course — I'll represent that!"

Especially for first fiction, it's not enough for an agent to recognize that a writer has talent and a book has market potential: they like to fall in love. If you're a good pitcher, you already know the reaction I'm talking about: the eyes becoming moist with desire, the mouth appearing to go dry with lust. When an agent wants a project, the symptoms strongly resemble infatuation, and as the Idol series has taught us, it's often a case of love at first sight.

As with any other type of love, every agent has his own particular type that is likely to make his heart beat harder, his own individual quirks and kinks. Just as an agent will train his screeners to rule out submissions containing his pet peeves, he will usually set some standards for the kind of project he would like to see forwarded to his desk.

So, in a way, our old pal the underpaid, latte-quaffing, late-for-her-lunch-date screener is her boss' dating service.

Here's the list of what the Idol panelists said would light their fires sufficiently to ask for a second date — in other words, what would lead them to want to read beyond page 1 of a submission:

1. A non-average character in a situation you wouldn't expect.

2. An action scene that felt like it was happening in real time.

3. The author made the point, then moved on.

4. The scene was emotionally engaging.

5. The narrative voice is strong and easy to relate to.

6. The suspense seemed inherent to the story, not just how it was told.

7. "Good opening line."

8. "There was something going on beyond just the surface action."

Notice anything about this list? Like, say, that the opening of THE WITCHES OF EASTWICK knocks every single one of these criteria out of the proverbial ballpark?

"Hey," I hear some of you out there saying, "isn't there something missing from this list? Shouldn't 'This is a marvelous writer,' or 'That's the best metaphor I've ever seen for a love affair gone wrong,' or "Wow, great hook" have made the list? Shouldn't, in fact, more of these have been about the craft of writing, rather than about the premise?"

Excellent questions, both. Would you like the cynical answer, or the one designed to be encouraging to submitters?

Let me get the cynicism out of the way first: they are looking for a book that can sell quickly, not a writer whose talent they want to develop over a lifetime, and that means paying closer attention to an exciting plot than to writerly skill. In essence, they are looking to fall in love with a premise, rather than a book.

The less cynical, and probably more often true, reason is that this is not the JV team you are auditioning to join: this is the big league, where it is simply assumed that a writer is going to be talented AND technically proficient.

Unless an agent specifically represents literary fiction — not just good writing, mind you, which can be produced in any book category, but that specific 3-4% of the fiction market which is devoted to novels where the beauty of the writing is the primary point of the book — the first question she is going to ask her screener is probably not going to be, "Is it well-written?"

Why not? Well, presumably, if any submission weren't fairly well-written and free of technical errors, it would not make it past the screener. As we have seen before, the question is much more likely to be, "What is this book about?"

Before you sniff at this, think about it for a minute: the last time you recommended a book to someone, did you just say, "Oh, this is a beautifully-written book," or did you give some description of either the protagonist or the plot in your recommendation? Even the most literary of literary fiction is, after all, about SOMETHING.

Ideally, any good novel will be about an interesting character in an interesting situation.

Why does the protagonist need to be interesting? So the reader will want to follow her throughout the story to come, feeling emotionally engaged in the outcome. Why does the situation need to be interesting? So the reader will not figure out the entire book's plotline on page 1.

If you have both of these elements in your premise, and you present them in a way that avoids the 74 rejection reasons I've been discussing throughout this series, most of the rest of the criteria on this love-it list will follow naturally. Not necessarily, but usually. If the reader cares about the protagonist, the stakes are high enough, and the pacing is tight, the scene is much more likely to be emotionally engaging than if any of these things are not true. If you eschew heavy-handed description and move straight to (and through) the action, conflict is more likely to seem as though it is happening in real time, no one can complain that you are belaboring a point, and the suspense will develop naturally.

So really, all of this critique has been leading directly to the characteristics of an infatuation-worthy book.

Of course, all of this IS about the quality of the writing, inherently: in order to pull this off successfully, the writer has to use a well-rehearsed bag of tricks awfully well. Selecting the right narrative voice for a story, too, is indicative of writerly acumen, as is a stunning opening line. Each of these elements are only enhanced by a beautiful writing style.

However, most agents will tell you that lovely writing is not enough in the current market: the other elements need to be there as well. As well as a certain je ne sais quoi that the pros call an individual voice.

All of which is to say: submission is not the time to be bringing anything but your A game; there really is no such thing as just good enough in the current market. (Unless you're already established like John Updike, of course, or a celebrity, or you happen to have written the story that the agent always wanted to write himself, or…) Playing in the big leagues requires more than merely telling a story well — that's the absolute minimum for getting a serious read within the industry.

Which brings me to #8, "There was something going on beyond just the surface action." Submission mail bags positively burgeon with clear accounts of straightforward stories, as well as with manuscripts where every nuance of the plot is instantly accessible to the reader as soon as it is mentioned. Books that work on a number of different levels simultaneously, that give the reader occasion to think about the world to which the book is introducing her, are rare.

That the Idol agents would be looking actively for such a book might at first blush seem astonishing. How much subtlety could a screener possibly pick up in a 30-second read of the first page of a manuscript?

Well, let me ask you: the last time you fell in love, how much did you feel you learned in the first thirty seconds of realizing it?

Pat yourselves on the back for making it all the way through this extremely sobering list, everybody: this was good, hard, professional work, the kind that adds serious skills to your writer's tool bag. Be pleased about that — and keep up the good work!