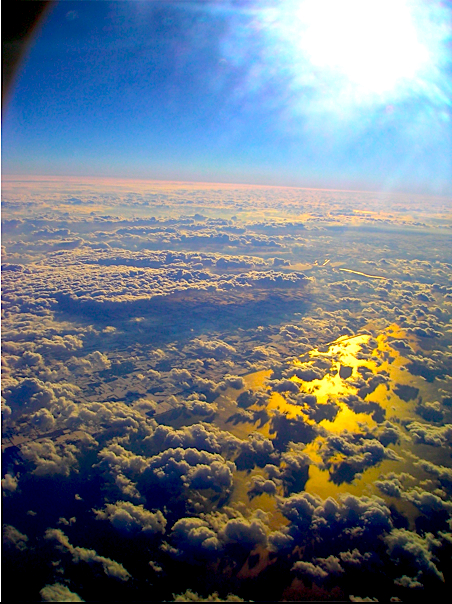 After yesterday little Enlightenment rhapsody on the inevitability of progress in the face of prejudice, I scoured my picture files for a high-minded photograph to ease us back into the practicalities of my contest-entry series. Almost suspiciously artistic, that cloud arrangement, isn't it?
As you may perhaps have guessed from the encroaching shadow, I took this photo from inside an airplane. I looked up from the manuscript I was editing (long flights are tremendous for the concentration, I find to find that the sky over the Great Lakes was carrying on like an expressionist exhibition. If you're going to be dramatic, go for broke, I always say.
Before I went on my sojourn east, I had posted a few tips on how to determine whether to enter any specific contest or not. I intimated, in my long-patented winsome way, that it would behoove you to do a little background research before you invest time and money in entry fees.
Contrary to popular belief amongst writers, there is more to consider before entering a literary contest than whether the piece you've chosen to submit is ready for tough judging scrutiny.
Although I must add swiftly, on behalf of every current and former contest judge in North America: NO piece of writing is ready to be submitted to a competition unless it has been thoroughly proofread.
No exceptions.
I'm quite serious about this: it's rare to see a contest entry that isn't rife with spelling, grammatical, formatting, or even coherence errors. And that drives your garden-variety conference judge positively mad.
Why, you ask? Well, judges tend to want to find the winning entry in their assigned pile; it's kind of a thrill. So there are few judging experiences more trying than reading a terrifically creative, well-written entry that absolutely cannot make it to the finals because the writer mistakenly used the wrong form of there, they're, or their.
I would advise proofing in hard copy, which probably doesn't come as much of a shock to anybody who has been reading this blog for more than a month. It's also a good idea to have eyes other than your own search for grammar, spelling, and logic mistakes.
But please, I beg you, do NOT assume that your word processor's spelling and grammar checker will take care of it for you. As any editor, freelance or otherwise, will rend his garments and tell you, such ostensibly helpful functions often both miss mistakes that would be caught by the naked eye and suggest word substitutions that are either inappropriate or grammatically incorrect.
But I digress. In my last post in this series, I hinted, gently by my standards, that before you plunk down the green, you might want to ask yourself a few pointed questions about the contest you intend to enter. Such as:
– Is the contest credible enough that past winners have gotten published?
– Has the contest been around long enough that agents and editors will have heard of it?
– How good are the benefits for the winners?
– If it's run by an organization, does it have a track record for awarding outside its membership?
– Do the judges or their students tend to win their own contests?
– Has it historically been plagued by scandals?
– Would winning or placing in this contest give me notoriety or resources that are worth the investment of entering?
In short, you might want to begin to think of entering literary contests as an investment in your future as a writer, rather than as a gamble that may pay off big time. There are good investments, and there are bad investments, so select carefully.
In case you're new to the contest game, prepping the average entry usually involves quite a bit more effort than merely printing out your first chapter and already-existing synopsis. (Which is usually all that competitions for unpublished book-length works allow a writer to submit, incidentally.)
There's the time to find the contest in the first place, for instance, which isn't always easy — contests for unpublished book-length works are actually comparatively rare. Competitions that accept short stories, essays, and/or poetry are much more common, but if you are trying to market a book-length work, entering these can involve embarking upon entirely new writing projects.
Then, too, it can take quite a bit of time and energy to prepare a winning entry — and in case you're interested, most contests are set up so that it would be impossible to print up one's existing synopsis and first chapter, pop it into an envelope, and call it good. There are generally formatting restrictions and length requirements that render it advisable to spend some fairly serious time tailoring the pages to the contest's standards.
All of this is time-consuming, naturally. Potentially, a writer could spend so much time entering contests that she ends up with very little time to write.
Yes, I've seen it happen. I once met a very gifted writer at an artists' colony who had stretched two excellent and atmospheric short stories into eight solid years of contest wins, writer's residencies, and successful grant applications. Of our four subsidized weeks at the colony, she was writing grants for three.
Not entirely coincidentally, at the point that I first encountered her, she had been working on the same novel for — you guessed it — eight interminable years.
If her initial goal had been to live the life of a writer at minimal expense, I wouldn't have a serious problem with her strategy. But I suspect that her initial goal had been to use the competitions to finance writing her novel.
To be blunt about it, contest preparation requires time you could be using to write. Or query. Or even have a life, as I'm told that non-writers do. If you choose to spend your time entering a contest instead, make sure that the potential returns are worth the sacrifice.
Then there's the money.
Entry fees can be quite hefty, especially cumulatively, and not all contests give much in the way of tangible rewards, even to the winners, much less the finalists. A high entry fee may be worth it if, say, the judges provide written feedback or if finalists are given special access to the agents and editors who attend the contest-giving organization's conference.
Look beyond the contest's website for confirmation, however; not all contests are created equal, and feedback on entries varies widely. A big hint that a contest may not be all that it's cracked up to be is a separate fee for feedback — in a credible contest, the judges should be evaluating every entry, not just the ones sent in with extra cash attached.
There is a hidden fringe benefit to shelling out the dosh for entry fees, however: systematic contest entries, like attending conferences and send out rafts of cover letters on a regular basis, are a way that you may prove that you are pursuing your writing as a business venture, rather than as a hobby.
Do I hear some quizzical huffing out there? "But Anne," I hear some of you protest, "in what context would I possibly need to prove that? Should I be anticipating some great cosmic tribunal on how I spent my time on earth?"
Actually, I was thinking of an inquisition a trifle closer to home: the Internal Revenue Service. If you file a Schedule C as a writer (and if you expend resources on developing your writing career, it's something to consider, even if your writing is not bringing in any income yet), contest entry fees are potentially both tax-deductible AND evidence that you're actively trying to land an agent and sell your work.
Hey — contest entry is legitimate promotion for your book; it's a demonstrably good way to catch an agent's attention. And contrary to popular belief (it's rearing its ugly head quite often today, isn't it?), you don't necessarily have to make money writing in any given year in order to take tax deductions on writing-related expenses.
Frankly, this sometimes comes as something of a surprise to the average tax preparer. I know many writers who have been told point-blank by their consumer-minded tax guys not to bother filing a Schedule C until the first advance check arrives.
So you might want to bone up on the facts a bit before you enter into that particular discussion with your tax advisor — and you honestly should consult one before you file. (To repeat my standard disclaimer, I am not a tax specialist, nor do I play one on TV. Talk to a pro.) To help prepare for that important conversation, here's a nice brief summary of how writers' taxes work.
I'm told by thems as know, though, that the IRS has changed its thinking about how quickly to expect artists to make money, recognizing that many talented writers NEVER make a profit on their writing, or even break even, yet still have legitimate business expenses. Printer cartridges, for instance. Reams of paper. The most recent agents' guide. Conference fees. And so forth. (Poets & Writers online has a good article on recognizing what your writing expenses actually are.)
What they look for, I'm told, to differentiate between the hobbyist writer and the professional, is evidence of a "profit motive" — proof that you are pursuing your writing in a professional manner, with the ultimate goal of selling your work for profit.
Basically, they want to have some reasonable assurance that you WOULD be selling your work if anyone would buy it.
What kind of proof do they like? Well, again, you should ask a tax pro familiar with artists, but high up on the hit parade is evidence that you write on a regular basis and tangible evidence that you are consistently trying to find an agent and/or a publisher for your writing. So they not only don't begrudge writers' deducting the cost of stamps and envelopes — they regard buying the makings of SASEs as a mark of serious, potentially taxable effort.
It's nice that someone does, no? Perhaps the IRS would send a representative to explain your profit motive to your carping coworkers who keep asking when your book is coming out.
Another way to prove that you really are writing with the intent to sell it, honest, is thorough making demonstrable efforts to increase your professional skills — which, for a writer, means not only learning better craft, but learning how to market as well. Continuing education efforts such as going to conferences and promotional efforts like entering contests fit very clearly within the profit-seeking rubric.
I mention this not only so you can make some inquiries in the months between now and tax time, but also to encourage you to apply the concept of the profit motive to any writing-related expense you may be considering.
In the case of a contest, for instance, you might want to ask: how will winning it help me get my book published? In other words, is entering this contest an efficient way to pursue my profit motive as a writer?
And I'm not just talking about contest wins in general here: I'm talking about any PARTICULAR contest you may be considering entering. The adulation and opportunities offered the winners vary so widely from contest to contest that it is almost impossible to generalize about any benefit accruing to all winners.
Other than boasting rights in query letters, of course.
If you do some basic checking in advance, you can save yourself quite a bit in entry fees by avoiding the contests that will not help promote you and your work.
Tomorrow, I shall talk about some ways you might go about accomplishing that. Keep up the good work!